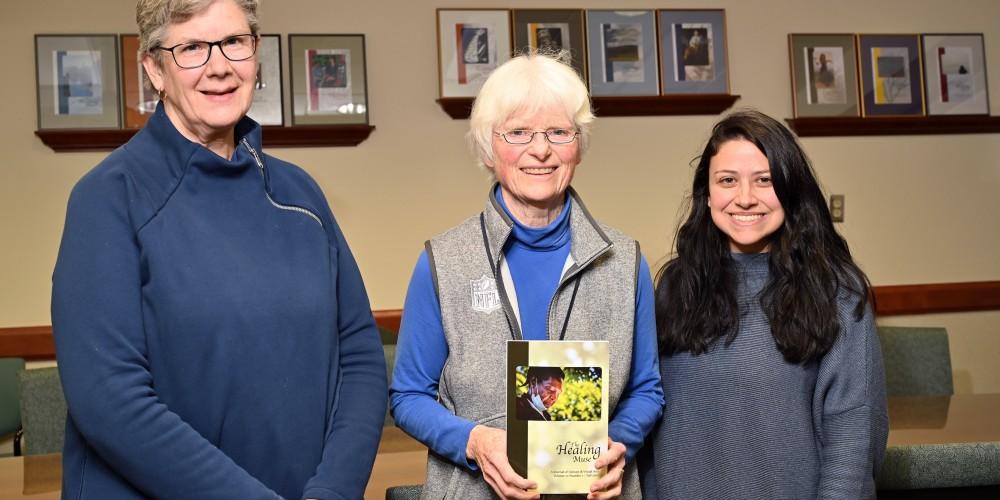 Upstate literary journal offers hope and healing
Adult children caring for frail parents, strangers meeting in a waiting room, physicians and nurses remembering their passion for their vocation are among the poems and stories of love, loss, hope and humanity that are featured in the 22nd volume of "The Healing Muse, the annual journal of literary and visual art published by Upstate Medical University's Center for Bioethics & Humanities.
The journal features fiction, poetry, narratives, essays, memoirs and visual art, particularly but not exclusively focusing on themes of medicine, illness, disability and healing.
"We hope (our readers) find comfort and strength—even joy—in this issue's pages," said Editor-in-Chief Deidre Neilen, PhD.
The journal features the work of 87 writers and visual artists, many of them medical professionals. Five Upstate medical students are featured in the magazine.
Many of the poems and writing pieces deal with heavy topics that include death of loved ones, hearing difficult diagnoses, or being an ER patient. Pieces from health care professionals show the other side of the hospital room. Holding someone's hand as they take their last breath. Being late to rounds and put on the spot. Overcoming fear in treating a prisoner.
Neilen said the stories show our shared humanity. "Human beings need stories; they are an important way we make sense of life," said Neilen, a professor of bioethics and humanities. "
"The Healing Muse" illustrates the many different kinds of healing that occur inside and outside the hospital, the classroom, the home.
The literary journal started 22 years ago first as an outlet for nursing students and nurses to have the opportunity to write about their stresses and triumphs. Bonnie St. Andrews, PhD, a former Upstate professor and poet, found that nurses had not been encouraged to reflect and write about their profession in the same way doctors had been.
"She wanted 'The Healing Muse' to change that, but she quickly realized there was a wider audience that was hungry to hear from all health professionals, that the public wanted to know what doctors and nurses thought when they were diagnosing and treating them," Neilen said.
With that, the magazine expanded its reach and opened submissions to the general public. The most recent volume received more than 900 submissions from around the world.
Neilen said she considers the journal a place for a conversation about how patients view doctors and nurses and vice versa. We want the Muse to be part of the Center's mission : "promoting health care which is patient-centered, compassionate, and just."
"Patients can feel that doctors and nurses rush through visits and don't really listen to them. Physicians and nurses can feel patients don't understand the pressures on them," she said. "But when you read these works, you find powerful examples of health care professionals who do stand with their patients and their caregivers, who bear witness to suffering and try to relieve it. And we have poems that show also patients who saw that care and never forgot it."
Neilen adds that reading the Muse gives one a wider perspective of both the world at large and the smaller world of illness and healing.
The Upstate students featured in the issue are:
—Bryana Barreto, first year, "Thank You for Your Service," winner of the Dearing Writing Award open to Upstate students and employees.
—Kelly Gao, third year, "The Greatest Privilege," also a Dearing winner.
—Jacqueline Inglis, third year, "Breathe," also a Dearing winner.
—Deashia McAlpine, third year, "Preparation"
—Winston Whiting Oliver, third year, "Emergency Medicine" 
Issues are available to purchase for $12 by emailing Managing Editor Andrea Chiaravalloti at chiaraan@upstate.edu.
Submissions for next year's issue are open. For guidelines and to submit, visit https://healingmuse.submittable.com/submit.
"The Healing Muse" editors, from left, Kathy Faber-Langendoen, MD; Diedre Neilen, PhD; and Andrea Chiaravalotti.