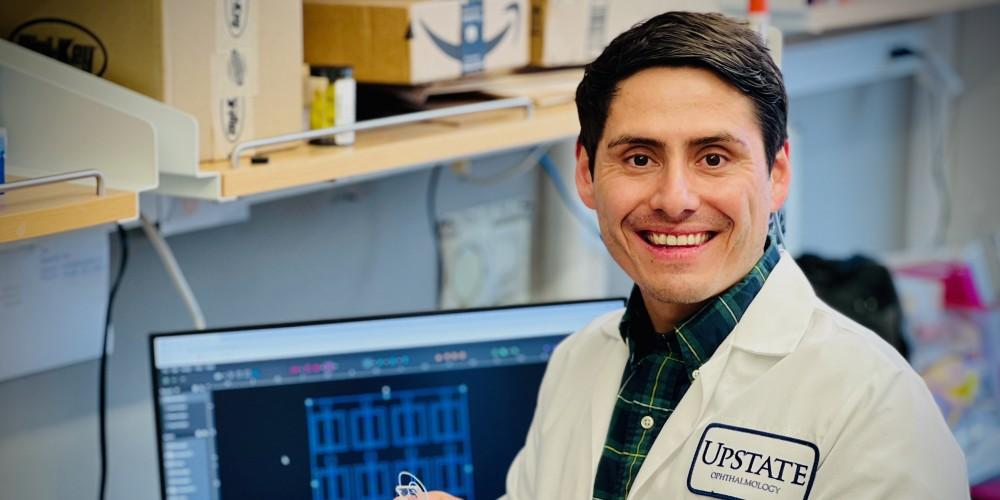 Upstate researcher awarded over $2M to begin first studies of TM cells' mechanical memory, improving understanding of its role in glaucoma
Samuel Herberg, PhD, has been awarded a five-year $2 million grant from the National Eye Institute to study the role of cellular memory in glaucoma. He's proposing the first studies to establish the involvement of trabecular meshwork cells' mechanical memory in the development of glaucoma. Herberg is an assistant professor of Ophthalmology and Visual Sciences, and a researcher at SUNY Upstate's Center for Vision Research.
The trabecular meshwork (TM), located in the angle formed by the cornea and iris in the front part of the eye, is responsible for the regulation of intraocular pressure. Elevations in pressure can lead to glaucoma, a disorder that impacts over 70 million people worldwide.
Herberg plans to study how and why TM cells in the eye react differently to stressors when the patient has glaucoma. Initial studies have shown that diseased cells from glaucoma eyes continue to exhibit abnormal behavior even when cultured in a soft physiological environment compared to TM cells from healthy eyes and develop a "persistent mechanical memory" unseen in healthy eye tissue.
"Despite substantial effort over the past several decades devoted to understanding TM pathophysiology in glaucoma, the mechanisms underlying lasting tissue impairment remain unclear," explains Herberg. He says this problem is compounded by the fact that many people are unaware that they're developing glaucoma until it's too late, as the damage to the eye is generally slow and painless.
"An improved understanding of the molecular mechanisms underpinning TM cell and tissue dysfunction—including the dynamic phenomena that govern cellular mechanical memory—in glaucoma would have profound implications for those suffering from the disease," Herberg said.
According to Herberg results from the proposed studies will fill major gaps and potentially transform our understanding of TM cells and their role in glaucoma. He thinks this could lead to not only finding therapeutic targets for patients to prevent irreversible vision loss in glaucoma but help investigate other roles mechanical memory plays in eye function.
"Mechanical memory is a relatively recently described phenomenon noted across different cell types and culture environments. Addressing this concept is vital, as mechanosensitive TM cells reside in a demanding biomechanical environment," he said.
Herberg was appointed to the Upstate faculty in August 2018. In addition to his post at Case Western Reserve University, he also served as a senior research fellow at Wake Forest School of Medicine. He earned his doctorate from Augusta University (formerly Medical College of Georgia) and his undergraduate degree from the University of Applied Sciences, Darmstadt, Germany.