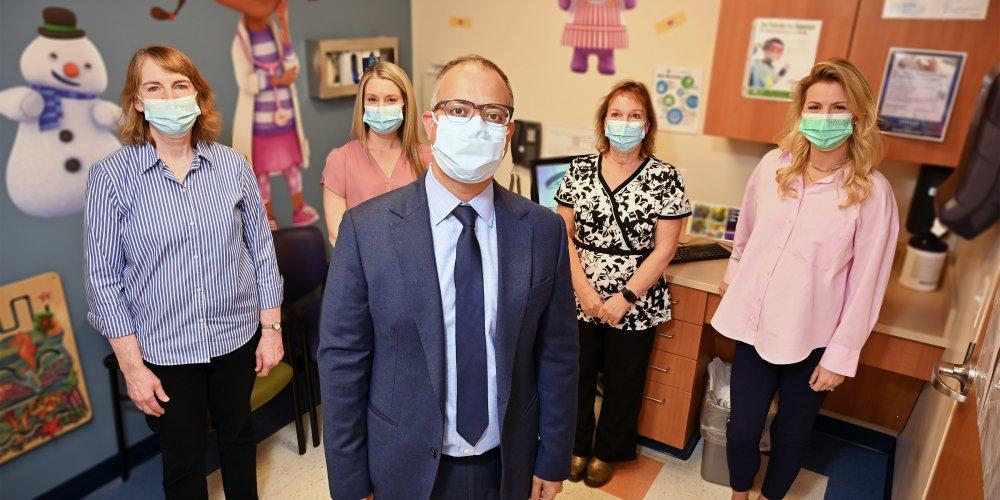 Pediatric remission rates for chronic gastrointestinal diseases soar at Upstate's Golisano clinic
In the last six years, the pediatric gastroenterology inflammatory bowel disease (IBD) program at Upstate Golisano Children's Hospital has drastically increased the number of children who are in remission for their chronic disease.
The remission rate for the children with IBD seen in the Karjoo Family Center for Pediatric Gastroenterology improved from 60 percent in 2013 to 87 percent in 2022.
"Each incremental 5 percent increase is a large number of kids that are able to grow, heal and do what they want to do every day," said Prateek Wali, MD, director of the program. "That's big. A 20 percent increase is a lot of healthier kids."
Inflammatory bowel disease includes the autoimmune conditions of Crohn's disease and ulcerative colitis. Both can present with debilitating symptoms that include frequent diarrhea, blood in the stool, abdominal pain, weight loss and poor growth treated with chronic medications and in severe cases, require surgery.
Wali said IBD is increasing in frequency, and the largest increase in pediatrics is in children under the age of 12. It tends to be more severe in children than in adults.
Currently there are over 200 patients with IBD at Upstate Golisano, up from 100 in 2010—a bigger increase than it seems because many of those 100 patients from 2010 have outgrown the pediatric program.
Wali attributes Upstate's success in increasing remission rates to two things. The first is a collaborative of pediatric IBD centers called ImproveCareNow. Upstate joined the network of more than 100 centers in 2013. The collaborative enables patients, families, clinicians, and researchers to work together in a learning health care system to accelerate innovation, discovery and the application of new knowledge.
The coalition consists of more than 100 centers with 970 pediatric gastroenterologists caring for 30,000 children with IBD. As a group, 82 percent of patients are in remission.
Being in the coalition gives Upstate access to a dynamic database. When patients are diagnosed with IBD they are registered in the database and each time they come to the clinic their symptoms, labs, imaging and treatments are all put into it.
Within the week, Upstate doctors can download data on how these patients are doing compared to age-matched patients around the country with similar disease locations.
"It is a great way to keep the quality of care at a high level, but it also allows us to have access to the most up-to-date information about new therapies, and new guidelines," Wali said. "The act of pre-screening patient visits and reviewing sicker children in our weekly team meetings has helped to organize our approach and therefore improve our numbers. I think they would have gone up anyway, but the substantial increase in remission is because of the data and the framework provided by the collaborative."
Wali said the second reason for Upstate's success is its personalized approach. The group includes Wali, nurse practitioner Julie Albanese, nurse Kathy Root, research assistant Lisa Blystone, and dietician Kellie Wall. Wali said the group meets weekly and also participates in the ICN biannual meetings.
"We communicate better, we have a lot more ability to discuss small changes within the practice than bigger groups," Wali said. "We are a lot more flexible to bring on new innovations."
Upstate also now utilizes some highly successful therapies, one of which isn't widely used in the United States. Partial enteral therapy, in which children with newly diagnosed Crohn's disease take in most of their calories in a liquid formula for eight weeks is equally successful for induction of remission without using steroids. This treatment avoids the side effects of steroid therapy. Wali said it is a difficult treatment to attempt given social expectations around mealtimes and school but that Upstate has had more than 20 patients use this treatment with the support provided by the clinic and parental involvement.
"That's the kind of innovation that sets us apart from other IBD programs," he said. "We have the ability and institutional support to implement these measures."
Upstate has also participated in multiple multi-centered pediatric IBD clinical research studies that have brought real change to the treatment and management of children with IBD.
Other standards of care he helped initiate when he arrived at Upstate in 2010 include capsule endoscopy where patients swallow a camera shaped like a pill that takes thousands of pictures of as it moves through the digestive system for diagnosis of small bowel Crohn's disease. Upstate also utilizes MRI enterography, which is a specialty MRI used mainly for Crohn's disease using an oral contrast that distends the bowel, allowing doctors to see how well the bowel is working and assess areas unreached by endoscopy and colonoscopy.
Finally, Wali said Upstate covers a large catchment area and is working to improve access to care. The practice now includes six pediatric GI attendings and three specialty pediatric nurse practitioners.
"That's a dramatic improvement in access and promptness of care," he said.
Caption: Members of the Pediatric Gastroenterology team are, from left, Lisa Blystone, research assistant; Kellie Wall, dietician; Prateek Wali, MD, division director; Kathy Root, nurse; and Julie Albanese, nurse practitioner.