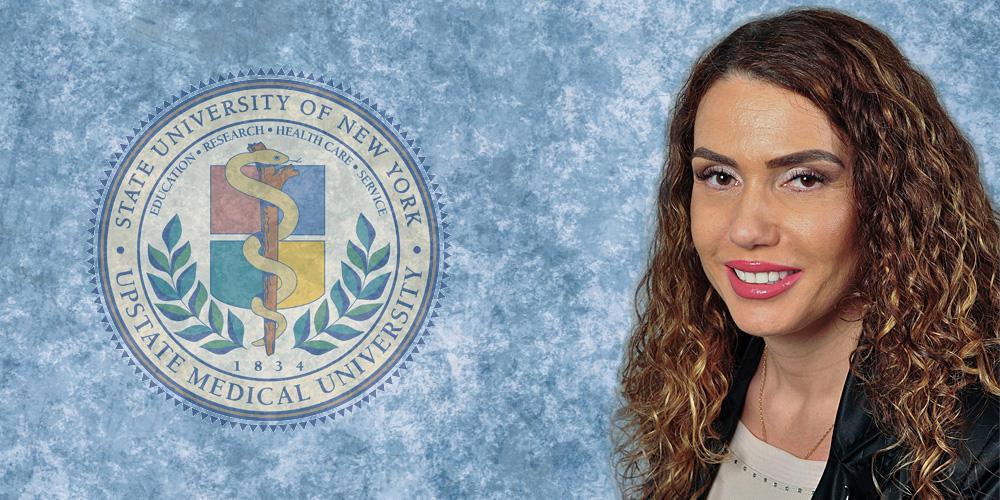 Upstate researcher earns national recognition for work developing an AI-based diagnostic tool
Tamara Jamaspishvili, MD, PhD, assistant professor of pathology, has been named a 2022 Young Investigator by the Prostate Cancer Foundation (PCF).
Jamasphishvili, who also serves as director of the SUNY Upstate Pathology Research Core (SUNY SPORE), is being recognized for her work developing artificial intelligence (AI)-based digital pathology method to help assess risk, treatment responses, and outcomes for prostate cancer patients. Her project could help guide physicians in the treatment management of patients with high-risk, advanced prostate cancer.  This could also serve as a cost-efficient screening method in low-to-middle-income countries where genomic testing is still expensive and challenging.
"Along with the adoption of digital pathology in clinical practice, the approach to cancer research has dramatically changed," Jamaspishvili said. "Merging of conventional pathology, genomics, oncology, computer and data science gives tremendous promise to advance personalized medicine and improve the quality of life of the patients by discovering new models of disease risk stratification and treatment management options."
Jamaspishvili's research on tissue-based biomarkers using machine learning in prostate cancer showed the increased benefit of merging these disciplines for improved patients' prognoses and outcomes. Jamaspishvili highlights the need for biomarker research to advance precision medicine. "Developing bias-free, objective, quantitative approaches in pathology practices is a prerequisite for precision medicine and biomarker-guided clinical trials," she explains.
Jamaspishvili and her team plan to assess three crucial tumor suppressor genes PTEN, p53 and Rb1, which are known to be found in patients with more aggressive diseases and who are unlikely to respond to hormone therapy. They hope by examining scanned prostate cancer tissue, they can begin to unravel complex cellular and molecular relationships predicting disease progression, duration and response to hormonal treatment, and the development of hormone-resistant prostate cancer. 
The PCF awards about two dozen researchers a year who they identify as future leaders who will "keep the field of prostate cancer research vibrant with new ideas" with career and project support.
"As a junior faculty member in the SUNY Upstate Pathology department, it is a privilege to have this recognition for my ongoing prostate cancer research," she said.