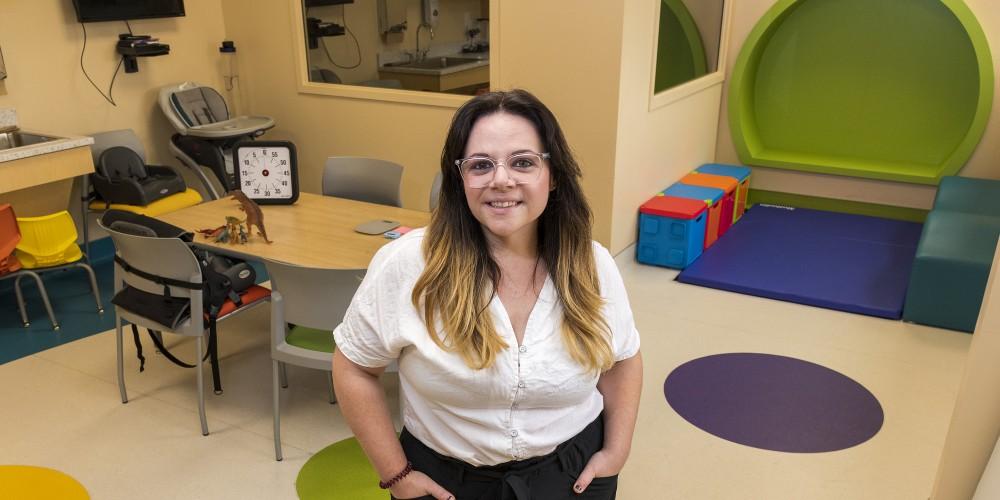 Christina Alaimo brings changes, enhancements to pediatric feeding program
Since her arrival last winter, Christina Alaimo, PhD, has brought a fresh perspective and new ideas to the Pediatric Feeding Disorders Program at the Golisano Center for Special Needs.
The Pediatric Feeding Disorders Program works with children and their caregivers when food selectivity and other feeding difficulties impact growth and development. Alaimo joined the staff as the clinical supervisor in February and brings to the program her expertise as a board-certified behavior analyst as well as a clinical psychologist in training with a specialty in feeding disorders.
"When we brought in Christina from outside the Upstate system she brought a fresh viewpoint on things, from how we do medical documentation to how we do staff training and parent training," said Henry Roane, PhD, division chief of the Center for Development, Behavior and Genetics at Upstate and the executive director for the Golisano Center for Special Needs. "It's a breath of fresh air. She is able to apply her clinical expertise across so many different aspects of the clinic that it strengthens it as a whole. She's been a wonderful addition."
Roane said, among other things, Alaimo began initiatives to expand opportunities for graduate student training, to standardize staff training to make it more efficient, developed a new staffing model to route more patients through the clinic and introduced new research project ideas.
She also helped advocate for more involvement from speech pathology to assess oral-motor skills during feeding evaluations and is working to bring on a speech pathologist specializing in pediatric feeding disorders. This will expand the population of patients the clinic can treat, as well as provide necessary consultation for patients who present with both oral-motor skill and behavioral concerns.
"Speech pathologists who specialize in pediatric feeding disorders are critical to assessing and treating oral motor skills deficits that contribute to ongoing feeding difficulties," Alaimo said. "They are also able to provide ongoing consultation as any concerns arise through the course of treatment and support the development of necessary skills such as chewing." 
Alaimo earned her doctorate in behavior analysis training from The Graduate Center at City University of New York, and before that, earned her master's in clinical and counseling psychology, with a specialization in child and adolescent therapy, from Chestnut Hill College. Before coming to Upstate, she worked at Proud Moments ABA in New Jersey as an applied behavior analyst supervisor and feeding consultant as well as consulting for various school districts.
Roane said that there are not many clinicians with Alaimo's expertise.
"She's a bit of a unicorn," Roane said. "There are very few people in the world who have the ability to get dually licensed as a behavior analyst and as a licensed psychologist. She's one of those people, so that makes her unique. Even within that, there are very few people who have those two credentials who also have expertise in the assessment and treatment of pediatric feeding disorders. To be perfectly frank, we are completely lucky to have found her."
Rooted in evidence-based, applied behavioral analysis, feeding program providers look at learned patterns of behavior and how the environment or responses to those behaviors contribute to maladaptive patterns of eating, such as food selectivity. Alaimo's expertise and clinical experience allow the center to expand the scope of services it provides.
"She looks at the child's behavior through the lens of typical child development and that's really important because so often we think there's a problematic behavior we need to address but sometimes those are part of physical child development," Roane said. "She has helped us all to learn by viewing the behaviors through this lens when we start to address those behaviors in treatment and when we talk to parents about setting expectations and discussing prognosis."
Alaimo said the most common disorder involves food selectivity or self-restriction that may impact a child's overall intake or nutrition and therefore growth and development. Her advice to parents is to seek out behavioral support and evaluations early on.
"The faster we can intervene from a more preventative perspective the better outcomes we see when we can prevent the learning history from developing," she said.
Alaimo said one of the big focuses of the program is on caregiver training. While some responses are expected in the face of very fussy eaters, those can also contribute to the problem. Providers teach caregivers strategies that are identified as being effective for their child.
"Our main goal is to make sure caregivers are successful, so we spend a heavy amount of the time within the admission in the program making sure caregivers are not only able to carry over the gains that the child has made with us in the clinic, but also in the home as well," she said.