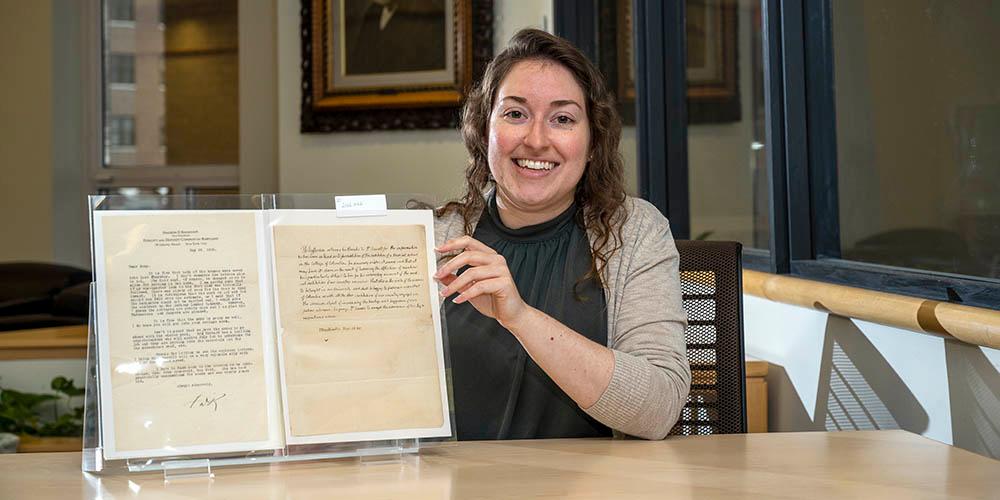 Upstate acquires two letters from FDR, Thomas Jefferson
Upstate Medical University's Archives and Special Collections recently received a donation from a retired surgeon and professor that included two letters from former U.S. presidents Thomas Jefferson and Franklin Delano Roosevelt.
Robert B. Cady, MD, class of 1971 and emeritus pediatric orthopedics faculty member, and his wife, Linda, donated the letters from Jefferson and Roosevelt, along with several other items.
They are the first two presidential letters to be added to the archive.
"They are major pieces that we weren't expecting," said archivist Elise DeAndrea. "We are a small institution and getting a letter from a former president is really amazing to have in our collections and something we will definitely appreciate for a long time. Dr. Cady could have donated the Jefferson letter anywhere, but he wanted to give it to us. He has such a strong connection to Upstate."
Cady, an internationally known surgeon, led the development of Upstate's pediatric orthopedic unit and worked there until his retirement in 2009. He has received several awards for his humanitarian work, particularly in the treatment of children in underdeveloped countries.
DeAndrea said Cady enjoys looking for interesting artifacts and came upon these letters at auction houses.
The Jefferson letter, dated, November 16, 1825, is written to Dr. Thomas Sewall, who was the founder of Columbia College of Medicine (now George Washington University). The letter, written by Jefferson in the third person, congratulates Sewall on the establishment of the medical school, as he felt more medical schools should be created in the United States.
"Th [sic] Jefferson returns his thanks to D. Sewall for the information he has been so kind as to furnish him of the institution of a Medical school in the College of Columbia. He sincerely wishes it success and that it may have its share in the merit of lessening the affliction of mankind. He is particularly obliged to him for his interesting account of the medical institutions of our country. We include that also in the circle of the sciences to be taught in our University and shall be happy to fraternize with that of Columbia as with all the other institutions of our country engaged in the common object of increasing the knolege [sic] and happiness of our fellow citizens. He prays D. Sewall to accept the assurance of his high respect and esteem."
The Roosevelt letter, dated May 29, 1928, is written to Helena Mahoney, also known as Hony, who was the director of physical therapy at Roosevelt's Georgia Warm Springs Foundation, known today as the Roosevelt Warm Springs Institute for Rehabilitation. The letter details construction decisions to the property, including a comment about one cost running $400 over the estimate.
On a visit to Syracuse in 1936, Roosevelt laid the cornerstone of Upstate's academic building Weiskotten Hall, which was then part of Syracuse University's College of Medicine.
The donation also included signed photographs of Jonas Salk and Albert Sabin, who developed the polio vaccine, a first day signed by Salk and Sabin. This is a first day cover of a polio postage stamp on a National Foundation for Infantile Paralysis twentieth anniversary cover, issued in 1957.
The letters and other items are not on display currently but can be seen by appointment by emailing history@upstate.edu.
University Archivist Elisa DeAndrea with letters from former U.S. presidents Thomas Jefferson and FDR.