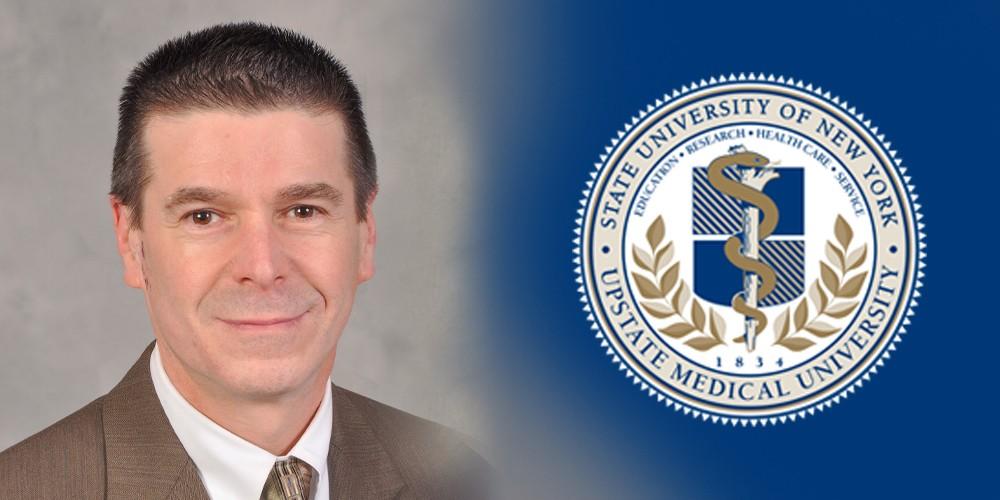 Clyde Satterly, MD, MBA, named chair of Department of Family Medicine
Clyde Satterly, MD, MBA, has been named chair of the Department of Family Medicine. The appointment was effective Sept. 15.
The announcement was made by Norton College of Medicine Dean Lawrence Chin, MD.
Satterly had served as interim chair of Family Medicine since March 2017.
Under his leadership, he has overseen numerous accomplishments, most notably the creation of Family Medicine Residency Program, the first residency based at the Upstate Community Hospital. Additionally, he has worked to increase the number of faculty in the department and expanded the number of clinical practice sites from one to three (University Health Care Center, Township 5 and Upstate Community Hospital).
Satterly is also working to create an Urban Family Medicine Residency program with the Syracuse Community Health Center.
He is also working to strengthen graduate medical education in the area of rural medicine through the inception of a rural training track in the Family Medicine Residency program.
"Dr Satterly has brought his many talents to Family Medicine and the department has excelled under his leadership," Chin said. "His strong, thoughtful leadership has served Upstate well and I'm delighted that he now assumes the position of chair."
Since joining the Upstate faculty in 2006 as a clinical assistant professor, Satterly has served as medical director for the Upstate Family and Preventive Medicine practice. He was instrumental in the practice earning NCQA Level III Patient Centered Medical Home, becoming one of the first practices in Central New York to receive this designation.
Satterly was honored with Upstate's Gold Standard Award, which recognizes faculty for their work at Upstate, with emphasis on their commitment, vision and sincerity.
Prior to joining Upstate, Satterly served as medical director, founding partner of Lakeshore Family Medicine. He also provided medical care at the Hillbrook Detention Center, Syracuse
Before earning his medical degree, Satterly was a certified public accountant in Rochester and Elmira.
He earned his medical degree from the Medical College of Pennsylvania and completed his residency in family practice at St. Joseph's Hospital Health Center. He also earned an MBA from Syracuse University.