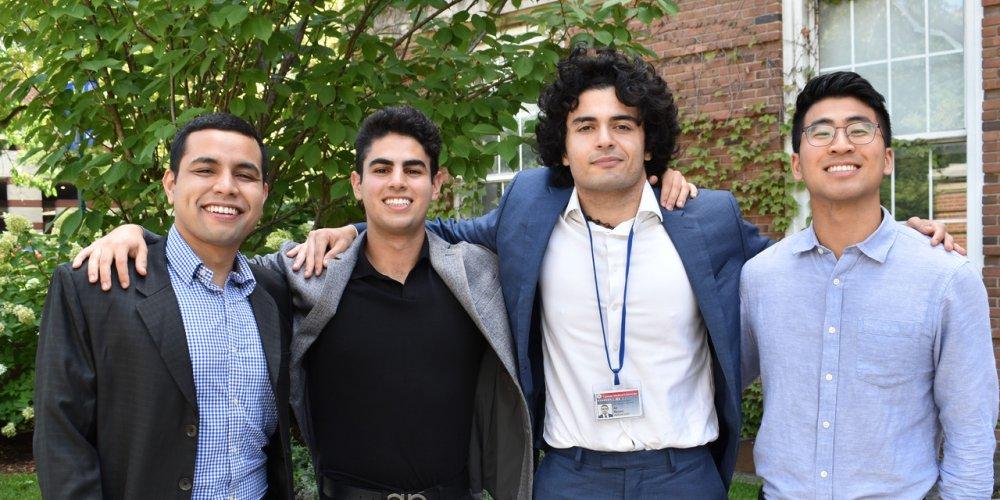 Students create group aimed at bridging the gap between medicine and industry
Several Upstate Medical University students have taken the initiative to help bridge the gap between medicine and industry.
The "Upstate Innovation and Entrepreneurship Group" was created by Avishek Sanjel Chhetri, Allen Luo, Shervin Razavi, and Jack Sedaka to help students enhance their knowledge of business-related ventures in medicine.
All are second-year medical students, except for Razavi who is an MD/PhD student.
"We envision a student-led initiative focused on enhancing the knowledge of business-related ventures in medicine, such as industry consulting, hospital administration, and healthcare startups, through experiential pro-bono consulting and educational seminars," said Chhetri, one of the group's founders. The group is looking to connect medical students who want to gain hands-on experience working with companies that contribute to the progression of medicine and science.
They also hope to facilitate educational seminars led by individuals with a demonstrated history of success in the biotech sphere. The group is in contact with representatives of the CNY Biotech Accelerator, serving to streamline student engagement with emerging companies of interest.
"We envision this initiative to be an open environment where motivated students and professionals from all colleges at Upstate, regardless of prior experience and background, can work directly with interested companies and create innovative solutions and products," said co-founder Razavi.
The group's founders emphasize that anybody at Upstate, whether a student in any of the colleges, faculty member or attending physician, can be part of this group and is welcome and encouraged to collaborate.
The group is hosting an interest meeting at noon, Friday, Sept. 23 in 2507-2508 Setnor Academic Building. For more information on the meeting or with any questions about the group, email upstateinnovationgroup@gmail.com.
Founding members of the Upstate Innovation and Entrepreneurship Group, from left, are Avishek Sanjel Chhetri, Jack Sedaka, Shervin Razavi and Allen Luo.