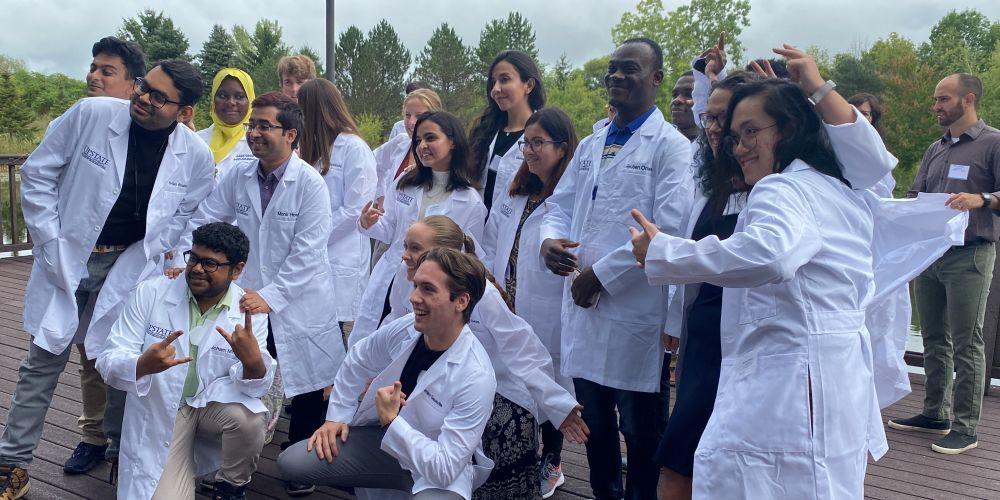 Retreat celebrates white coats and research
Upstate Medical University's College of Graduate Studies hosted its traditional Biomedical Sciences Retreat—the 22nd edition—where Upstate faculty students and alumni got an update on faculty research from a wide range of speakers, including keynote speaker Alejandro Sánchez Alvarado, PhD, CEO and chief scientific officer of the Stowers Institute in Kansas City, Mo., who spoke on animal regeneration.
Attendees also heard from current Upstate professors and researchers, like Jeffrey Amack, PhD, Cell and Development Biology, who spoke about his lab's work studying how organs take shape during development, and new assistant professor at the Center for Vision Research William Spencer, PhD, who discuss his efforts to better understand how vision happens at the molecular level.
Current students say this is one of the best parts of the retreat. "We get engrossed in our own research," says fourth-year PhD candidate Jessica Hotaling. "It's easy to forget what our fellow students and other departments are working on."
Hotaling says this is her fourth Biomedical Sciences Retreat, and she looks forward to being able to talk to the other students and researchers to find out what other departments are currently researching. "it's a really great opportunity to see what else is going on at Upstate."
She was one of the many graduate students presenting their first research posters at the retreat this year. Her current lab's work is studying the long-term impact of radiation on cancer patient's bone, and efforts to try and find ways to lessen the damage.
"These patients will experience bone fragility that can lead to fractures. These fractures can be devastating; a patient could go to open the fridge and break their arm, or they roll over in bed and they break a rib," she said.
She explained the initial data shows a calorie-restricted diet could potentially be a therapeutic treatment and is excited to continue her research efforts. "We want to understand the mechanism. These results were interesting and now we want to understand more about them."
The day also included 30 first-year students receiving their white coats as they begin their studies as graduate students at Upstate.
After the official photographs had been taken, students in the College of Graduate Studies strike a less formal pose.