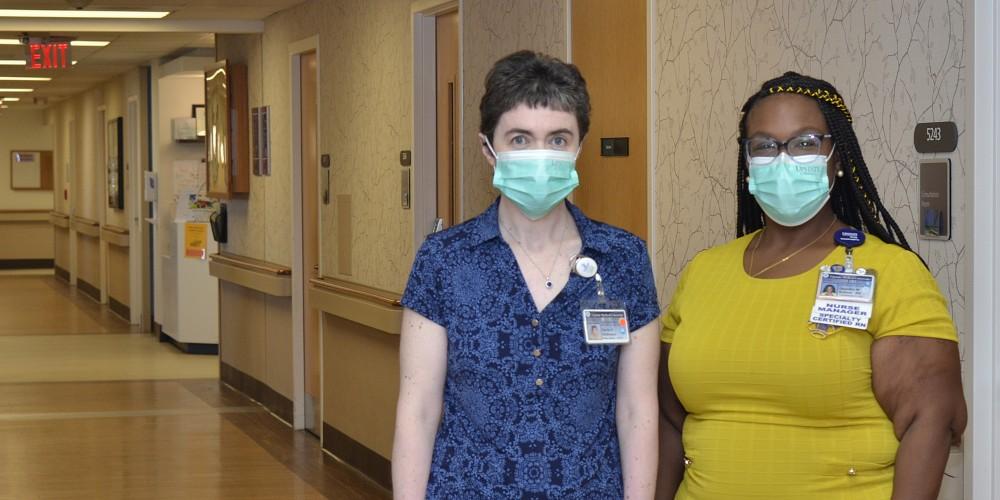 Upstate earns recognition for care of older adults
Upstate Medical University has been named an Age-Friendly Health System which highlights its commitment to providing the best care for older patients.
It joins 2,800 other medical centers across the country that have earned the recognition, which focuses on providing a set of four evidence-based elements of high-quality care, known as the 4Ms, to older adults: What Matters, Medication, Mentation, and Mobility. Upstate has earned a Level 1 designation, and in the fall plans to apply for Level 2.
According to the U.S. Census Bureau, the U.S. population aged 65 and older is expected to nearly double over the next 30 years, from 43.1 million in 2012 to an estimated 83.7 million in 2050. These demographic advances have left health care systems behind as they struggle to reliably provide evidence-based practice to every older adult at every care interaction.
The Age-Friendly Health Systems designation is an initiative of the John A. Hartford Foundation and the Institute for Healthcare Improvement (IHI), in partnership with the American Hospital Association (AHA) and the Catholic Health Association of the United States (CHA), designed to meet this challenge of caring for an aging population head on.
At Upstate, the Age-Friendly initiative centers on the Transitional Care Unit (TCU) at Upstate Community Hospital and ambulatory care through the Department of Geriatrics. The 20-bed TCU provides care for patients who no longer need acute care during a regular hospital stay but aren't ready to go home yet. The Department of Geriatrics ambulatory care provides outpatient consultations for older patients. 
Quonitra W. Bullock, MSN, RN, NEA-BC, nurse manager of the TCU, and Carrie A. Dickinson, PhD., operational excellence leader for Ambulatory Services Administration, are co-leaders of the interdisciplinary team, which works together to meet the goals of the 4Ms.
"Our older adults represent a growing population and a population that is at the highest risk for hospitalization, eventually ending up in nursing care facilities if their care is not managed well," Bullock said. "We need to look at their care as a whole. We want to make sure that we pay attention to the things that matter most to them—their medication, how they move, as well as their psyche to keep them upbeat and to make sure they can continue to be functional in society."
The cross-functional team, in both transitional and ambulatory care, includes nursing, physical therapy, pharmacy and hospital leadership.
"We have a cross functional team working on this, hospital side as well as ambulatory," Dickinson said. "This team is doing an excellent job working together."
The team also includes an older adult from the local community, 96-year-old Charlotte "Chuckie" Holstein, founder of F.O.C.U.S. Greater Syracuse.
"She has provided so much insight about things that she feels would make life a little easier for her in this environment," Bullock said.
The initiative is based on a series of practices focused on addressing four essential elements of care for older patients:
What Matters: Know and align care with each older adult's specific health outcome goals and care preferences in​clu​ding, but not limited to, end-of-life care, and across settings of care.
Medication: If medication is necessary, use Age-Friendly medications that do not interfere with What Matters to the older adult, Mobility, or Mentation across settings of care.
Mentation: Prevent, identify, treat, and manage dementia, depression, and delirium across settings of care.​
Mobility: Ensure that older adults move safely every day in order to maintain function and do What Matters.
Bullock said Upstate was already using best practices in some areas but in others made some commonsense changes that can make a big difference to the older population such as using larger type for documents, as well as offering them in a second language, and making sure all the chairs for visitors have arms since most visitors are also older and need the support.
The in-patient unit purchased a blanket warmer because patients reported that they were always cold. Upstate also added a full slate of vaccinations to the rehab floor, so now patients can get TDAP (Tetanus, Diphtheria and Pertussis), shingles, flu, pneumonia and covid shots while there.
Possibly the most important change came with adding the simple question, "What matters to you?" in a formal way during patient intake. Bullock said that could be something as simple as there is a cat at home the patient needs to care for.
Feedback through satisfaction surveys has been positive.
"Patients are happy that we are expressing consistently that we care about them as a person as a whole, that we care about what matters to them," she said.
In conjunction with the Age Friendly initiative, Upstate was awarded a $10,000 grant from the Health Foundation for Western and Central New York to enhance its electronic medical record system to include age friendly modules for providers. The Health Foundation is an independent private foundation that advocates for continuous improvement in health and health care by investing in the people and organizations that serve young children and older adults.
Bullock and Dickinson said the hospital's goal is to initially reach 500 patients with its new initiative. In the fall, Upstate will apply for a Level 2 designation and eventually they hope the program is integrated throughout the hospital.
Quonitra W. Bullock, right, MSN, RN, NEA-BC, nurse manager of the TCU, and Carrie A. Dickinson, PhD., operational excellence leader for Ambulatory Services Administration, are co-leaders of the interdisciplinary team that helped earn the Age-Friendly System designation for Upstate.