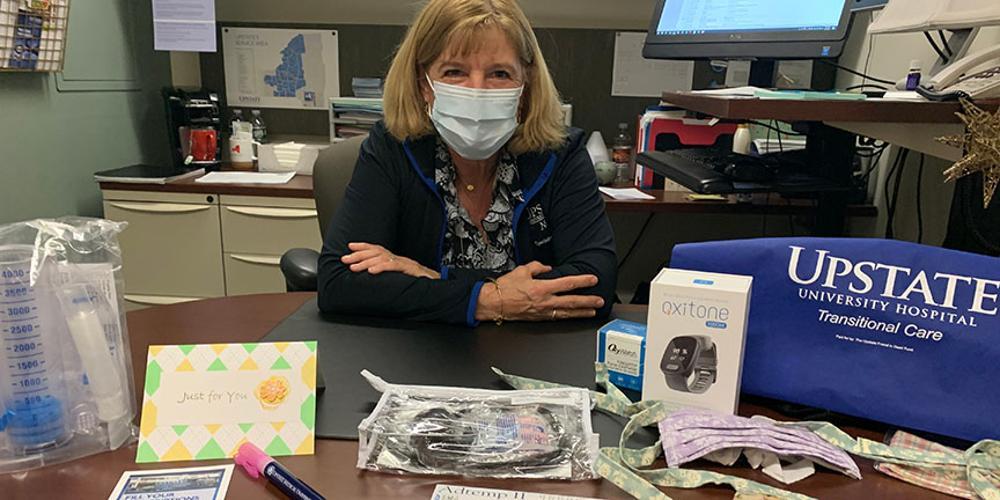 Upstate's Covid Transitions Clinic has connected with more than 1,000 patients since opening in April 2020
Upstate University Hospital continues to provide ongoing services and support for COVID-19 positive patients as they recover at home.
The goal of the clinic, launched in April 2020 as the COVID Transitions Clinic and now run under the hospital's Connect Care Clinic, is to assist recovery at home for patients who do not need to be hospitalized.
Diane Nanno, MS, CNS, RN, director of Transitional Care, said Upstate began offering the service to offer comfort and reassurance to patients recovering at home at a time when little was known about the virus and in anticipation of potential surges and concerns about having enough beds.
"The idea for the COVID Transitions Clinic was to prevent hospitalization or if a patient was being discharged, to prevent them from returning," said Nanno.
Now more than two years later, Nanno estimates that Upstate has reached more than 1,000 patients with the initiative, which includes COVID comfort kits, access to telehealth visits with a provider and an assessment of the patient's needs at home. Upstate also offers a 24-hour triage line for all community members.
The COVID program focuses on patients seen in the emergency room, patients discharged from the hospital, and those in need of kits who are seen in Upstate clinics.
Nanno and her team created the comfort kits, which she described as a "virtual hug" to let patients know Upstate is thinking of their needs as they recover at home. The kits include a surgical mask, a thermometer, cough drops, Tylenol, and a finger oximeter, all contained in a canvas reusable bag. The finger oximeter, which measures oxygen levels, is a key assessment tool for patients to monitor their condition.
Patients are given the kits upon discharge, but Nanno and her team also hand-delivered hundreds of them to people's homes.
"It made it more comfortable and safer for us to discharge patients to their own homes," Nanno said. "The ED providers were more comfortable discharging patients knowing they were going to have this follow up. We've received great feedback: People indicated they felt comforted that we were thinking about them and that we gave them tools to monitor their health at home."
The COVID Transitions clinic closed in November of 2021 and now is housed under Connect Care, launched last fall as a dedicated clinic to help patients transition from hospital care to outpatient setting in a safe, efficient, and timely manner.
Tiffany Bell, director of Ambulatory Services who runs Connect Care, said the transitional care team supplies the kits and that Connect Care continues to contact all the COVID hospital discharges to make sure they are progressing well and offers them an appointment with a provider if they need that support, either in person or via telemedicine.
"It is important and valuable to continue the COVID support because we continue to see varied responses and recoveries to the illness," Bell said. "Because of the variants and the way patients respond to the variant, we are watching recovery indicators closely. We partner with the patient while they continue their recovery at home."
Diane Nanno poses with contents of a comfort kit that are given to COVID-19 positive patients as they are discharged from Upstate.