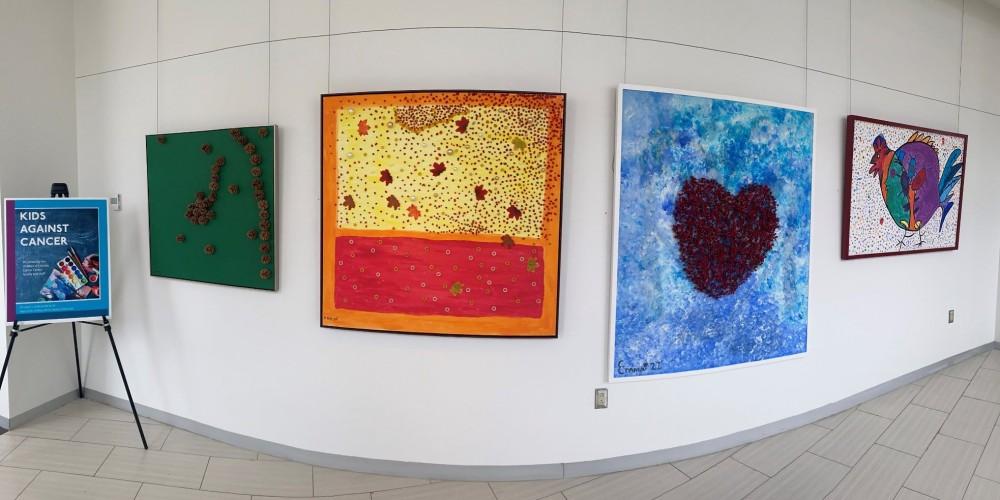 Upstate Cancer Center hosts 'Kids Against Cancer' art exhibit
Colorful interpretations of animals, bright rainbows, and abstract art on large canvases are just a few of the pieces featured in the "Kids Against Cancer" art exhibit, which is on display at the Upstate Cancer Center through Oct. 3. The exhibition will be in the Cancer Center's Guest Artist Gallery, located in the second-floor hospital connector.
Each third quarter, the Guest Artist Gallery is reserved for a program called "On My Own Time" to highlight amateur artists. Traditionally, Upstate Cancer Center faculty and staff contribute artwork for the exhibit. However, this year the spotlight shines on young artists who are children of Upstate Cancer Center faculty and staff.
Celebrating the creativity of children, the exhibition features 21 pieces of art submitted by 7 young artists ranging in age from 5 to 10 years old. Participating artists include Claire Albert, Evelyn Albert, Julia Albert, Bonnie Luo, Emma Mollapour, Lydia Morris and Shreeda Paudel.
"Kids Against Cancer" was made possible through a partnership with Upstate Cancer Center and the Department of Urology. Support for the exhibit also comes from Edgewood Gallery and Cheryl Chappell.