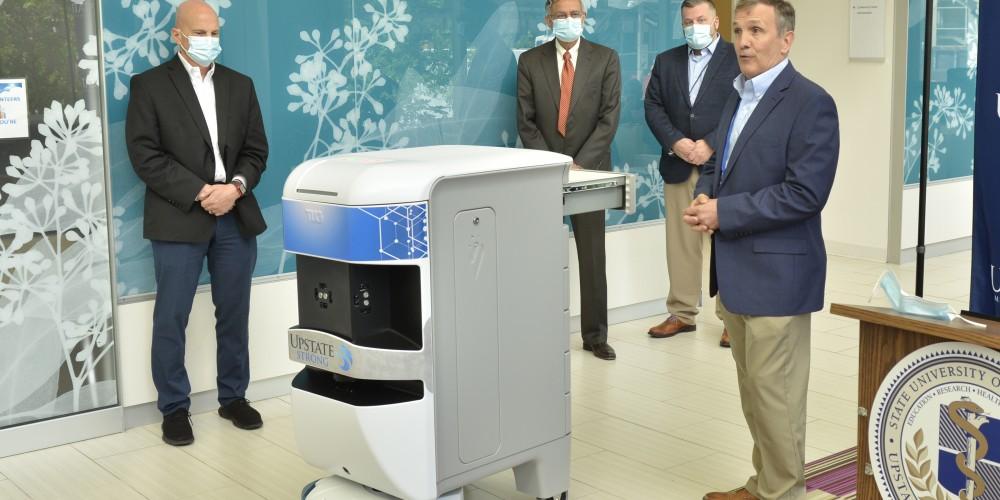 New kid on the block at Upstate: The transport robot
Soon a small fleet of robots will ferry everything from medicine to meals around Upstate University Hospital.
The hospital has invested in a fleet of 14 TUG robots manufactured by Aethon, whose products specialize in material delivery in hospitals, manufacturing and hotels. A TUG is an autonomous mobile hauling robot designed specifically for hospitals.
More than a year ago, Upstate determined that given the state of the technology and the challenges that Covid presented to its supply chain, along with staff shortages on the horizon, that it would invest in robotic transport technology.
Robots have long been used at Upstate to perform minimally invasive surgeries, including brain surgery, and now will serve another role by helping alleviate staff shortages brought on by Covid.
The use of the TUGS will free up critical time for staff to focus on patient care.
Hospitals across the country are turning to robots to help with staff and nursing shortages and the medical robot market is projected to grow into a $43 billion industry in the next 5 years. Currently, 37 VA Hospitals use the same TUGS made by Aethon, as does Stanford Hospital and University of California San Francisco Medical Center.
On average, TUGS are traveling 370 miles a week around hospitals, delivering thousands of pharmacy orders, linens and meals, among other things.
Beginning with the transport of critical drugs from the pharmacy within the hospital to the cancer center, Upstate plans to use the new fleet of transport robots to also transport medical supplies, drugs, linen, meals, and, potentially, even clinical equipment.
Steve Roberts, director of autonomous machines at Upstate, says "the possibilities are endless and only bound by what can be safely transported. Even now, we are thinking about how best to integrate these robots with drones. As our nationally recognized drone program continues to evolve, this handoff will become essential to supporting the transport needs of our remote sites."
Though the TUG robot, which stands about four feet high and two feet wide, looks like nothing more than a giant storage cart, it's the technology behind it that makes it impressive.
The robot uses lidar, laser, sonar, and infrared sensors to navigate. It can get on and off the elevator. When it arrives at its destination it can let itself in. And each of its seven drawers can only be unlocked at the destination it was programmed for and by the person the delivery is for.
To get the robots up and running, the whole hospital had to be mapped so that the robots can navigate, and all the elevators needed an upgrade so that the robot server and the elevator server could communicate.
Roberts said he put in the order for the first TUG in November and then had to immediately order 13 more since the need for help is so great. He said normally he would have six months to a year to plan and figure out logistics, but the roll out is moving much more quickly than he anticipated because the process so far has been very smooth.
He said a team of 20 staff from different departments meets every other week to figure things out, including programming the best route for the first TUG to take from the pharmacy over the bridge to the Cancer Center.
The fleet of 14 TUGS are all about 4 feet tall and can travel at a rate of 30 inches per second.
Three robots, also called TUG Drawers, have a set of secure drawers and can carry up to 500 pounds. The drawers can be used for anything, such as medicine, samples, or food. Roberts said one will be stationed at the main reception area to bring patient belongings up to nursing stations.
The rest, TUG T3s, feature a flat bed with a lifting mechanism and can carry up to 1,000 pounds. These can drop off and pick up carts of food trays or linens or refuse.
The units will be used first in the hospital pharmacy, the 6I Nursing station, Food and Nutrition and Distribution. Eventually, Roberts said, the TUGS can deliver food and coffee to units as well.
Another significant need will be supporting the Nappi Wellness Building, which is scheduled to open in Spring 2023. Upstate plans to meet the needs of this new facility, at least in part, by using the transport robot to move material in from the hospital.
"Anything you can put on a cart and move around, these things can carry," Roberts said.
Upstate CEO Robert Corona, DO, MBA, said as the technology continues to advance, the possibilities for automated help are endless.
"With the current staffing shortage that is likely to last for several years, robots will allow our staff to work at the top of their skill set as robots take over some of the more routine tasks," he said.
Caption: Steve Roberts, director of autonomous machines at Upstate, stands with a transport robot, now in use at Upstate. Looking on are hospital CEO Robert Corona, DO, MBA, Upstate Pharmacy Director Joseph Burczynski and Upstate President Mantosh Dewan, MD.