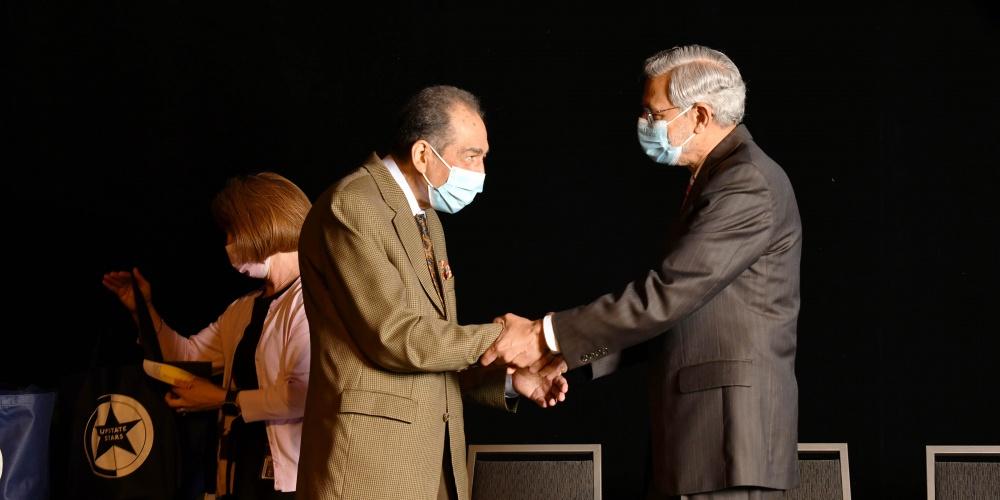 More than 1,100 gather for Employee Recognition Day
A trio of employees—Eugene Kaplan, MD, Arthur Walsh, and Shawky Badawy—were recognized for more than a half century of service to Upstate Medical University at the organization's annual Employee Recognition Day event, held June 9 from at the Nicholas J. Pirro Convention Center at Oncenter Complex, 800 S. State St., Syracuse
They were among the more than 1,100 Upstate employees who gathered in person for the event, which for the last two year was held remotely due to pandemic precautions.
The event honors employees who have reached a 5-year service milestone as of June 30. A complete listing of all employees recognized is here.
Badawy came to Upstate in 1972. He was pursued at the time by several other medical centers, but chose to begin his career at Upstate. His career at Upstate included service as the chair of Obstetrics and Gynecology, and his work as sought-after clinician and researcher on endometriosis. He also founded the reproductive endocrine specialty at Upstate.
Walsh got his Upstate ID badge in 1967, and began working in the linen room, then worked as a driver and then switchboard operator and many other places in between in his 55 years at Upstate.
Kaplan earned his medical degree from Upstate in 1957 and joined the faculty in 1961. It's estimated that he has taught more than 3,500 medical students. Kaplan became director of the residency program in 1969 and served as chair of the Psychiatry from 1984 to 1999, during which he expanded and improved undergraduate and graduate teaching programs.
More than 800 employees who were celebrating milestones of five, 10 and 15 years, were asked to stand to be recognized, while employees in attendance who were marking 20 through 60 years crossed the stage and were greeted by Upstate University Hospital CEO Robert Corona, DO, MBA, and Upstate President Mantosh Dewan, MD.
Gwynne Conway, chair of the Employee Recognition Day committee served as host of the event thanked those gathered at the Oncenter for their dedication to Upstate and the Central New York community.
Caption: In attendance at the Employee Recognition Day, Dr Shawky Badawy, left, is congratulated by Upstate President Mantosh Dewan, MD, for his 50 years of service to Upstate. Badawy is a former chair of Obstetrics and Gynecology.