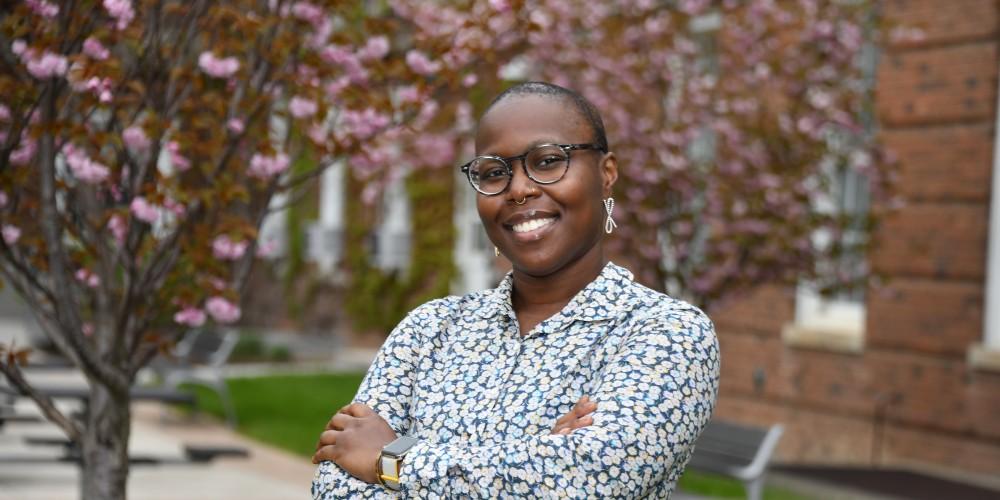 Upstate medical student launches first CNY Brain Cancer Research Walk
It is fitting that the inaugural Central New York Walk for Brain Cancer Research at Upstate Medical University, organized by second-year medical student Nneka Onwumere, falls on Mother's Day, Sunday, May 8.
It was Onwumere's mother, Elsweta Gordon, who helped spark her interest in the field of neurology and later, Gordon's own health issues that solidified Onwumere's resolve to become a doctor.
Gordon worked as a medical assistant and later as a nurse in the neurology department of a hospital in the Bronx. She died in the fall, so this is Onwumere's first holiday without her.
"I won't be alone on Mother's Day," she said.
The walk will benefit Debbie's Brain Cancer Research Fund, part of the Upstate Foundation, which supports brain cancer research at Upstate.
The walk is being hosted by the Upstate Medical University Chapters of the American Association of Neurological Surgeons (AANS), Colleges Against Cancer (CAC), Medicine in Motion and Upstate Wishmakers on Campus.
Squeezing in event planning around med school commitments hasn't been easy, but Onwumere hopes this year's event lays the groundwork for more successful events in years to come.
"My general goal is to start somewhere," said Onwumere, who is co-president of the AANS chapter. "And my dream is that even after I graduate this will be a yearly walk. It is something I feel like I can leave as a mark here. This year I just really want to get people walking."
After participating in local walks for breast cancer and Alzheimer's in the fall, Onwumere searched for a similar event for brain cancer but finding none, decided to start one, even though she has no event planning experience.
It is that same gumption—and work ethic inherited from her mother, who put herself through nursing school while working full-time—that got her to medical school in the first place.
During middle school and high school, she volunteered doing clerical work at The VA Medical Center in the Bronx, where her mother worked in the neurology department. On her lunch breaks she would visit with patients. One of them told her she had a good bedside manner and should consider being a doctor.
"I really liked talking to patients," she said. "It helped me learn how rewarding the doctor-patient experience could be."
She also likes doing things with her hands, which is what pushed her into neurosurgery over neurology. Upon graduating from college, Onwumere applied to Upstate's medical school, but was not accepted, so instead she started to pursue a master's degree closer to home.  
When she had to leave the program to help support her family, she took a job as an office assistant for an oncologist at Memorial Sloan Kettering Cancer Center. While there, she earned a master's degree part-time, and got promoted to become a research assistant.
Around the same time, her mother started having a series of strokes, furthering her interest in neurosurgery, and inspiring her to keep pursuing her dream, despite her initial failure to get into medical school. She applied to Upstate again and was accepted to the Medical Scholars Master's program, which provides students extra enrichment and a pathway to medical school. She earned her master's and started medical school in 2020.
"My mother's experience reminded me of what I could be," Onwumere said. "It reminded me of what I should be trying to do. It reminded me that I could possibly make a difference instead of giving up. I am very grateful Upstate gave me a chance."
Once she got to medical school, she said like a lot of students, she immediately felt inadequate and wanted to do everything she could to make sure she could cut it in neurosurgery. She reached out to doctors in the neurosurgery department to shadow them in clinic and in the operating room, where she has witnessed several brain tumor surgeries. All of this, above and beyond her regular schoolwork and responsibilities as a first- and second-year med student.
"I think neurosurgery is just for me," she said.
While she is unsure she will pursue neuro-oncology, the cause is an important one to her.
There are more than 150 types of brain tumors, and more than 20,000 adults are diagnosed with them annually according to the National Cancer Institute. According to the Pediatric Brain Tumor Foundation, approximately 4,200 children are diagnosed annually with brain tumors in the United States.
Debbie's Brain Cancer Research Fund was started by a Debbie Gregg of Cazenovia in honor of her doctor at Upstate after she was diagnosed with a rare, aggressive brain tumor and she died in 2012.
The 1.28-mile walk starts at 9 a.m. at the Syracuse University College Place lot (formerly Quad 4 lot) and ends in front of the Upstate Cancer Center. Online registration closes at 5 p.m. Thursday, but participants can register the morning of the walk at 8:30 a.m. Registration is $5 and available at the start of the walk
For more details on the walk, see:  https://www.upstatefoundation.org/WalkForBrainCancerResearch.
May is Brain Cancer Awareness Month.
"Many thanks to Nneka and her team of medical students for hosting this fundraising event," said Terry Toscano Shenfeld, director of foundation relations for the Upstate Foundation. "We are inspired by their passion and grateful for their efforts to raise awareness and meaningful support for brain cancer research at Upstate."