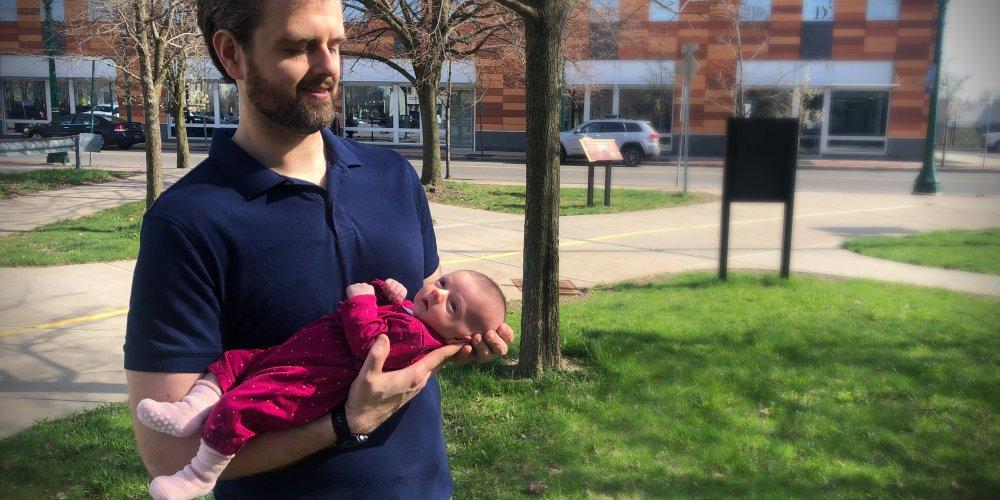 Graduate's new title is not only doctor, it's also Dad
John Perna may be pulling all-nighters these days, but not to hit the textbooks or do rounds in preparation for his graduation from Upstate Medical University on May 1.
Instead, his nights are spent changing diapers, singing lullabies, and bathing his newborn daughter.
One month before Perna is set to walk across the stage at the Upstate Medical University Arena at the OnCenter May 1 to receive his Doctor of Medicine degree, he became a father when his wife, Liz, gave birth to their daughter, Vivienne Alexandra. She was born at Upstate's Family Birth Center, the very same halls where Perna spent time on his pediatrics rotation, and delivered by one of the very same doctors and resident— Elizabeth Seymour, MD—he worked alongside. The couple is also very grateful to Sana Zekri, MD, and Maryanne Arienmughare, MD, for overseeing the care and delivery of their daughter.
"It feels right. It feels very complete," Perna said about Vivienne being born at Upstate. "This community has given me so much, so many positive learning experiences, the ability to develop so many positive relationships. I love that it was such a big part of the start of our family. To have the people who I worked alongside of involved in the birth makes it all the more rewarding. I feel like I truly came of age here as a person."
Adds Liz: "We were just so honored to have this whole full circle experience for him to have his training here and now to be spending the night with our beautiful baby, just looking to the future together."
When Perna arrived in Syracuse for medical school in 2018, he was coming off what he described as a "mid-life crisis at 25" when he became unsatisfied with his career in the entertainment industry. He decided to change course and pursue a career that connected more closely with his values.
He and Liz had been living in New York city and when they visited Syracuse and the medical school, it was an instant fit. He liked the size of the city and what it had to offer, as well as the supportive nature of the medical students and school community.
"We really got such a positive impression from the community," said Perna, who is from Maine. "I realized that it would be a perfect environment to train to go into medicine."
And it became so much more than a place to learn medicine. He and Liz got married in Green Lakes State Park on the afternoon of March 8, 2019, just hours after he took a final unit exam on renal physiology that morning. Two years later, Vivienne was born on March 30. The couple also recently adopted two cats. At the end of May, they will pack their Subaru and drive to Atlanta for Perna's residency at Emory University, the next stop on their journey. Perna will do his residency in psychiatry with a goal to work in child and adolescent psychiatry.
The couple agrees that it will be hard to leave Syracuse.
"We are leaving with so much," Perna said. "To leave not just as a doctor but also as a family. It's really become kind of a special place."
Perna said that he is grateful that they could welcome a baby while he has a break from the daily grind of med school.
"I'm so thankful to have this time to really connect and bond with our newborn daughter and to adjust to the role of being a father," he said. "I'm especially grateful knowing that in a few short months I will be tackling my intern year of residency which is going to come with its own set of challenges. It's nice to have this calm before the storm.  It is incredibly rewarding emotionally, and much needed after couple of years of nose-to-the-grindstone work, to reconnect a little bit with parts of myself. I think it will serve me and also our family well going into the next step."
Before they take that next step, the couple will hire their first babysitter as they attend commencement ceremonies Sunday.
A few weeks later, though they will leave for Atlanta, Perna said he could see his family returning to Syracuse, just like one of his mentors here did.
"I could see that being our story," he said. "I think we're still interested in continuing to explore and to see what's out there, but I think at this point we know that this is always going to be an amazing place to come back to."
Caption: John Perna, who will receive his doctor of medicine degree Sunday, with his newborn daughter, Vivienne Alexandra, who was born March 30.