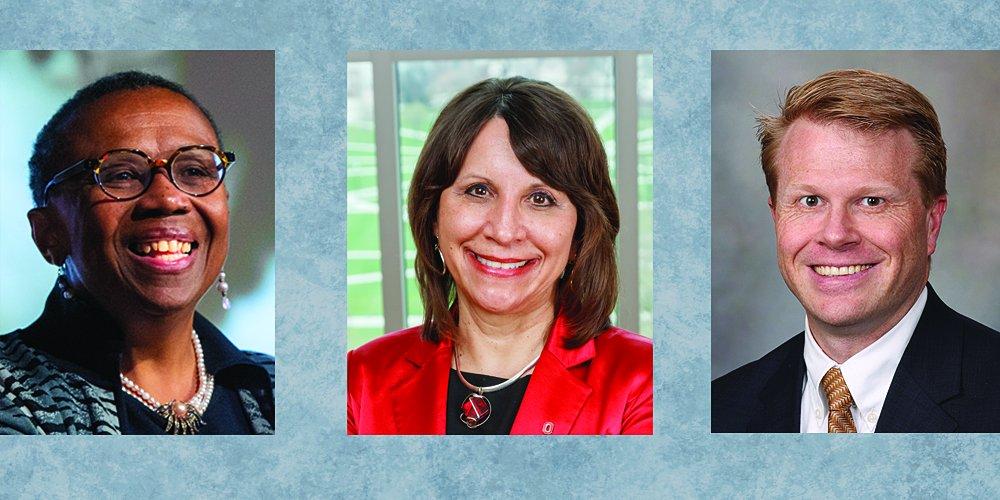 Upstate to award three with honorary degrees at Commencement
Upstate Medical University will present honorary degrees to three individuals who have made substantial contributions in areas of importance to Upstate, including social justice, equity, clinician wellness and evidence-based practice
The three honorees are Vanessa Northington Gamble, MD, PhD, Bernadette Melnyk, PhD, and Tait Shanafelt, MD. Each will receive a doctor of science degree from the State University of New York. The degrees will be presented at the Upstate's Commencement Sunday, May 1 at 1 p.m. at Upstate Medical University Arena, 515 Montgomery St., Syracuse.
Their nominations were supported by Upstate's campus Honorary Degree Committee, the State University of New York's Honorary Degree Committee, and the State University of New York Chancellor and Board of Trustees.
The 2022 honorary degree recipients are:
Vanessa Northington Gamble, MD, PhD
Vanessa Northington Gamble, MD, PhD, is University Professor of Medical Humanities at the George Washington University, the first woman and first African American to hold this prestigious, endowed faculty position. She is also Professor of Health Policy in the School of Public Health and Health Sciences and Professor of American Studies in the Columbian College of Arts and Sciences. Gamble has held positions as Vice President for Community and Minority Programs at the Association of American Medical Colleges, Associate Professor and Deputy Director of the Center for Health Disparities Solutions at the Johns Hopkins Bloomberg School of Public Health, and Director of the Tuskegee University National Center for Bioethics in Research and Health Care. 
Throughout her career Gamble has worked to promote equity and justice in American medicine and public health.  A physician, scholar, and activist, she is an internationally recognized expert on the history of race and American medicine, racial and ethnic disparities in health and health care, and bioethics.  She is the author of several widely acclaimed publications on the history of race and racism in American medicine, including the award-winning Making a Place for Ourselves:  The Black Hospital Movement: 1920-1945.  Public service has been a hallmark of Gamble's career.  She chaired the committee that took the lead role in the successful campaign to obtain an apology in 1997 from President Clinton for the infamous United States Public Health Syphilis Study at Tuskegee.
Gamble's many honors include membership to the National Academy of Medicine and the Alpha Omega Alpha Honor Medical Society and election as a Fellow of the Hastings Center. She is the 2021 recipient of the Distinguished Graduate Award from the Perelman School of Medicine at the University of Pennsylvania.
Bernadette Melnyk, PhD
Bernadette Melnyk, PhD, APRN-CNP, FAANP, FNAP, FAAN, is Vice President for Health Promotion and University Chief Wellness Officer, the Helene Fuld Health Trust Professor of Evidence-based Practice (EBP), and Dean of the College of Nursing at The Ohio State University. She is professor of pediatrics and psychiatry at Ohio State's College of Medicine and Executive Director of the Helene Fuld Health Trust National Institute of EBP. She is a globally recognized expert in EBP, intervention research, child, teen and young adult mental health, and health and wellness, and is a frequent keynote speaker at national and international conferences.
Melnyk has consulted with hundreds of healthcare systems and colleges on how to improve quality of care and patient outcomes through implementing and sustaining evidence-based practice. Her record includes over 33 million dollars of funding from federal agencies and foundations, and over 460 publications. Melnyk is co-editor of seven books that focus on EBP, intervention research and evidence-based quality improvement, leadership, innovation and entrepreneurship, and child and adolescent mental health screening, assessment and intervention. Her evidence-based Creating Opportunities for Personal Empowerment (COPE) cognitive-behavioral skills building programs are being used throughout the U.S. and other countries to prevent mental health disorders and bring evidence-based intervention to children, teens and college students with depression and anxiety.
Melnyk is an elected fellow of the National Academy of Medicine, the American Academy of Nursing, the National Academies of Practice, and the American Association of Nurse Practitioners. She served on the U.S. Preventive Services Task Force and the National Institutes of Health's National Advisory Council for Nursing Research. She was a board member of the National Guideline Clearinghouse and the National Quality Measures Clearinghouse (NGC/NQMC), and the National Quality Forum's (NQF) Behavioral Health Standing Committee.
Tait Shanafelt, MD
Tait Shanafelt, MD, is Chief Wellness Officer at Stanford Medicine, and Associate Dean and Jeanie and Stewart Richie Professor of Medicine at Stanford University. He is a hematologist/oncologist whose clinical work focuses on the care of patients with chronic lymphocytic leukemia. He served a 7-year term on the National Cancer Institute (NCI) Leukemia Steering Committee from 2014-2020 and has been principal investigator on four R01 grants from the NCI and on numerous clinical trials testing new treatments for patients with chronic lymphocytic leukemia. He has published more than 450 peer-reviewed manuscripts and commentaries in addition to more than 100 abstracts and book chapters.
In addition to his leukemia research, Shanafelt is an international thought leader and researcher in the field of healthcare professional well-being and its implications for quality of patient care. His pioneering studies in this area nearly 20 years ago are credited with helping launch the entire field of organizational efforts to promote clinician well-being. His work has involved physicians, nurses, advanced practice providers and biomedical scientists at all stages of their career and has included numerous multi-center and national studies.
He previously served as the founding director of the Mayo Clinic Department of Medicine Program on Physician Well-being and served a 3-year term as the president of the Mayo Clinic Voting Staff. In 2017, he moved to Stanford where he leads the WellMD Center. He is a member of the American College of Physicians Task Force on Physician Well-being and served as a member of the National Academy of Medicine Subcommittee on System Approaches to Support Clinician Well-being. Currently he is co-lead of the National Academy of Medicine's Clinician Well-being Steering Committee.
The Health Sciences Library has provided additional resources—videos, podcasts and publications—on each of the honorary degree recipients. Those resources are available here.
Caption: The honorary degree recipients are, from left, Vanessa Northington Gamble, MD, PhD, Bernadette Melnyk, PhD, and Tait Shanafelt, MD.