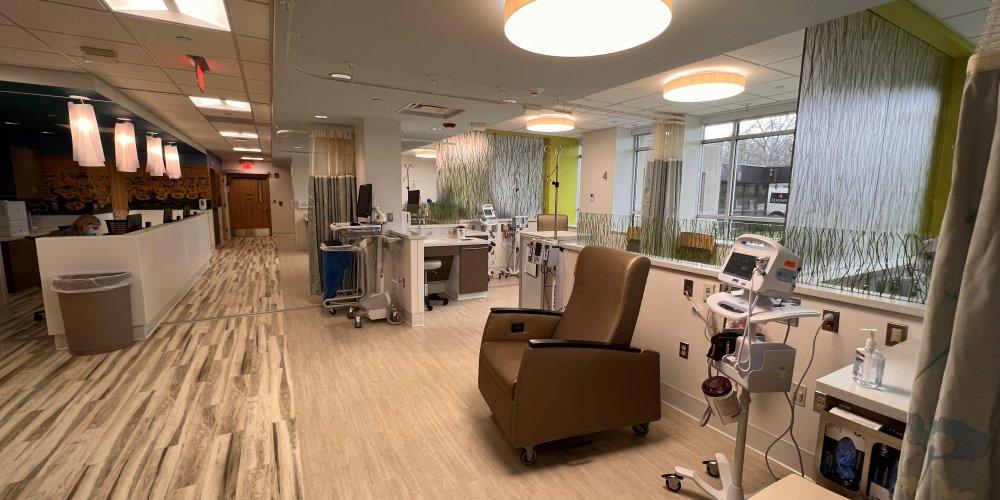 Upstate Cancer Center at Community opens
The gleaming new Upstate Cancer Center at Community formally opened its doors April 5 with the snip of a ribbon.
The 6,000 square foot center, located on the first floor of Upstate Community Hospital, offers hematology and oncology services, featuring 11 infusion areas and four exam rooms.
Other services offered include tobacco cessation counseling, palliative care, nutritional counseling, financial counselor, psychosocial oncology, genetic counseling, integrative therapy, survivorship, and support groups.   
Abirami Sivapiragasm, MD., who serves as medical director of new cancer center location, said the new first-rate location matches the first-rate care patients receive from Cancer Center medical staff.
The expansion of cancer services west of Syracuse—and to other locations outside of Syracuse—is part of bringing cancer care close to home, said Thomas VanderMeer, MD, interim director of the Upstate Cancer Center.
Upstate is building a new cancer center in Verona, which is expected to open next year.
Key contractors for the Cancer Center at the Upstate Community Hospital project were HOLT Architects, RAM-Tech Engineers and R.J. Ortlieb Construction Co.