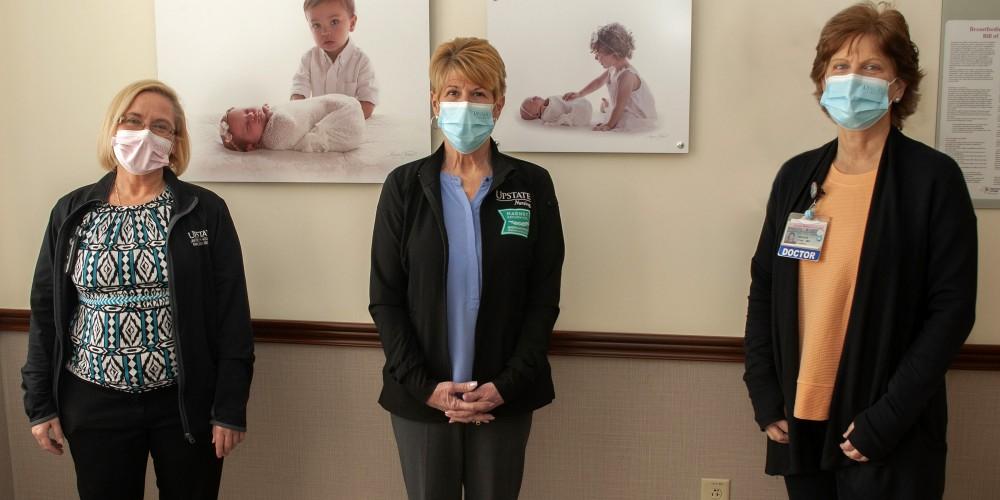 Upstate Community Hospital earns Baby-Friendly designation
Upstate University Hospital's Community campus has earned the prestigious Baby-Friendly designation from Baby Friendly, USA, joining a growing list of more than 20,000 Baby-Friendly hospitals and birth centers throughout the world, 588 of which are in the United States.
These facilities provide an environment that supports breastfeeding while respecting every woman's right to make the best decision for herself and her family.
The Baby Friendly Designation means Upstate's Family Birth Center is committed to providing the support, education and resources moms need to successfully initiate breastfeeding and continue breastfeeding when they leave the hospital. These standards are built on the "Ten Steps to Successful Breastfeeding," a set of evidence-based practices recommended by the World Health Organization (WHO) and the United Nations Children's Fund (UNICEF) for optimal infant feeding support in the first days of a newborn's life.
Earning the designation is a rigorous, multi-step process.
"Much of the designation pursuit occurred during the pandemic, which moved the entire assessment process virtual, which posed some challenges," said Cathy Narcavage-Bradley, DNP, RN, clinical outpatient health educator and class coordinator for Upstate's Best Beginnings childbirth classes. "This designation is the culmination of a lot of hard work and determination across our organization from the prenatal offices to hospital inpatient units, all with a goal of helping families get off to a good start."  
Family Birth Center Nurse Manager Barbara Bennett, RN, BSN, said much of that work focused on education.
The unit introduced new patient and staff education materials with a greater focus on breastfeeding.
The unit also increased focus on skin-to-skin bonding as soon as the baby is born. Even after a C-section, babies are now placed immediately on the new mother's chest for an hour, if possible, even before a full bath. In the past, the newborns were bathed right away but evidence shows the familiar smells help with bonding. Breast feeding is initiated within the first hour as well, if possible. Bennett said the unit also has available to parents Joeybands, a light wrap that promotes skin-to-skin contact.
"Staff and patient education were the biggest things we have done over the past few years because it's such a culture change for many nurses, providers and patients," Bennett said.
Staff and patients were also interviewed by Baby Friendly USA as part of the process.
"Baby Friendly designation recognizes that the entire team including nurses, providers and midwives are well educated on what this was all about, and more importantly then follows through to confirm the patients are," Bennett said. "The designation is kind of like a Good Housekeeping seal of approval, but the bottom line is it's really what's best for the babies. It's all evidence based. It's top notch. It's the highest standard you can do for babies."
The Birth Center's current goal is for more than 65 percent of babies born there to breastfeed exclusively while in the hospital. However, Bennett said they recognize that not all mothers will choose to or be able to successfully breastfeed.
"Some moms still want to formula feed, and we support that with them," Bennett said. "We help them understand the risks and the benefits. Our job is to make sure they are getting the education they need and making an informed decision."
"We're so proud of the dedication and persistence of our staff in attaining Baby Friendly designation. With this expertise, we are able to give family focused care, and fully support new moms and babies in reaching their bonding and feeding goals," said Michele Chai, MD, medical director of newborn nursery.
The newly renovated Upstate Family Birth Center opened at Upstate Community Hospital in 2018.
The Baby-Friendly designation was championed by, from left, Cathy Narcavage-Bradley, DNP, RN, Barb Bennett, RN, and Michele Chai, MD.