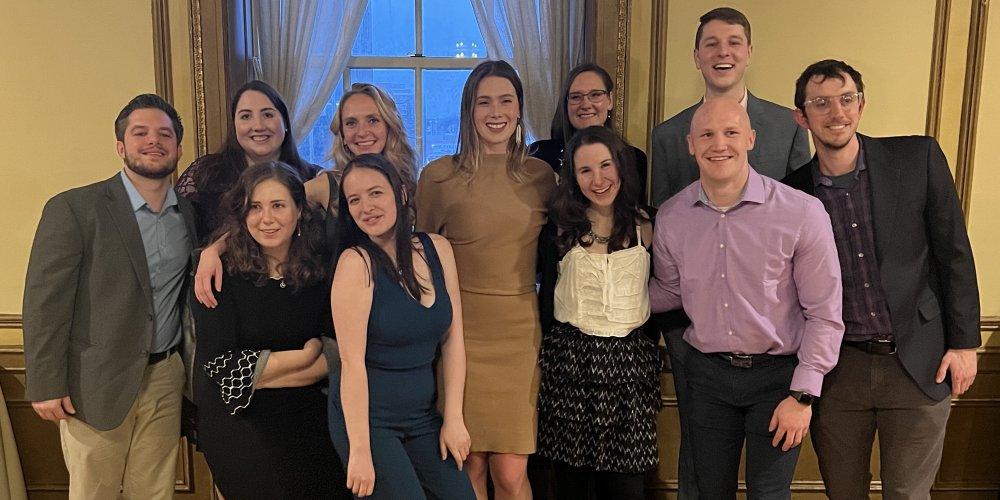 Upstate celebrates graduates of its Rural Med program
The Rural Medical Education (RMED) program celebrated the class of 2022 and the Preceptor of the Year March 16 with family, friends and fellow students in attendance. Speakers, including graduating students, often spoke of their thankfulness for the program, for their families and for the people running RMED.
Felix Oben, MD, who received the Preceptor of the Year honor, thanked students, noting that having them around, pushes him to stay on top of developments in medicine. Otherwise, he said he'll hear, "sorry, I think that's out of date." He thanked patients who let themselves be cared for by students. "They are always so gracious." He closed with thanks to his family, noting that it was his wife who made it possible for him to be a preceptor and has encouraged him, including joining him in prayer for students about whom he was concerned.
Norton College of Medicine Dean Lawrence Chin, MD, applauded the program and thanked those who made it possible. He had special thanks for the families of medical school students. "Families, you supported your loved one in a lot of ways, the expense, the time, the tears, but it is all absolutely worth it." He added, "you are going to see people who are going to change society."
Clyde Satterly, MD, MBA, chair of the Department of Family Medicine, thanked Thomas Wolff, MD, who founded the program in 1989, and attended the event. The goal of the program in '89 was to alleviate the shortage of physicians serving rural areas. Satterly said that remains a goal today.
Robert Ostrander, MD, medical director of RMED and long-time community preceptor in Canandaigua, urged the students to think of themselves not as "providers," but as "physicians."  He told students, "we don't provide a commodity." This class, in particular will be noted in time, he said, "you are going to be students of legend. You did your clinical during the pandemic!"
He offered students advice, telling them to be kind, be generous and be humble.
As they stepped forward to receive their RMED certificates, students spoke briefly of their appreciation for the program, with many signaling out assistant dean for rural medicine and program director, Carrie Roseamelia, PhD., for helping them through the challenges of medical school. Several echoed Kyle Powers' sentiments when he said, "RMED has been the best part of my Upstate experience.
Sharing that gratitude to Roseamelia spans graduating cohorts as Myranda Steingraeber noted, she entered RMED after hearing good things about the program from 2019 graduate, Marten Peterson, adding Dr. Peterson recently had a child given the middle name of "Roseamelia."
Roseamelia announced a scholarship fund had been established to support RMED. The James L. Greenwald, MD, Rural Scholars Program Scholarship Fund can be supported by texting "RMED" to 91999.
This year's RMED graduates are: Alexis Fox, Tyler Fuller, Samantha Gage, Myranda Steingraber, Almasa Talovic, Anastasija Useva, Daniel Katz, Kyle Powers, Jaimie Rogner, Melia Wakeman and Brandon Zaffuto.
Caption: RMED 2022 graduates gathered for class picture following the graduation ceremony. They are, from left, front row, Anastasija Useva, Almasa Talovic, Melia Wakeman, Jaimie Rogner, Kyle Powers, Daniel Katz. Back row, Brandon Zaffuto, Alexis Fox, Samantha Gage, Myranda Steingraber, Tyler Fuller.