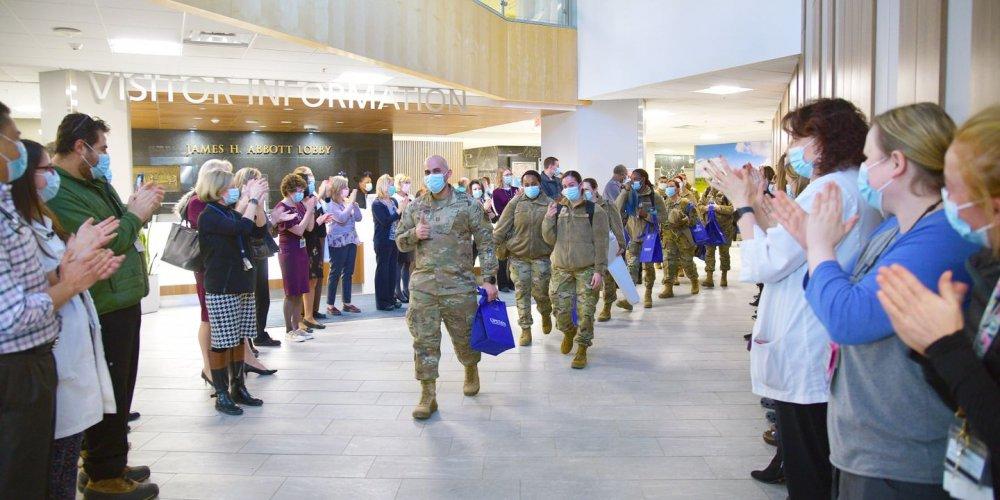 Upstate says farewell to Air Force medical team
Upstate employees filled the Upstate University Hospital lobby Monday to wish approximately 40 medical personnel from the United States Air Force farewell after the medical team spent a month at Upstate assisting with patient care and patient throughput needs.
Upstate University Hospital CEO Robert Corona, DO, MBA, thanked the medical team in a morning ceremony saying the group provided outstanding care for patients and brought a sense of hope to staff.
Corona was joined in the ceremony by Chief Medical Officer Amy Tucker MD, Chief Nursing Officer Scott Jessie and Brian Pratt, director of the clinical value analysis program and a captain in the U.S. Army Reserve.
All extended thanks to the families of the medical personnel for supporting their stay at Upstate. Many who assisted at Upstate were hundreds of miles away from home and had been away from families and loved ones for more than a month.
It's estimated that the medical team members cared for more than 2,500 patients during their stay.
Upstate wasn't alone in getting this support. Military medical teams assisted hospitals in Brooklyn, the Bronx and Buffalo and Rochester.
Caption: Upstate staffers line the Upstate University Hospital lobby to bid farewell to members of the U.S. Air Force medical teams.