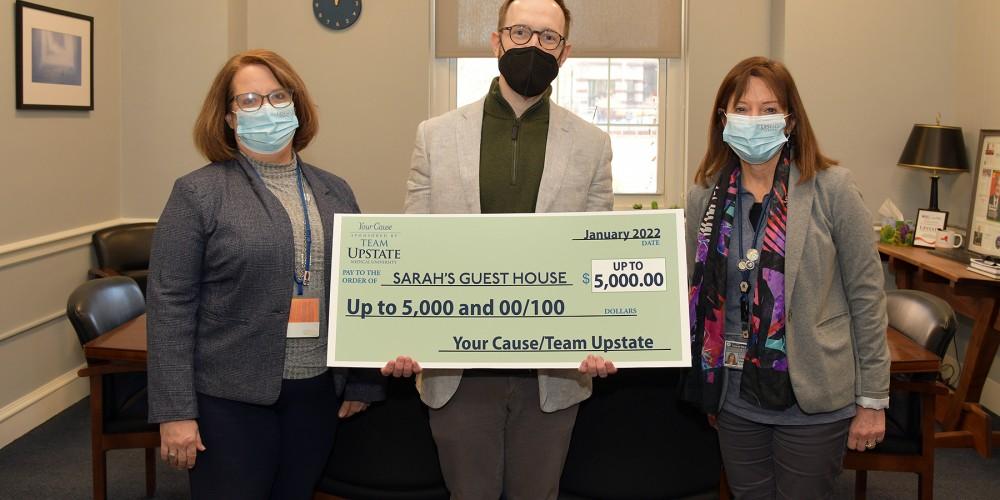 Sarah's Guest House selected as Upstate's Your Cause charity
Sarah's Guest House, a Syracuse health care hospitality that provides lodging, transportation, meals, and comfort to patients and families of patients receiving medical care in Central New York, has been selected as Upstate Medical University's 2022 Your Cause charity.
In selecting Sarah's Guest House as its Your Cause charity, Upstate has pledged to assist the agency with volunteer support as will provide the organization with up to $5,000 in funding through 2022.
Sarah's Guest House will use the funding in numerous ways, including its Grants for Guests program that supports disadvantaged and economically challenged guests who are unable to afford the daily $25 suggested donation or $40 for double occupancy. No one is ever turned away if unable to afford the recommended donation.
David Haas, executive director Sarah's Guest House, said his organization is grateful for the support from Upstate and values the longstanding partnership between the two organizations.
"This generous grant, and additional volunteer support allows us to provide lodging and all the comforts of home to the underserved population requiring essential medical care in our community," Haas said. "Our role is to alleviate our guests' worries and stressors, including the financial burdens that come along with skilled medical care.
"We look forward to working together throughout 2022—and beyond—to demonstrate our shared commitment with Upstate Medical University to remove economic barriers and increase access to quality healthcare—ensuring that all patients get the care they need and deserve."
Sarah's Guest House, located at 100 Roberts Ave., features 11 bedrooms with shared bathrooms, laundry facilities, two living rooms and two kitchens, which are free to use by guests. Meals are also prepared by volunteers. A screened-in porch makes an ideal spot for gathering in warm weather—full of sunshine and fresh breezes. Guests also Guests also receive complimentary rides to and from the local hospitals either by volunteers of the house or by taxi rides sponsored by BHG Financial, a strong supporter of the house.
Sarah's Guest House annually serves about 1,000 guests, who are in town for medical care. Nearly half of those staying at Sarah's Guest House are in town to receive their care at Upstate.
The organization receives praise from many who stay there, such as Linda Renshaw from Redwood, N.Y., in Jefferson County. "My thanks go out to the staff, volunteers and all those who created Sarah's Guest House. Having a son who was facing major surgery and looking for a place to stay in Syracuse was a challenge, she offered. "Finding Sarah's Guest House was a blessing. When I walked through the door I felt complete comfort, warmth and compassion."
Team Upstate introduced the Your Cause program in 2015 as a way to acknowledge and feature the volunteer work performed by the Upstate family. Your Cause agencies are nominated by Upstate employees and selected by Team Upstate, a group of Upstate staff who organize and support Upstate employees in their volunteer initiatives.
The nomination of Sarah's Guest House was submitted by Upstate's Kelly Dolan, assistant director of nursing.
"Upstate's support of Sarah's Guest House is very meaningful," Dolan said. "The house and this organization provide more than meals and lodging; they help give families comfort and lessen their burdens during a difficult time." 
With nearly half of Sarah's Guest House residents receiving care at Upstate, Dolan said the organization is "truly a partner in patient care."
Sarah's Guest House is supported by many other local organizations, including the William G. Pomeroy Foundation, the Jim and Juli Boeheim Foundation and the Saint Agatha Foundation.
Past Your Cause agencies include Rescue Mission Emergency Youth and Runaway Shelter, In My Father's Kitchen, Clear Path for Veterans, OnPoint for College and Chadwick Residence.
Team Upstate works to promote public awareness of Upstate's contributions to the community and to encourage volunteer participation among Upstate students, staff, faculty and retirees. Team Upstate sponsors activities and events annually that promote quality of life and maintain Upstate's mission, vision and values.
Caption: From left: Kelly Dolan, Upstate assistant director of nursing and a Sarah's Guest House volunteer; David Haas, executive director of Sarah's Guest House; and Linda Veit, Upstate interim chief of staff and assistant vice president of community relations.