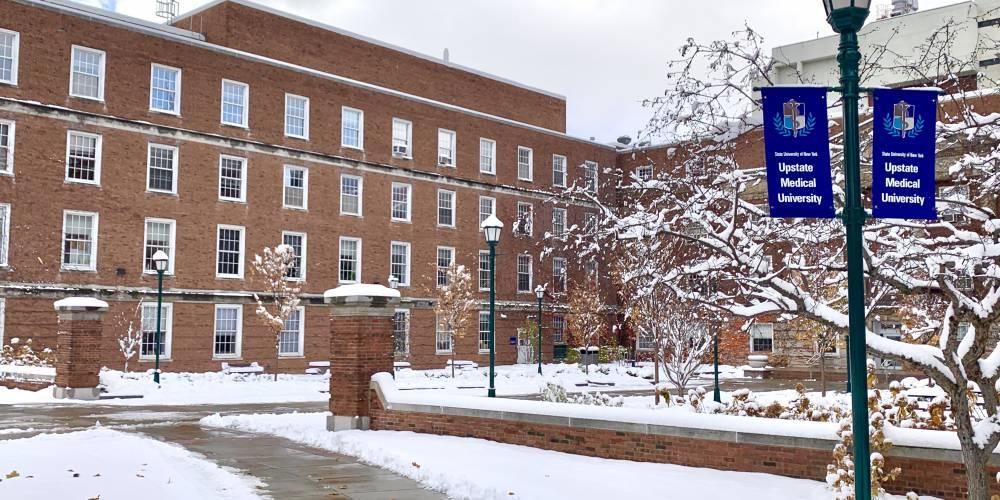 Health Justice Conference brings discussion of new ideas
The 2022 Health Justice Conference at Upstate Medical University was a success, organizers said, and helped introduce participants to some new ideas. Held annually on Dr. Martin Luther King Jr. Day, the conference was again held virtually, due to the COVID pandemic.
This year's conference had the theme, "Avenues for Advocacy: Investing in our Future," and included a keynote address from Heather Irobunda, MD, a board-certified obstetrician-gynecologist currently practicing at NYC Health and Hospitals. "She shared how she uses social media to communicate with patients," said Nadia Debick, an MD/MPH student at the Alan and Muriel Norton College of Medicine at Upstate.
Debick, who grew up in Chagrin Falls, Ohio, and attended The Ohio State University, noted that social media can allow healthcare providers to put out information in a way that makes it "free and more accessible to everyone."
After a comment from an online audience member, a breakout session turned into a discussion about mentorship and sponsorship, said Tianfang "Alan" He, another organizer of this year's event. "A mentor is someone who can provide direct guidance, feedback and coaching — can impart their wisdom on how to navigate a variety of situations," He said. A sponsor is an advocate," a mentor who would speak on your behalf behind closed doors."
He, who grew up in the Bronx and attended Middlebury College, said he has seen a lot of great mentoring at Upstate, where he is a second-year medical student, and hopes that more mentors discover rising protégés and come to recognize the propitious impact of sponsorship on improving social equity in our professional communities.
Part of the conference focused on using technology to make quality healthcare accessible, and Irobunda's practice of sharing information through social media was part of that. So was a demonstration of polling software that allowed students to share with a presenter their understanding of mental health issues.
Debick said Sunny Aslam, MD, associate professor of psychiatry and behavioral sciences at Upstate, demonstrated using online polling to find out what an audience knows, or thinks it knows, so that information can be tailored to better inform. As an example he polled the audience on what percentage of the U.S. population has experienced an adverse childhood event – such as being a victim of, or witness to violence, or having a family member attempt suicide. The majority of those in the breakout session said 50 percent to 60 percent, Debick reported. Aslam said the correct answer, according to the CDC, is that 61 percent of those surveyed had such an experience.
While the event was held virtually, Debick and He said all presentations were done live. "It was crucial to have live interaction, back and forth," Debick said. "Some great ideas came out of that."