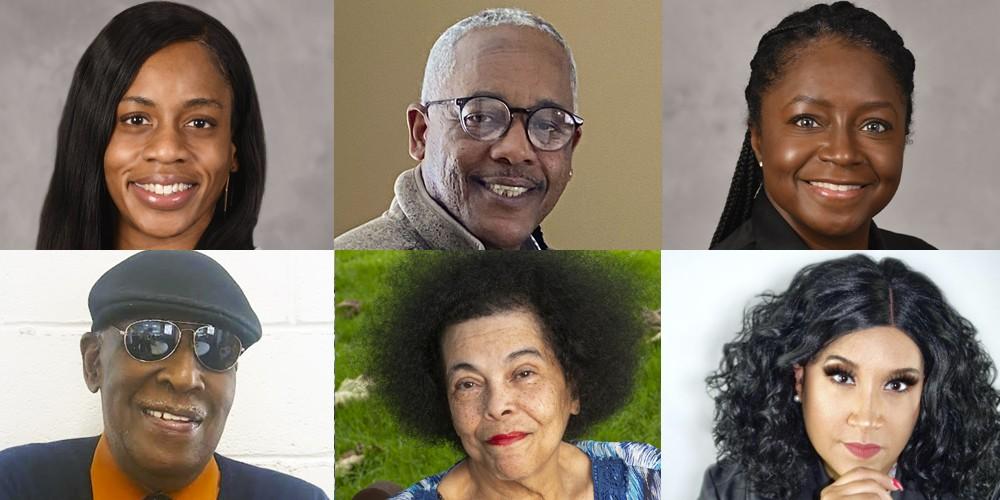 Award presentations and keynote address highlight Black History Month
Upstate Medical University's main Black History month event—a virtual awards ceremony and keynote address—will be live-streamed Wednesday, Feb. 16 at noon.
Upstate leaders Mantosh Dewan, MD, Robert Corona, DO, MBA, and Daryll Dykes, PhD, MD, JD, will give welcome remarks. The Rev. James Smythe will give an opening prayer.
Being honored this year will be Upstate employees James Baines, Janell Gage and Shantel Henry, who will be recognized for their outstanding contributions to Upstate and the community. The late Emmanuel Eugene "Manny" Breland and Jackie Warren-Moore will receive posthumous awards in recognition of their outstanding, positive impact on our community and nation. The keynote address, based on the 2022 theme, "Black Health and Wellness," will be given by Angela Douglas of Vera House Inc. The ceremony will be aired at  www.upstate.edu/diversityinclusion/blackhistory and on Upstate's YouTube channel.
The Sarah Loguen Day virtual event will include a talk and the presentation of a scholarship award to medical student Keren Valerus '24. The date, time and speaker are to be announced.
The Black History website also includes videos featuring employees, patients, community leaders, performances, and stories from Upstate's history. The site was created in 2021 for Upstate's first virtual Black History celebration.
Morrisons will offer Soul Food Thursdays at both the downtown and community campuses. Chefs Miguel Lockhart and John Williams developed the menus. See below.
Menu at downtown cafeteria—Feb. 3:  Southern smothered chicken, Bourbon peach glaze salmon, okra & tomatoes, mac & cheese, peach cobbler; Feb. 10: Smoked jerk chicken, BBQ baby back ribs, yellow rice, collard greens, Jamaican jerk cauliflower, banana pudding; Feb 17: Southern fried chicken, Cajun catfish, mac & cheese, green beans, southern fried cabbage, apple cobbler; Feb. 24: Braised oxtails, peanut curry braised ribs, yellow rice, maple brussels sprouts, black-eyed peas, apple pie.
Menu at community  cafeteria—Feb. 3: Southern smothered chicken, mac and cheese, Savannah red rice, braised green beans and peach cobbler; Feb. 10: Baked turkey wings, fried okra, yellow rice, collard greens and apple pie; Feb. 17: Baked pork roast, candied yams, braised cabbage, corn bread and apple cobbler; Feb. 24: Braised oxtails, buttermilk fried chicken, mac and cheese, yellow rice, collard greens and red velvet cake.
Caption, top row from left: Janell Gage, James Baines, Shantel Henry. Bottom row, from left: Manny Breland, Jackie Warren-Moore, Angela Douglas.