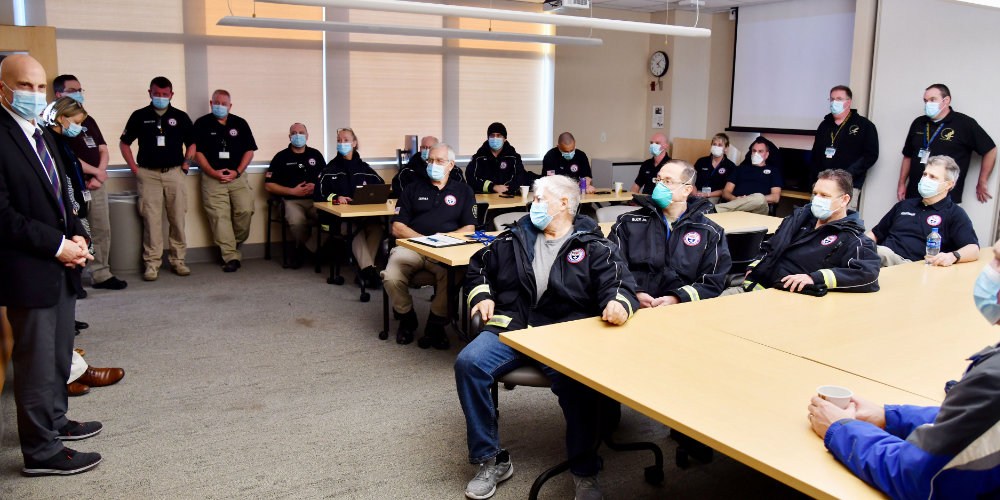 New NDMS team arrives at Upstate; continues work in Emergency Department
Upstate University Hospital has received a new team from the U.S. Department of Health and Human Services to continue assisting the hospital with caring for patients in the hospital's emergency room and in other non-ICU patient care areas of the hospital.
A new National Disaster Medical System (NDMS) Health and Medical Task Force arrived Jan. 14 and is expected to be onsite until Jan. 26. The original NDMS team left Upstate Jan. 15.
Upstate Medical University President Mantosh Dewan, MD, acknowledged a myriad of agencies and leaders, including President Biden and New York Gov. Hochul, for continuing the federal disaster support at Upstate. "We are grateful to all those who have advocated for this assistance on our behalf," he said. "These are unprecedented times for healthcare—and our staff and patients thank you."
Hospital CEO Robert Corona, DO, MBA, said the team's work at Upstate has been invaluable, especially in the Emergency Department, where the number of patients who leave the Emergency Room without being seen because of long waits has dropped by nearly 30 percent and ambulance offload times have been reduced by at least 50 percent.
"The team's immersion into the Emergency Department was seamless," Corona said. "With their assistance, we saw progress in our Emergency Department instantly. We wish this busy team well on their next assignment and welcome our new team."
The national ongoing healthcare worker shortage, the rise in Covid cases, and the overwhelming demand for services exclusively available at the only academic medical center in the region, was behind the request from Upstate for additional help.
Caption: Hospital officials hold a debriefing with members of the National Medical Disaster System team that ended its term at Upstate Jan. 15. A new team of 19 has now joined Upstate and will be on site through Jan. 26.