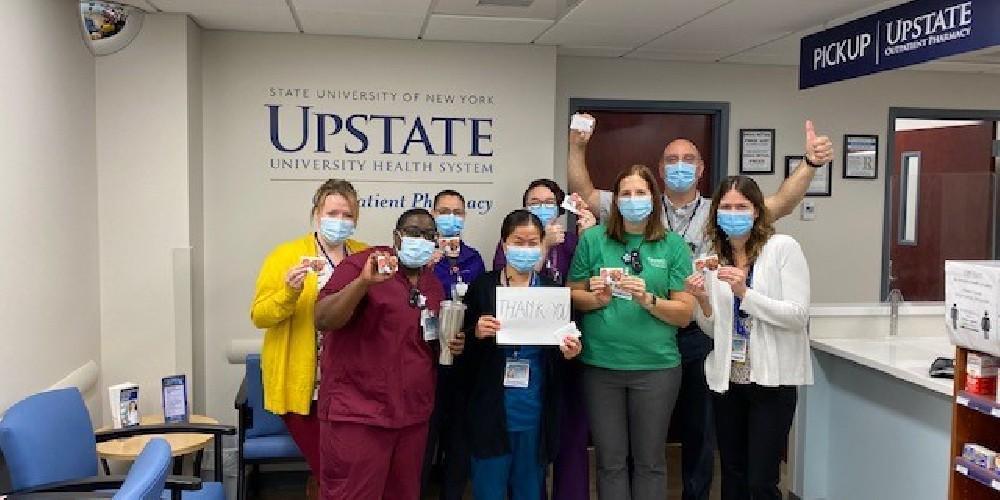 Upstate Foundation receives Impact Award from Central New York Business Journal
The Upstate Foundation received The Central New York Business Journal's Impact Award for its Covid-19 relief efforts in a virtual ceremony March 24.
The Impact Award, one of several categories of the Business Journal's 2021 Nonprofit Awards, recognizes the creation or implementation of a program that touched the lives of others in a meaningful way and had a direct impact on the community. Specifically, the Foundation raised $1 million in eight months for Covid relief.
Eileen Pezzi, vice president of development at Upstate and executive director of the Upstate Foundation, says it was an honor to be recognized for having a positive impact on the community, especially during the pandemic.
"It has never been more clear than over the past year how important philanthropy is for all of us in our daily lives, whether as a donor or a beneficiary of charitable giving," said Pezzi.
In the beginning of the Covid-19 pandemic, the Upstate Foundation matched the first $10,000 donated to establish three funds to focus support where it was needed most: Support of Upstate Employees Fund, Virtual Visitation Fund for Upstate Patients, and Student Retention Emergency Fund.
In addition, the community responded with in-kind gifts of face masks, hand sanitizer, sandwiches, comfort kits, gift cards and much more. Covid-related gifts-in-kind totaled nearly $360,000 in 2020.
The Foundation also re-imagined its annual fall Gala as the Upstate Strong Covid Relief Benefit Concert, a sponsor-supported streamed benefit concert featuring Grammy winner Bruce Hornsby and the Noisemakers. The event was offered free to the public and honored Upstate's front-line workers, health care providers and researchers, as well as the Central New York community for its support throughout the crisis. The event raised $246,500, with proceeds benefiting a Covid-19 relief fund to help with needs that continue to result from the pandemic. Over 6,000 people tuned in on desktops and mobile devices from five countries, across four continents and in 31 states.
The Upstate Foundation has 26 full- and part-time staff members, and a 39-member board of directors, and manages more than 1,000 funds. The Foundation offers donor-advised funds and charitable gift annuities, conducts endowment campaigns, leads capital campaigns, administers alumni associations for Upstate's colleges of Health Professions and Nursing, and runs annual campaigns for Upstate University Hospital, Upstate Golisano Children's Hospital, and Upstate Cancer Center. The Foundation is home to the regional chapter of Children's Miracle Network Hospitals.
For more information about the Upstate Foundation, visit UpstateFoundation.org.
Caption: Pharmacy staff were among the many Upstate employees assisted through the Upstate Foundation's Covid relief fundraising efforts in 2020.