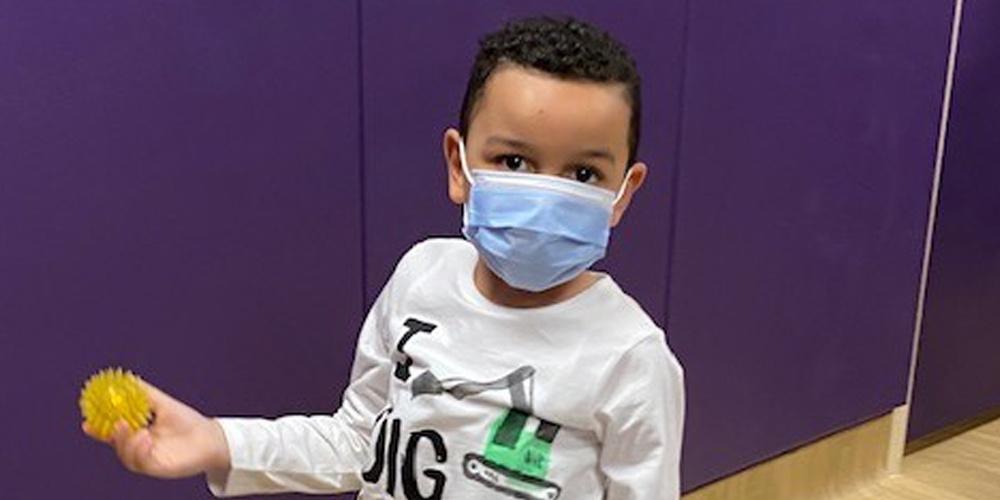 Upstate Foundation reaches final phase of fundraising campaign
The Upstate Foundation is in the final phase of its campaign to support the new Golisano Center for Special Needs, a unique center that can provide care to individuals diagnosed with intellectual or developmental disabilities, or individuals who require specialized care, from childhood to early adulthood. As the campaign nears its end, Upstate faculty and staff are invited to help cross the finish line with a gift, which can be made easily and over time through the Community Giving program or directly to the Upstate Foundation.
"Upstate faculty and staff have demonstrated time and time again a real spirit of philanthropy," said Eileen Pezzi, vice president for development at Upstate Medical University. "We thank those who have already supported this project, including many community residents and corporations. And as we enter the final phase, we hope others will consider the opportunity to make a profound difference in the lives of children with intellectual and developmental disabilities."
The campaign kicked off in late 2019 with a transformative $3 million lead gift from entrepreneur and philanthropist Tom Golisano. Despite the pandemic-related challenges since then, more than $6.2 million has been raised to date.
"Before the end of this calendar year, we are determined to reach the $6.4 million goal. We have great confidence in our Upstate family and the Central New York community to help meet that remarkable milestone," said Julie Simms, Upstate Foundation campaign manager.
Upstate's Community Giving Campaign, currently in progress, is a way for faculty and staff to designate a gift or pledge to the Golisano Center for Special Needs. A pledge can be paid over time via payroll deduction, an easy way to make a meaningful impact. Permanent recognition on the center's Donor Wall of Honor is available for faculty who make a gift/pledge of $1,500 and staff who make a gift/pledge of $300.
Henry S. Roane, PhD, director of the Golisano Center for Special Needs, is experiencing the impact of philanthropy firsthand. Located at the Madison-Irving Medical Center, there is now twice as much programming space as there was previously and the campaign has also funded eight new positions. Since the center's opening in February, wait times have decreased from 182 days at the end of 2020 to 54 days. At the same time, referrals have increased by 54 percent, a clear indication of the community's need for these services.
"The overarching goal of this project is to reduce wait times and give people access to our services more quickly. Families are desperate for answers and want to their children to begin treatment as soon as possible. We all know that time can make a vital difference in health and life outcomes. This is certainly true of children with intellectual and developmental disabilities," Roane said
Roane is quick to add that the Golisano Center for Special Needs extends far beyond the physical space. The Upstate Foundation's campaign is also raising funds to support initiatives that fall under the center's umbrella including community-based programs that encourage inclusion, research, and scholarships for students enrolled in the MS program in behavior analysis studies.
For more information or to make a gift in support of the Golisano Center for Special Needs, call 315-464-4416 or visit upstatefoundation.org.
In May, six-year-old Parker completed intensive, daily treatment in the behavior analysis program at the Golisano Center for Special Needs. Parker continues his care with Louis Pellegrino, MD, behavioral pediatrician. Parker's mother shared that the center holds a huge piece of her heart as she expressed gratitude for the progress Parker continues to make.