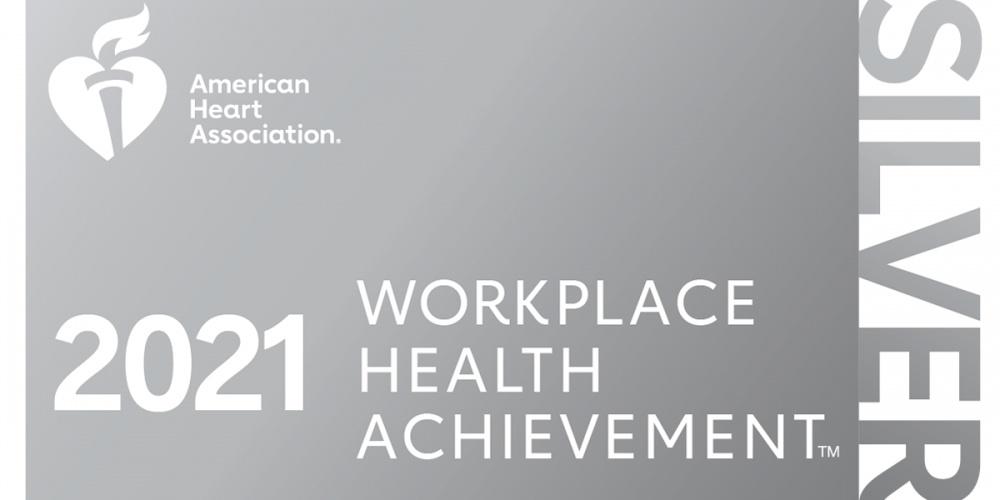 Upstate recognized by American Heart Association for workplace health, wellness programming
Upstate Medical University has achieved Silver Level recognition by the American Heart Association for taking significant steps to build a culture of health in the workplace. This recognition is based on the results of association's 2021 Workplace Health Achievement Index.
"This honor from the American Heart Association represents a growing commitment by Upstate to support employee and student wellness," said Jarrod Bagatell, MD, medical director of Upstate Employee and Student Health. "Promoting a culture of wellbeing goes hand and hand with our mission of improving the health of the communities we serve—and that includes Upstate."
Under the direction of Wellness Coordinator Suzanne Brisk, Upstate offers a range of health and wellness programming, much of for the last two years has been available online as a precaution against Covid-19. Programs over the years have included Wellness Walkers, Monday Mile, a Diabetes Education and Weight Management Series it as well as a website full of self-care tips. Brisk has also included more than a dozen highlighted walks, or wellness trails, to take indoors and around campus that can burn calories and increase the heart rate.
Food service is one area that has offered employees and patients healthier menu choices, with more meatless and gluten free entrée choices, in addition to decreasing the amount of sugary beverage choices.
A major wellness offering is Upstate's smoking cessation program for employees, students and volunteers. The free programming includes smoking cessation classes and nicotine replacement products. In 2005, Upstate became the first SUNY campus to become smoke-free, banning all smoking and tobacco use. Since the ban was put in place and Upstate began offering smoking cessation products and classes, the rate of smoking among Upstate employees has dropped.
Upstate also has increased access to mental health programs for staff, programs that have been increasingly important during the pandemic, and appointed a chief wellness officer, Leslie Kohman, MD, who has helped guide programming for medical staff.
The Silver honor from the AHA also considers the many wellness offerings Upstate supports through its Health Link and Oasis programming and through various community wellness and education programs offered by Upstate's Trauma team, Comprehensive Stroke Center and Poison Center.
"Upstate really offers something for everyone to do to become a healthier individual," said Brisk. "I've been encouraged by the participation in these programs and stand ready to pursue even more healthy options for our staff and students."
Previous honors for Upstate's health and wellness programming include American Heart Association's Gold-Fit Friendly Award, Central New York Business Journal's Workplace Wellness Award, Cancer CEO Gold Standard Award from the CEO Roundtable on Cancer and the Elite Corporate Health Champion from the American Diabetes Association, and most recently Joy In Medicine Health System Recognition from the American Medical Association.
The American Heart Association Workplace Health Achievement Workplace Index was with its CEO Roundtable, a leadership collaborative of more than 40 CEOs from some of America's largest companies who are committed to applying evidence-based approaches to improve their employees' overall health.
The Index uses science-based best practices to evaluate the overall quality and comprehensiveness of their workplace health programs.  Studies show that worksites with a culture of health with comprehensive, evidence-based policies and programs, and senior leadership support are more likely to have engaged employees and a healthier, more productive workforce.  A unique feature of the Index is that it calculates an average heart health score for employees of participating companies that securely submit aggregate health data. Companies receive benchmarking reports, which allow them to identify potential areas of improvement so that they can advance their annual performance and recognition.