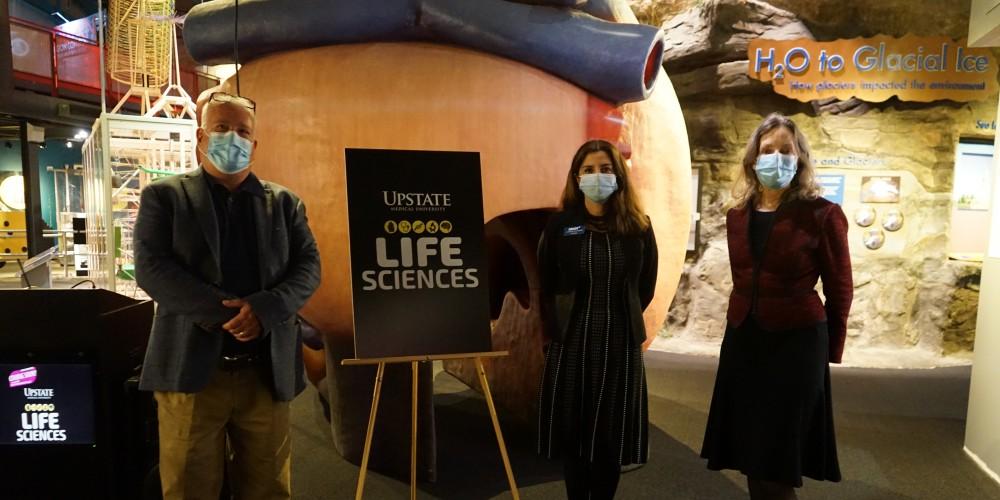 Upstate updates Life Sciences exhibit at the MOST
With support from Upstate Medical University, the Milton J. Rubenstein Museum of Science and Technology (MOST) has refurbished and updated its permanent Life Sciences exhibit that bears the Upstate name.
To reflect advancements in life science and medicine and changes in science curriculum standards and current events, the renovation to the Life Sciences exhibit refocuses the exhibit on the science of human biology, genetics, and the field of medicine.   
"We'd like to thank Upstate Medical University for their generous support in renovating our Life Sciences exhibit. November is the MOST's 40th anniversary, and it's incredibly fitting to reimagine an exhibit that represents so much of science curriculum and current events," said Lauren Kochian, MOST president. "Through this exhibit, the MOST can provide more learning experiences to empower students to follow career goals they've never imagined." 
Katherine Beissner, PhD, dean of the College of Health Professions, a college at Upstate that educates students in numerous health careers, including respiratory and physical therapy, said exhibits like this are vital in showcasing the wonder of science to today's youth—and perhaps lead to a career in health care.
"It is inspiring to watch children explore and learn, seeing the spark of interest that may grow into a lifelong love of science," Beissner said. "As students explore this exhibit to learn more about the human body, it is my hope that they will open their minds to careers in the health professions, and we will be here to prepare them for those careers."
David Amberg, PhD, Upstate's vice president for research, called the MOST a critical community asset and applauded the exhibit upgrades.
"I am so impressed with the refresh and updates that the MOST and its staff have made to the Upstate Life Sciences exhibit, in particular in how interactive the exhibits are," he said. "Science museums, like the MOST, are such critical community assets in engaging people of all ages in the wonders of nature and the application of science to understand human biology and the natural world arounds us as well as in addressing science literacy in our community."
Through the introduction of new interactive pieces as well as updates to classic favorites, the goal of this refurbished exhibit is to engage all visitors in accessible learning about human anatomical and biological characteristics, genetic traits, and the health and healing of human bodies through medical practice.  
Major components of the renovation include: Updated text panels and graphics/images to reflect the current state of the field and new emphases; reorganized exhibit space/lighting/fixtures for improved accessibility and flow; new physical and digital/online interactives, including activity kiosks, digital games/experience spaces, and more; addition of "Current Issues in Medicine" and "Careers in Life Sciences & Medicine" features; and updates/maintenance of exhibit favorites (Human Heart, Brain).
The exhibit is permanent and open to the public and free with museum admission Fridays, Saturdays, and Sundays from 9:30 a.m. to 5 p.m. Learn more at MOST.org. The MOST is located at 500 S. Franklin St., Syracuse, N.Y.
Caption:  From left, Upstate Vice President for Resarch David Amberg, PhD, MOST President Lauren Kochian and and Upstate College of Health Professions Dean Katherine Beissner, PhD, are on hand to announce the refurbished Life Sciences exhibit at then Musem of Science and Technology in Armory Square, Syracuse.