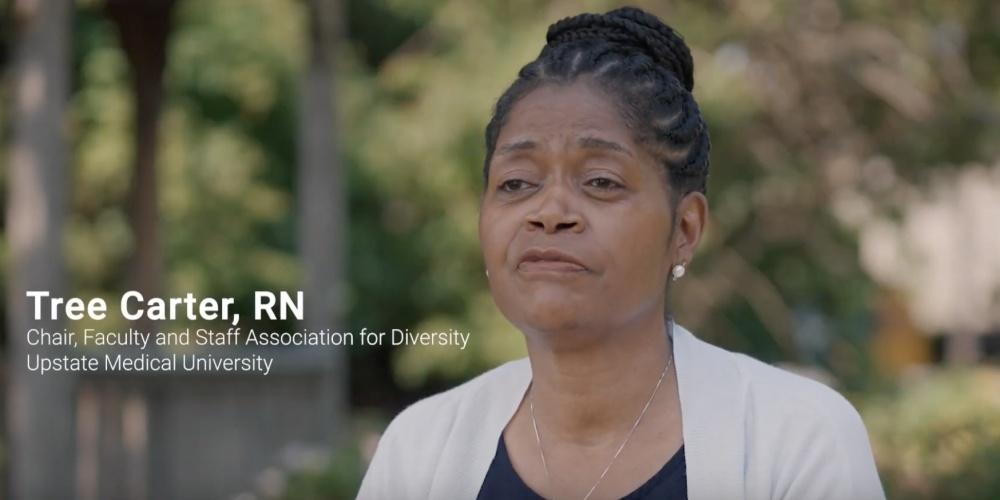 Community Giving Campaign enters final weeks
Upstate Medical University's Community Giving Campaign to benefit the local United Way of CNY and SEFA charities, including funds supported by the Advocates for Upstate, Upstate Alumni funds and Upstate Foundation, is in its final weeks.
"There is still time to make a commitment to bettering our community for many by supporting these important charities," said Lawrence Chin, MD, dean of the College of Medicine. Chin noted many agencies that support individuals in the community are trying to meet a growing demand for services with fewer resources. "Everyone is feeling the pinch. To those who have already contributed to the campaign, thank you for your support."
One of the agencies that have benefitted from Upstate's support is the Food Bank of Central New York. Last year, donations helped distribute more than 20 million tons of food to people from 11 surrounding counties. Donations help support the Mobile Food Pantry, which allows the Food Bank to set up a distribution virtually anywhere with space to accommodate vehicle parking, tents, and tables—serving food directly to hungry families and individuals in underserved areas. The Mobile Food Pantry program has recently expanded into Syracuse and Cayuga county. The food included in these mobile distributions is primarily highly desirable perishable goods like fresh fruits and vegetables, dairy, and bread items. 
Another key agency that benefits from Upstate support is the McMahon Child Advocacy Center whose mission is ending child abuse in the community through prevention, intervention and education. One important school-based program is the No Bully Zone, a two-week anti-bullying program designed for students in third through fifth grade. During classroom time, discussions take place on what bullying is and the many forms it can take (including "cyber-bullying"), who's involved in bullying, and the positive actions students can take to prevent and eliminate bullying in their school. Students conclude the program by taking a "No Bully Promise" and a copy of this promise is left in their classroom to reinforce the messages from the program.
Giving to the campaign remains as easy as ever. Individuals can find giving information on their self-serve page. From the link provided, one can access a list of charities and funds to make a direct donation to the charity of one's choice. Also, the link includes a giving history for each employee. If you have any questions related to Upstate's Community Giving Campaign, please call 315.753.1303.
The complete resource for the Community Giving Campaign can be found here. This site contains the nuts and bolts of the campaign, including a list of campaign representatives for each department and a list of charities and funds to support.

The website also contains videos featuring representatives of various social service agencies and their clients, as well as Upstate employees talking about why they support various agencies. The videos are available here.
Upstate's Tree Carter decided to lend her voice to answering the question, why she supports the campaign. Listen here.