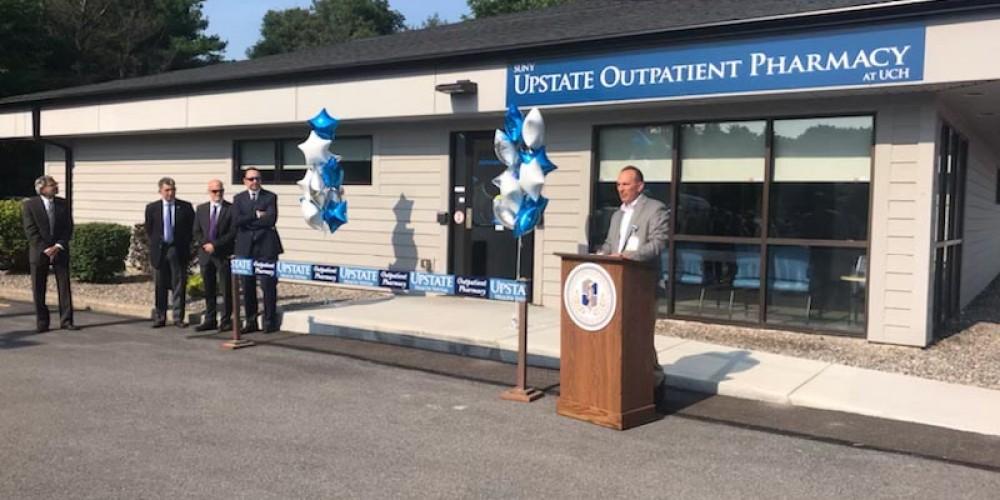 Upstate's newest Outpatient Pharmacy facility near Community Hospital receives national accreditation
Upstate's newest Outpatient Pharmacy facility recently received a highly sought-after accreditation certificate that only a select number of pharmacies nationwide receive. The SUNY Upstate Outpatient Pharmacy, which opened in July at 5000 W. Seneca Turnpike across from Upstate Community Hospital, has received national accreditation for specialty pharmacy from Utilization Review Accreditation Commission (URAC).
"This is the gold standard of accreditation," said Eric Balotin, RPh, director of retail/specialty pharmacy services. "The accreditation is built around quality and delivering exceptional care to our patients. You have to meet a very high standard to be classified in this type of specialty pharmacy."
Of 67,000 pharmacies across the country, less than 500 are dually accredited specialty pharmacies, Balotin said. The downtown location is dually accredited, and the newest pharmacy location is awaiting that second accreditation from the Accreditation Commission for Health Care, Inc., (ACHC). ACHC's review of the new pharmacy found zero deficiencies during its site visit in late August, Balotin said.
"It's a very distinguished thing that separates us from a normal pharmacy," Balotin said. Outpatient Pharmacy has also recently added a staff member devoted to quality controls, he said. These accreditations are especially significant for patients with chronic conditions and for those who need specialty medications for cancer, organ transplant, cystic fibrosis or HIV, he said.
Upstate's Outpatient Pharmacy operations work in tandem with providers across Upstate including those working with inpatients, specialty clinics as well as ambulatory services. The newest Outpatient Pharmacy supports the Meds to Beds program at Upstate Community Hospital, it handles Upstate's mail order prescriptions and specializes in oral and topical compounding, which is the mixing of complex pharmaceuticals in specialized dosages and forms. Compounding rooms at the new pharmacy have dedicated equipment to handle those specialty medications.
The new pharmacy is also home to Upstate's new pill pouch packaging machine, which produces individualized pill packs based on dosing time (morning, noon, evening and bedtime) that are proving popular and effective for patients. Every hour, the machine can produce 1,200 pouches, which are portioned and labeled for different times of the day. Many patients require four pouches per day meaning the machine can produce monthly packs for about 10 patients per hour. Another new machine provides a high level of quality control by checking up to 2,400 medications per hour via an optical scanner to ensure the patient is receiving the correct medication, Balotin said.
Upstate opened its first Outpatient Pharmacy downtown in June 2018. The pharmacy created a highly utilized and efficient Meds to Beds program that ensures patients leave the hospital with critical medications in hand. Today, Upstate's Outpatient Pharmacy mails about 2,000 prescriptions per month, personally delivers 600 packages a month and has a staff of 12 insurance authorization specialists and two medication assistance coordinators. That staff works with drug and insurance companies to make the medications affordable and quickly accessible to patients and has saved patients more than $1 million in 2021, Balotin said.  
In a little more than three years, Outpatient Pharmacy staff has grown from zero to more than 60 employees, he said.
The SUNY Upstate Outpatient Pharmacy features a walk-up counter for employees and patients. The facility is open 8 a.m. to 6 p.m. Monday through Friday and offers free parking. For more information, call 315-464-3784, option 3.
Caption: Eric Balotin, RPh, director of retail/specialty pharmacy speaks at the Pharmacy's opening ceremonies in July.