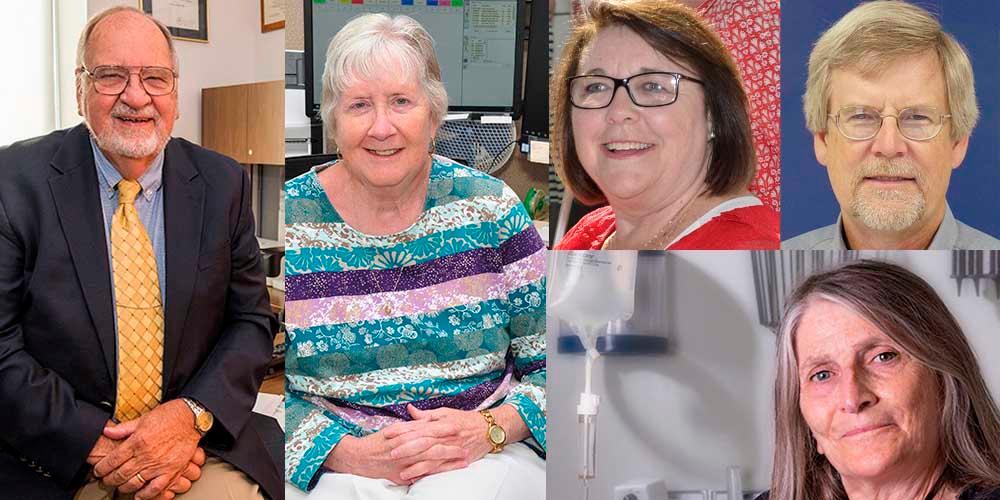 Employee Recognition Day to celebrate more than 1,250 milestones
The seven Upstate Medical University employees being recognized for 45 years of service have all worked different jobs, met countless colleagues along the way and have colorful memories of their time here. But one common thread among them seems to be that the years went very, very quickly.
Those employees – whose tenure at Upstate stretches over five decades – are among 1,257 being honored during Upstate's annual Employee Recognition Day. The event is being held virtually again this because of the pandemic. A special ERD website is available at www.upstate.edu/erd and a virtual ceremony will take place at 11 a.m. Thursday, Oct. 7. The website will contain messages from Upstate President Mantosh Dewan, MD, and CEO Robert Corona, DO, MBA.
Several of the Upstate employees being recognized for 45 years of service, reflected on what their time here has meant to them:
Cherlynn "Sherri" Clarry, office manager for the Department of Pediatrics Service Group
"I can't believe I've been here that long," Clarry said. Clarry, who lives in Onondaga Hill, has held a variety of positions at Upstate in her 45 years. She's worked in pediatrics since 1995 and said the friendly, supportive people she's worked with during five decades have kept her here.
"It's the people and the mission of helping people – everybody is dedicated to that," Clarry said, noting that her daughter is a nurse in the pediatric outpatient float pool.
Teresa "Terry" Engelbrecht, scheduler in patient access pre services
Terry Engelbrecht said she has witnessed many advancements in technology over the years. Her first job was in admitting at then Community General Hospital. (Upstate acquired Community General in 2011.)
Since 1975, Terry said she has worked with many great co-workers over the years and fondly recalls playing in a hospital women's golf league in the 1980s and 90s. "We always looked forward to Wednesday night at Tanner Valley," she said.
Upon reflecting on this milestone, Engelbrecht said one of her funniest memories involved a former supervisor who took changing the printer toner cartridge very seriously. He would put on a gown, mask and gloves, she said. "It looked like he was doing brain surgery," she laughed. "We all had a good laugh over that."
Leah Neider, emergency department nurse at Upstate Community Hospital
Neider echoed her colleagues when said it doesn't seem like she's worked at Upstate for 45 years.
"There is a saying that if you find a career you love, it's not a job," she said. Nursing has long been a passion of hers, noting that she's been lucky to meet many wonderful people along the way.
"It has been a pleasure working for Upstate," she said.
Frederick Werner, MME, PE, professor of orthopedic surgery  
Fred Werner said he's enjoyed "solving challenging kinematic and mechanical research problems" in his work with orthopedic surgeons, residents and students. Werner's first responsibility at Upstate was to redesign a mechanical knee joint simulator that had been developed by David Murray, MD, and James Shaw, MD. As a mechanical engineer, Werner said it was a fun project using a hydraulic loading frame to test total knee replacements.  
Werner has been inspired to come up with many innovative solutions walking the hallways of the Institute of Human Performance. His recent work involves designing a nine-channel wrist joint motion simulator to test orthopedic surgical interventions and implants.  
Thomas Wolff, MD, Distinguished Teaching Professor of Family Medicine, College of Medicine, and Medical Director of the PA Program, College of Health Professions
Thomas Wolff began his professional career at Upstate as chair of the Department of Family Medicine. At the time, family medicine was a new discipline. While he enjoyed being chair of the department, Wolff said a highlight of his time at Upstate came when he had more flexibility and freedom to pursue other passions.
"Over my career, my favorite memory was when I was given the flexibility, freedom and opportunity to develop the Rural Medical Education (RMED) program," he said. "It allowed me to get to know many medical communities throughout the state and reconnect with many of my former students who were willing to precept the next generation of students. It also gave me the opportunity to work with fellow faculty from all the other departments who helped make the program a success."
Wolff said he was also proud to be involved in the development of the PA Program and the Upstate Clinical Campus in Binghamton, where family medicine is a required continuity experience for all students. Wolff currently serves as medical director of the Physician Assistant program in the College of Health Professions. 
NOTE: Upstate would also like to congratulate Clara Corona and Susan Titus on 45 years of service at Upstate.
Caption: Pictured from left to right are L. Thomas Wolff, Teresa "Terry" Engelbrecht, Cherlynn "Sherri" Clarry, Frederick Werner and bottom right, Leah Neider.