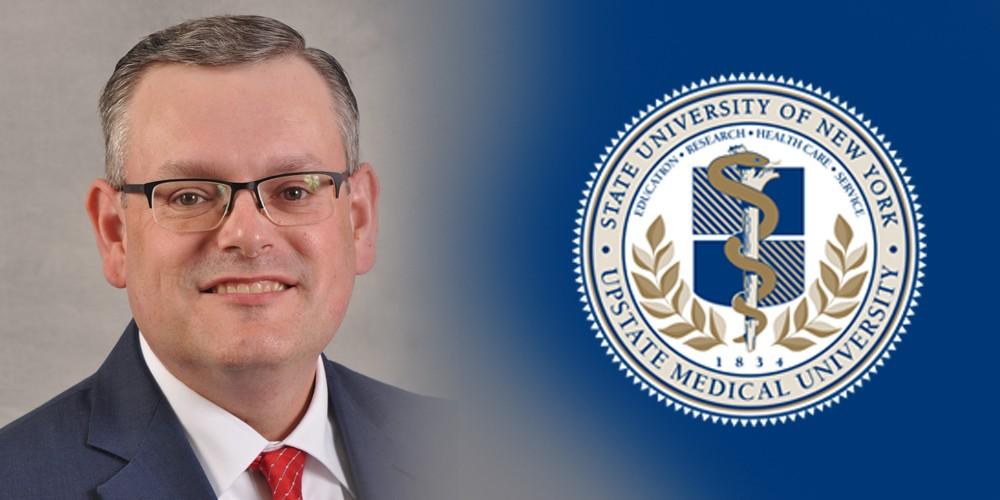 Scott Jessie named chief nursing officer
Scott Jessie, MSN, RN, NEA-BC, has been named Chief Nursing Officer (CNO) at Upstate University Hospital. Scott has been serving as interim CNO since the retirement of Nancy Page at the end of June 2021. The appointment, announced by Upstate University Hospital CEO Robert Corona, DO, MBA, was effective Sept. 16.
"It's gratifying to know that the top candidate for this position is right here on our campus," Corona said.  "Scott Jessie has a sterling career in nursing, and his work at Upstate has encompassed many facets of the profession. We are fortunate to have him here and part of our leadership team."

Jessie has more than 20 years' experience in the health care field, including 14 years of progressive leadership experience. His experiences include patient service manager in the Surgical Intensive Care Unit in 2007, patient services supervisor for Surgery/Trauma/Burns in 2011 with promotions to associate director of Nursing Emergency Services 2015; interim deputy director at Upstate Community Hospital 2019, executive director of nursing, March 2019 and Interim CNO July 2021. He also served as operations section chief for the COVID-19 response and has contributed to the hospital's goals through service on a number of hospital committees, including the Magnet Readiness and Executive Steering Committees.

Jessie holds a master's degree in nursing from Upstate Medical University's College of Nursing. He is currently pursuing a master of business administration degree from Lamar University. Additionally, he is a graduate from the Nursing Leaders Program from the Wharton School Executive Education and the Academy for Healthcare Leadership Advancement from HANYS/Cornell S.C. Johnson School of Business. He is a member of the New York Organization of Nurse Executives and Leaders, Central New York Organization of Nurse Executives and Leaders, and the American Organization for Nursing Leadership.
Jessie has received numerous awards throughout his nursing career, most recently the CNY Excellence in Healthcare-Excellence in Nursing Award.
Jessie brings a solid foundation of operational knowledge and focus on clinical excellence to the Upstate organization.
Earlier this year, Upstate was awarded Magnet designation from the American Nurses Credentialing Center. The designation is the highest and the most prestigious distinction a healthcare organization can receive for nursing excellence and patient care.