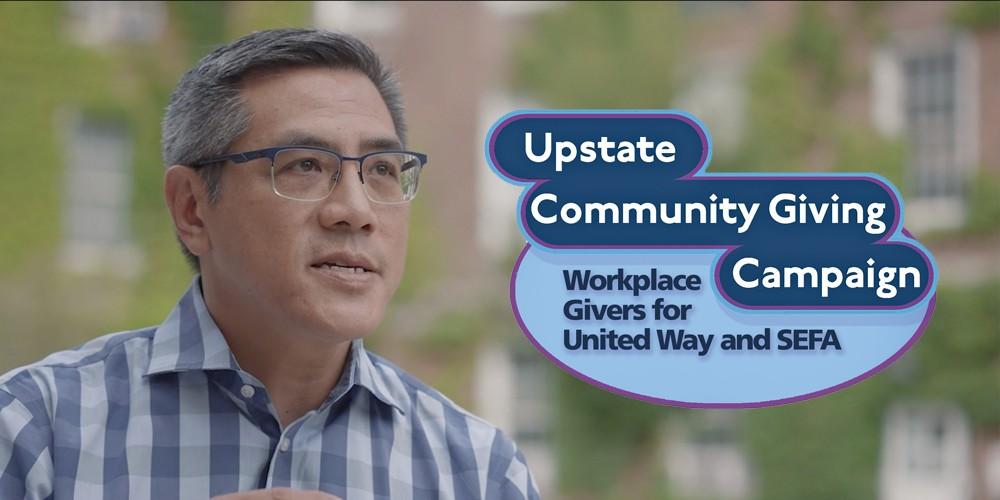 Upstate kicks off Community Giving Campaign
A Fall tradition in Central New York is once again about to play out on the Upstate Medical University campus.  The Community Giving Campaign to benefit the local United Way of CNY and SEFA charities, including funds supported by the Advocates for Upstate, Upstate Alumni funds and Upstate Foundation, starts Sept. 13 at Upstate. 
Serving as this year's campaign chair is Lawrence Chin, MD, dean of the College of Medicine. 
"Our community faces serious challenges — poverty, addiction, abuse. Local non-profit agencies tackle these issues with compassion, hard work and too-little funding. The financial and societal impact of COVID-19 has had a dire effect on local non-profits," Chin noted. "As the leading employer in the region, Upstate and its employees know too well the adverse impact COVID has had on the community and its agencies.  I invite the entire Upstate family to be part of the solution and support this year's campaign."
Giving to the campaign this year is easy, said Zanette Howe, campaign director. All employees will receive an email on Sept. 13 with a link to make a pledge.  From the link, one can access a list of charities and funds to make a direct donation to the charity of one's choice. Also, the link includes a giving history for each employee.
As in past years, there are giving incentives. Making a pledge through Self Serve qualifies individuals to be included in a daily drawing Sept. 13 through Sept. 24 for $100. Other giving incentives include the Step Up Challenge, where first-time donors and those who increase their giving over last year by $52, will be eligible for valuable prizes.
The complete resource for the Community Giving Campaign can be found at https://www.upstate.edu/communitygiving/. This site contains the nuts and bolts of the campaign, including a list of campaign representatives for each department and a list of charities and funds to support.

The website also contains videos featuring representatives of various social service agencies and their clients, as well as Upstate employees talking about why they support various agencies. The videos are available here.
Campaign Committee members, in addition to Howe, include Emily Albert, MD, MPH, Tammy Blackburn, Catherine Cadley, Tree Carter, Mark Congel, Kylee Deese, Kelly Dolan, Amy Green,  Susan Graham, Michael Longo, Katherine Magnarelli, Nancy Prott, Meghann Sandak, F. Keshia Suhail, MD, and Lauren Winters. Three ad hoc committee members are Becca Pesci, Susan Keeter and Stephanie DeJoseph.
Linda Veit, MPH, will head up gifts for the Hamilton White, Elizabeth Blackwell and Sarah Loguen societies.
"Each year Upstate answers the call to support agencies and funds that help others have a better tomorrow," Howe said. "Thank you to all for your support of the campaign."