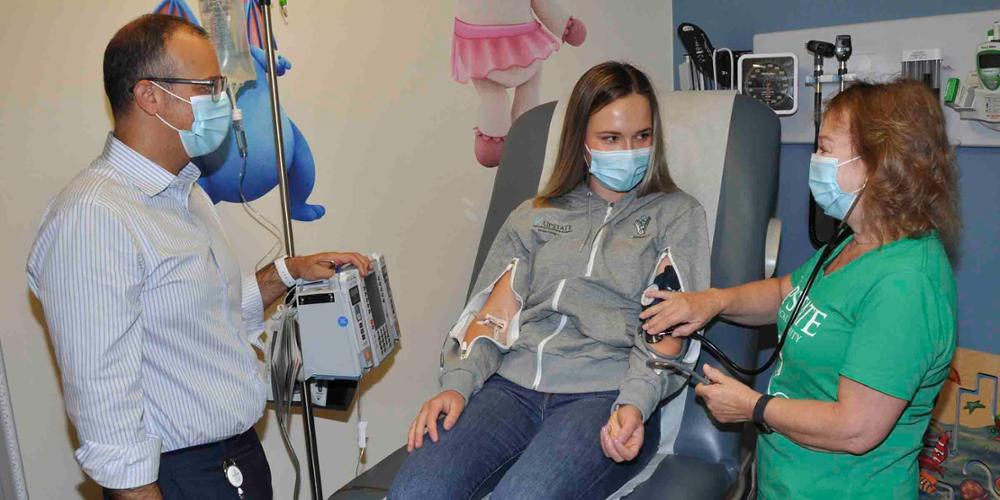 Special IV Hoodie gives pediatric infusion patients a cozy option during treatments
Upstate Nurse Kathleen Root, RN, has been a member of Improve Care Now, a national organization dedicated to improving care for kids with Crohn's disease and ulcerative colitis, for many years. Scrolling the organization's website last year, Root spotted a new product that she knew immediately would be a hit with her patients.
"I came upon an article about this little girl who designed these IV sweatshirts," Root said. "This girl, Ella, started thinking about the sweatshirts when she started getting infusions. She felt like it was cumbersome, she had to take clothes off, she had to move around and she thought, 'why isn't there anything comfortable out there for kids getting infusions so they can stay cozy warm?' "
Ella, who receives treatment for Crohn's disease in Connecticut, and her mom designed the IV Hoodie, which is a long-sleeve, hooded sweatshirt with three zippers – one up the front and then one stretching up the length of each arm. The arm zippers have two pulls, allowing medical providers to access the patient's arms to check blood pressure and to insert an IV and then zip it closed around the line. Ella's mom told Root that her daughter's mission was to "help others feel comfortable and empowered during infusions."
"The sweatshirts have very large zippers on both arms so they just have to open up the zipper, put the blood pressure cuff on, do the IV and then they can sit comfortably for the rest of the infusion without having someone rustle them around," Root said.
Root works in the Karjoo Family Center for Pediatric Gastroenterology at Upstate, which treats about 200 inflammatory bowel disease patients, with 100 receiving regular infusions at the Upstate Cancer Center. Those infusions can last one to five hours, depending on the treatment, Root said.
The IV Hoodies were new to ICN and then production was delayed because of the pandemic. The first 100 sweatshirts – which include the Upstate Golisano Children's Hospital logo – arrived in late August.
"I've distributed probably 10," Root said. "So far, the patients have been very excited. They say, 'I can't believe somebody did that. It's so cool.' "
Upstate ordered a variety of youth and adult size IV Hoodies and are gifting them to patients as they come in for infusions. Root is hoping her patients enjoy wearing them and wear them regularly for their infusions. The sweatshirts were paid for using a $6,000 grant from the Upstate Foundation, said Lisa Susko, RN, who writes grants for the department.
"I'm passionate about these kids, many of whom are diagnosed at a young age," Root said. "Some of them have to spend a full day at the infusion center once a month. I want our patients to know that people care about what they are going through and this is a small token of our acknowledgement."
"I have a soft spot for these kids. It's a big disease that they're going to have for the rest of their life."
Caption: Demonstrating one of the new IV Hoodies are from left, Prateek Wali, MD, division chief of gastroenterology and nutrition, and director of the Karjoo Family Center for Pediatric Gastroenterology; Victoria Okhman, PNP; and Kathleen Root, RN.