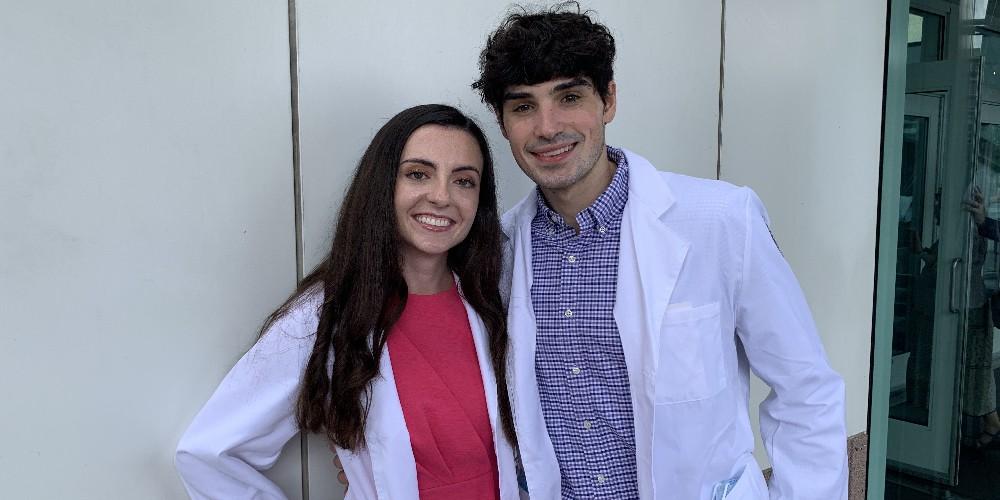 Student hosted podcast debuts on Apple Podcast
With three episodes completed and a fourth coming soon, Upstate's own podcast for students interested in healthcare careers has debuted on Apple Podcasts.
Launched by co-hosts John Cote and Andrea Price, when they were first-year students in the Upstate Medical University College of Medicine, "Admission Granted" had been available at  https://www.upstate.edu/podcasts/admission-granted/ since May. 
"The goal of this series is to provide episodes for students specifically geared toward some of the most important aspects of the process," Price said on the first episode. The insights they offer apply to applicants to graduate school, not just medical school.
Among the topics covered in the first three episodes are "Top Six Keys." Cote explained these are  "the six most important things to getting into medical school or getting into that graduate program in the medical field."
The six include GPA and MCAT, or another standardized test for graduate school, as well as research, volunteering and ­– what may be surprising to some—timing. Making sure the other keys are taken at the right time and right order is important, Cote said.
The second podcast focuses on the MCAT, the Medical College Admission Test students take and nearly all medical colleges consider when selecting candidates for admissions. Completing the test will take nearly eight hours, Price explained.
It's important to not wait too long to schedule taking the test, the two hosts said. Both took the test twice, something they could do because they took the first test long before the deadline for applying to medical school. However, don't take the test early if you haven't prepared enough, Cote said. "Definitely wait until you are ready to take it."
Now in their second year of medical school at Upstate, Price and Cote plan to continue the podcast  while they continue their studies.
To ensure the podcast remains a resource for students, Price and Cote will train future hosts, ideally with a mix of students in a variety of Upstate's numerous healthcare and health-science graduate programs. The podcast is overseen by the Office of Admissions.
 "Getting the podcast onto Apple is a big deal," said Krystal Ripa, PhD, director of special programs in Student Admissions at Upstate. "This will give students across the state — students around the world, really — insights on applying so they won't be intimidated and miss out on a rewarding career in health care or the health sciences."
Caption: Co-hosts of the Admission Granted podcast are Andrea Price and John Cote.