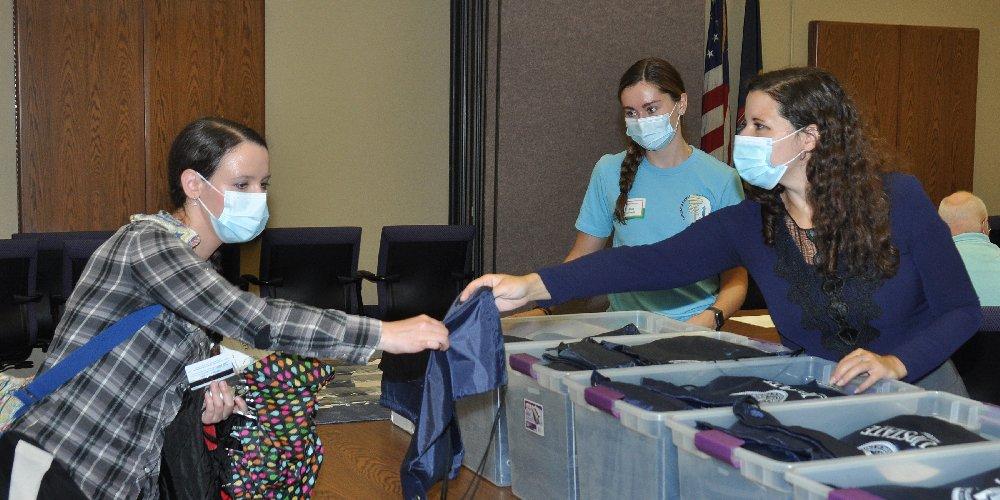 A new semester begins at Upstate: hundreds of new students, masks and renewed energy to fight the virus
The corridors of Weiskotten Hall are once again ringing with the sounds of new and returning Upstate Medical University students. For Lynn Cleary, MD, the voices within this primary academic building are a welcome and enthusiastic sign of the start of a new semester at Upstate.
"Last week when the College of Medicine students had their in-person orientation it was the most noise I've heard in Weiskotten in over a year and it was wonderful," said Cleary, who is the university's vice president for academic affairs.
The COVID-19 vaccines and a greater understanding of the coronavirus have allowed Upstate to bring students back to campus for in-person instruction and clinical experiences. Upstate's four colleges—Nursing, Medicine, Graduate Studies and Health Professions—have staggered start times, including some programs that run year-round, but as of Aug. 23, all Upstate students are back to school.
And while the start of the 2021-2022 school year feels remarkably different compared to last fall during the pandemic, Upstate is taking every precaution to keep students, faculty, staff, patients and the community safe.
"I think we learned a lot during remote times," said Julie R. White, PhD, associate vice president for educational services and dean of student affairs. "We've been impressed with the incoming students' vaccination numbers and I hope that kind of compliance continues so that we can remain in person."
Students, faculty and staff were all eager to have students physically back on campus, White said. And while some classes or programming may remain virtual during this coming school year, Upstate is operating much like it has in previous academic years, she said.
"It's very nice to see them back on campus in person again," White said. "It's very energizing for the students themselves but also for faculty and staff. I think it has brought us back to feeling some sense of normalcy. Even if the faces are behind masks, at least we're seeing the faces in person."
Cleary and White said everyone at Upstate, from the administration to deans to faculty and staff, are talking daily about how to be prepared for changing local, state and federal guidance and to keep the campus and community safe.
"We have learned to be nimble," Cleary said, noting how Upstate students have been not only flexible but eager to help fight the virus. "Our students are amazing. They're flexible and patient. They are also great partners in how to find new ways of doing things."
Two notable areas of emphasis for the 2021-2022 school year are an enhanced focus on diversity, equity and inclusion across Upstate curricula as well as continued support for student wellness and mental health. For more information about resources available to Upstate students, contact the Student Affair's Deans Office at 315-464-4816.
Upstate Medical University student numbers are as follows:
College of Medicine: 772 students including 176 incoming.
College of Graduate Studies: 133 students including 24 incoming.
College of Health Professions: 368 students including 180 incoming.
College of Nursing: 406 students including 157 incoming.
Note: Numbers include part-time students.
 Caption: Students collect Upstate goodies during orientation activities.