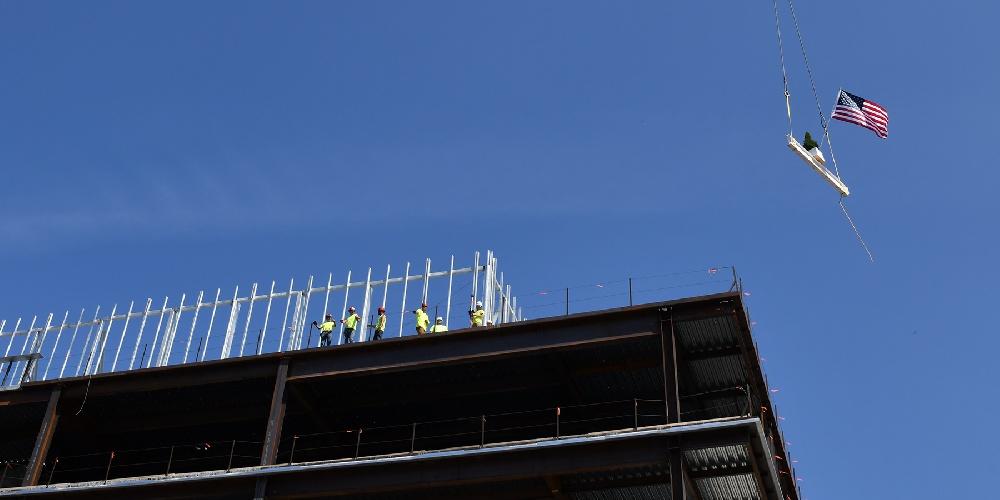 Beam raising marks progress
Nearly half complete, the Nappi Wellness Institute, being built across the street from the Upstate Cancer Center, marked its progress with a ceremonial beam raising and tree-topping ceremony. The facility, standing more than 100 feet tall, will be centerpiece of Upstate Medical University's ambulatory care, serving as home to nearly a dozen medical specialties from mental health, pediatrics, family medicine and others.
A key element of the building is its dedicated focus on geriatrics. It will include an expansion of Upstate's Geriatrics Clinic, with an enhanced focus on Alzheimer's disease and brain health. The clinical portion of the New York State Center of Excellence for Alzheimer's disease will relocate to this building, which will provide additional space for neuropsychological testing, physical therapy.
"With the expansion of our clinical space and integration of multiple disciplines were going to be able to offer a comprehensive one-stop shopping place for the evaluation for older adults of people with memory problems, and that's a very special thing for us to have in Central New York," said Sharon Brangman, MD, Distinguished Service Professor and chair of the Department of Geriatrics.
Carol Nappi, whose family provided the naming gift for the building, cheered Brangman's interest in supporting this population and the building's special focus.
"It is reported that Alzheimer's will cost the nation nearly $400 billion in 2021, including $240 billion in Medicare and Medicaid. At present someone in the USA develops Alzheimer's every 60 seconds. It is thought by the year 2050 someone in this country will develop the disease every 33 seconds! Clearly with a longer living aging population in America this is a tsunami rapidly affecting our society," Carol Nappi said.
"My husband, Sam, and I are keenly aware, interested and passionate about brain health and wellness, as well as the confidence of making a difference in and around our community at Upstate. Inspired by the diligent and conscientious work of Dr Sharon Brangman and the University and Hospital Leadership who has with the vision, understanding and fortitude to reach for the best we can be," said Carol Nappi.
The plans for the Institute will embrace elements of Upstate's research, education and outreach missions, especially in the key areas of Alzheimer's disease and brain health. The Nappis say that in this area, their hope is for the Institute's influence to be felt beyond the building's four walls.
The Nappi Institute will also house an array of services, practices and programs, including primary care, geriatrics, radiology, laboratory services, behavioral health, family medicine, pediatrics and the Joslin Center for Diabetes (adults and pediatrics). The building will have several supportive ancillary services to ensure seamless post-acute follow-up for patients. An infusion center and convenience care center will also be in the facility, as well as an element of Upstate's Global Health initiative.
Primary care, behavioral health, specialties, palliative care and social supports will be integrated to reduce fragmentation and promote patient-centered multidisciplinary care in a single location. Primary care and behavioral health providers will share in the care of patients, development of care plans and education of patients and families.
Another unique element of the building that has the endorsement of the Nappi family and many others is the incorporation of WELL Building Standards in the design of the building. The WELL Building Standard certification seeks to optimize health and well-being in seven areas: air, comfort, fitness, light, mind, nourishment and water. Upstate officials believe this building will be only one of a few health care facilities in the country to receive WELL Building Standard certification.
"We believe in the importance of how our environment affects us at home, work and in nature. The quality of our indoor environment affects our well-being and productivity," she said. "So again, this speaks to administrators like Upstate President Dr Mantosh Dewan and hospital CEO Dr Robert Corona who expressed early on during our discussions, about their vision for including a design environment that has positive impacts on patients, clinicians, support staff, students and visitors."
Before the steel beam was raised to the top of the building, Carol Nappi signed the beam on behalf of herself and family, further putting their mark and expressing their enthusiasm for the building, which is set to open in 2023.