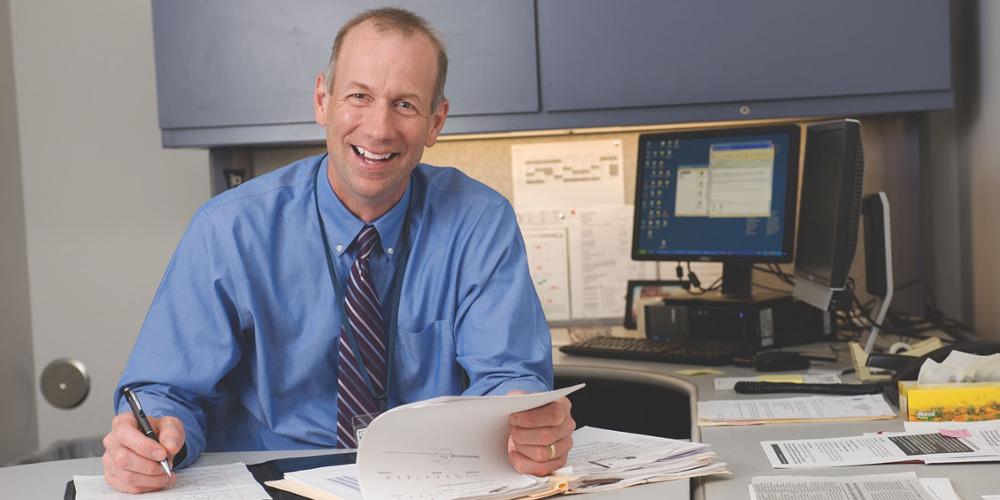 Brain Injury Association of New York State recognizes head of Upstate Concussion Center for ongoing advocacy
The director of the Upstate Concussion Center has been given an award from the Brain Injury Association of New York State (BIANYS) for his ongoing work advocating for concussion awareness and improved care for those suffering from the injury.
In addition to his work with the Concussion Center, Brian Rieger, PhD, is chief psychologist in the department of Physical Medicine and Rehabilitation at Upstate. Rieger was recently awarded the Ted Weiss Consumer Advocacy Award from BIANYS, which is a statewide nonprofit that provides advocacy and support to people living with brain injuries.
The Ted Weiss Consumer Advocacy Award "recognizes a fellow citizen whose actions have demonstrated unfailing commitment to the highest standards of truth, justice and accountability while striving to ensure the rights, safety and an improved quality of life for all people impacted by brain injury," according to BIANYS. The award was presented to Rieger on June 9 during the organization's annual meeting, which was held virtually for the second year in a row.
"When we started the Concussion Center at Upstate many years ago, it quickly became apparent to me that while we could help people in the clinic there was a lot of work that needed to be done to help people out in the world in their lives that we couldn't do in the clinic," Rieger said. "We needed to educate people about how to better recognize and manage concussion as well as making sure that there are supports in place to help people get back to school or work and other activities. Community outreach is something that I've always done because it's what's needed with concussion, but it's certainly nice to be recognized for that."
The award is named after former U.S. Congressman Ted Weiss, of Manhattan. Weiss was chair of the Human Resources and Intergovernmental Relations Subcommittee when he led an investigation into fraud and patient abuse in the brain injury rehabilitation industry, which was largely unregulated. This investigation led to major changes and regulation in brain injury care and rehabilitation.
Rieger has worked with BIANYS for many years. He has served as co-chair of the BIANYS Concussion Initiative and previously received a public policy award from the organization as well. The Concussion Initiative advocates for broader understanding of concussion and improved care for those suffering from the injury.
"It's comprised of providers and others throughout the state who form a leadership and advisory committee," he said. "We work to try to improve the understanding and management of concussion, as well as trying to improve access to proper care. I have always been interested in helping educators understand how to best support students returning to school after concussion, and have recently been focusing more on the issue of returning to work as well."
For more information about the Upstate Concussion Center visit www.upstate.edu/pmr/healthcare/programs/concussion/.