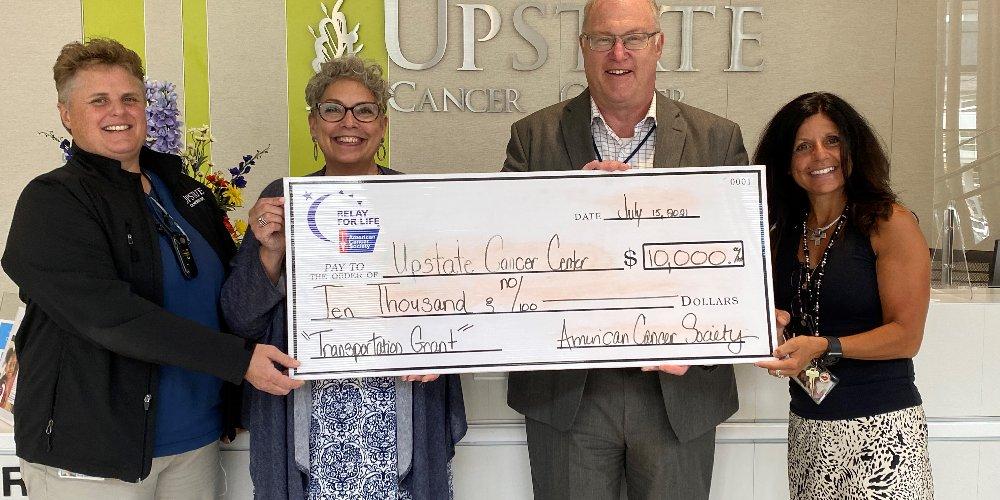 Upstate Cancer Center receives grant from American Cancer Society to support patient transportation needs
Cancer patients undergoing treatment frequently require assistance getting to and from facilities, often creating a financial and logistical burden. That's why the American Cancer Society has awarded a $10,000 transportation grant to the Upstate Cancer Center. These funds will be used to address the transportation needs of cancer patients in Central New York.
To help patients get the critical care they need, American Cancer Society community transportation grants are awarded at a local level to health systems, treatment centers and community organizations. These grants are available in select communities through an application process and focus on addressing unmet transportation needs of cancer patients, particularly vulnerable populations experiencing an unequal burden of cancer.
"Disparities predominantly arise from inequities in work, wealth, income, education, housing and overall standard of living, as well as social barriers to high-quality cancer prevention, early detection and treatment services," said Joanie Richter of the American Cancer Society.  "The Society collaborates with community health partners to reach individuals in areas with higher burdens of cancer and limited or no access to transportation because even the best treatment can't work if a patient can't get there."
The Upstate Cancer Center received a $10,000 transportation grant.
"The goal of this project is to remove transportation as a barrier to receiving cancer treatment," said Richard Kilburg, associate administrator of the Upstate Cancer Center. "We hope to ensure that no Upstate Cancer Center patient misses an appointment due to lack of transportation or lack of transportation resources."
"On behalf of our patients, we thank the American Cancer Society for their generous support," Kilburg said.
Caption: From left: Amy Williams, social worker; Joni Richter, American Cancer Society manager, Strategic Partnerships, Cancer Control Northeast Region; Dick Kilburg, associate administrator of the Upstate Cancer Center; and Linda Naples, financial counselor.