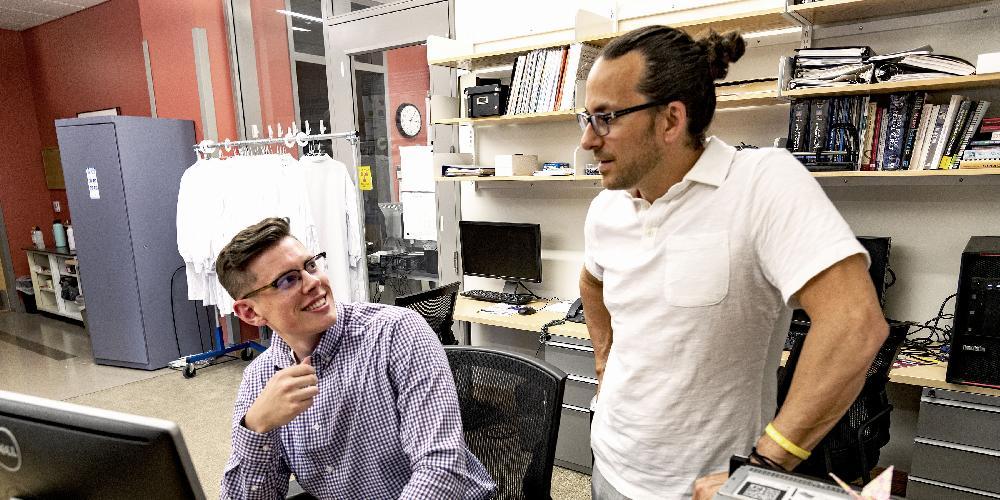 Upstate researcher lands grant from NIMH for new method to study the brain and psychiatric disease
An Upstate Medical University researcher has been awarded a grant from the National Institute of Mental Health for a novel approach to studying how biological changes in the brain contribute to psychiatric disease.
Jonathan Hess, PhD., has spent three years developing BrainGENIE, which stands for Brain Gene Expression and Network Imputation Engine. Hess applied for the NIMH grant last fall and learned he was awarded the $445,500 NIMH R-series funding this week.
The method uses existing data on gene markers from brain tissue samples from deceased donors and compares it to new data on those same gene markers in blood samples from patients living with psychiatric disorders. Those illnesses could include schizophrenia, bipolar disorder and major depressive disorder as well as autism spectrum disorders and Alzheimer's disease. BrainGENIE is new and could be influential in the field of psychiatric genomics because studying living brain tissue in human subjects is notoriously difficult.  
Brain tissue samples can help scientists understand psychiatric disorders. But studying those samples must usually occur after death because a brain biopsy in a living person is complicated and impractical. Studying tissue samples from a cadaver also has limitations since the person has likely taken many medications over the years to treat that mental illness. That and age can change the brain's biological makeup over time.
Conversely, blood does not usually yield enough data about what's happening in the brain to make psychiatric disorder diagnoses. BrainGENIE, however, combines the two by creating a link or correlation between tissue sample data from deceased patients and blood data from new patients.
BrainGENIE "leverages biological comparability between blood and brain gene expression to predict transcriptome profiles for brain tissue based on blood gene-expression profiles. BrainGENIE is fundamentally different from other transcriptome-imputation methods, and captures a much larger proportion of the variance in—and larger fraction of—the brain transcriptome," according to a summary of the method.
"With the use of BrainGENIE and the use of blood data in people who are alive we may be able to capture some useful biomarkers of their illness state and then make better predictions in people who are not yet diagnosed but are showing signs of illness," Hess said. "This touches on an important issue in psychiatry – screening for and diagnosing mental illness early, before the symptoms become harder to treat."
"If we could have a simple, blood-based test of mental illness relying on BrainGENIE to make reliable predictions of the state of their brain, then maybe we can have more insights into what illness they may have or how best to treat it."
Hess grew up in Cicero and earned his bachelor's degree at Le Moyne College before pursuing his master's and doctorate degrees from Upstate. He earned his PhD in 2017 and is an assistant professor in the Department of Psychiatry and Behavioral Sciences. He works closely with Stephen V. Faraone, PhD, distinguished professor and vice chair of research in Upstate's Department of Psychiatry and Behavioral Sciences, and Stephen J. Glatt, PhD, professor of psychiatry and behavioral sciences. Glatt has served as Hess' mentor for several years and said his former student and colleague is adept at turning an idea into practical science. The NIMH grant, he said, is proof that his work is important and could have profound implications for the field.
"Jon is a phenom. He's the type of person who is very self-determined. Jon will see a problem and bring me five ways to solve it," Glatt said. "Jon has the distinction of having invented two really unique methodological approaches in psychiatry. And I give him the credit for reducing these things to practice."
Beyond BrainGENIE, Glatt said Hess also developed a novel approach to study resilience, which was heavily responsible for a grant they received from the National Institute on Aging focusing on resilience to Alzheimer's Disease. Hess also received a Young Investigator Award from the Brain & Behavior Research Foundation to study resilience to schizophrenia, bipolar disorder and major depressive disorder.
"I expect Jon will make other monumental, game-changing discoveries but to have one of those in your career is something that a lot of scientists don't ever achieve," Glatt said. "And to have two this early in your career is pretty special."
Hess said another priority of the project is to make BrainGENIE an open resource.
"We want to have BrainGENIE be in the hands of other researchers who are interested in using it for better understanding of the brain," Hess said. "We don't want to simply develop technologies for our own use and not allow others to have access. We want these tools to be used by as many people as possible. It's important for accelerating discoveries overall. We can't possibly study everything ourselves."
Caption: Jonathan Hess, PhD, left, and Stephen Glatt, PhD, have collaborated on the BrainGENIE.