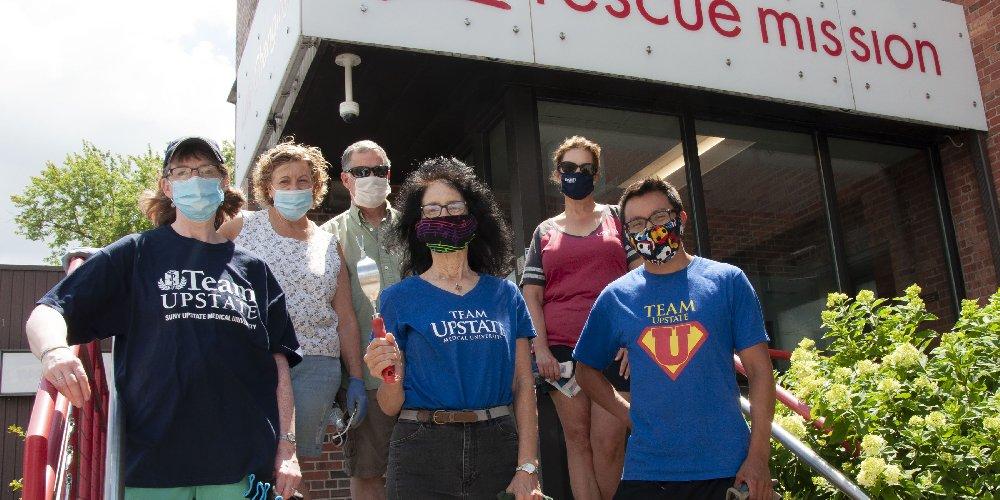 Upstate extends Your Cause support for teen shelter through 2021
Despite the COVID pandemic that overturned many plans, Upstate Medical University continues its support of the Runaway and Homeless Emergency Youth Shelter, a joint effort between the Rescue Mission Alliance, ACR Health and McMahon Ryan Child Advocacy Center.
The shelter was selected in early 2020 as Upstate's Your Cause charity, but plans to support the project will continue throughout 2021.
"With the pandemic, there were many things, projects we weren't able to accomplish for the shelter," said Zanette Howe, chair of Team Upstate. "Extending our Your Cause relationship with the shelter will enable us to complete our volunteer work for the shelter."
One such effort is a collection drive that expires June 25. Supplies are needed for the shelter and a wish list is available here: https://www.amazon.com/hz/wishlist/ls/11VRRW8HPC3GN?ref_=wl_share.
Interested in giving? Individuals can scroll the above link and purchase an appropriate item, such as kitchen supplies and sheets.
Upstate already has done some significant work for the shelter, including painting and gardening.
The new shelter, which is set to open in Fall 2021, will have 10 beds and serve runaway and homeless youth ages 12 to 17 in Syracuse and Onondaga County. There will be a focus on serving lesbian, gay, bisexual, transgender and questioning (LGBTQ) youth.
The Runaway and Homeless Emergency Youth Shelter will allow the Rescue Mission, ACR Health and the McMahon Child Advocacy Center to bring what they each do best to the project. The Rescue Mission has extensive experience establishing and operating emergency shelters and permanent residences. ACR Health has a proven record of providing counseling and programming to youth, specifically LGBTQ youth. McMahon Ryan is dedicated to ending child abuse in the community through prevention, intervention and education by facilitating a coordinated interdisciplinary team approach, meeting the needs of children and families.
Upstate's Your Cause program previously has supported In My Father's Kitchen, Clear Path for Veterans, OnPoint for College and Chadwick Residence.
Team Upstate works to promote public awareness of Upstate's contributions to the community and to encourage volunteer participation among Upstate students, staff, faculty and retirees. Team Upstate sponsors activities and events annually that promote quality of life and maintain Upstate's mission, vision and values.