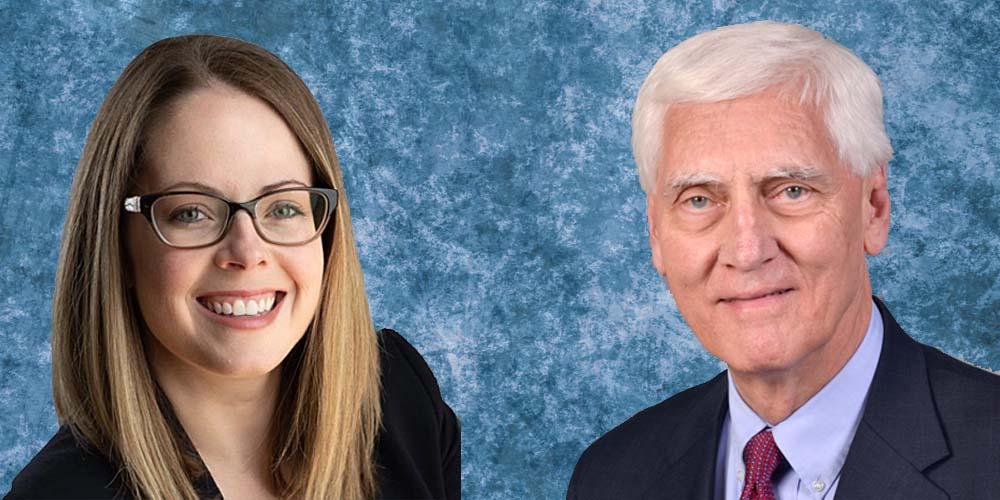 Two from Upstate publish paper about end-of-life decisions for people with cardiac defibrillators
The COVID-19 pandemic brought forth many challenging end-of-life decisions, leading a pair of Upstate researchers to address how general physicians should discuss those options with patients with implantable cardiac defibrillators.
Sarah E. Myers, MD, a 2021 graduate of Upstate, and former Upstate President Gregory L. Eastwood, MD, co-authored "Implantable Cardiac Defibrillator Deactivation During End-of-Life Care in the COVID-19 Pandemic," which was published last month in the Journal of The American Board of Family Medicine.
Myers, who worked as a physician assistant before starting medical school at Upstate in 2017, tackled the subject for a bioethics individual study with Eastwood when her clinicals were suspended in spring 2020. While working as a PA, Myers encountered patients who could have benefitted from deactivating an implantable cardiac defibrillator, she said. The difficult circumstances of the pandemic, which forced some to make end-of-life decisions without family members by their side, propelled Myers to look further into the subject. She and Eastwood researched existing literature including a 10-year-old recommendation that the option be raised with patients. They found that recommendation is rarely considered, Myers said.
"I was in the ICU and one of my cardiology patients was approaching the end of life and she had a defibrillator. Deactivation had never been discussed and she was having arrythmias and we certainly didn't want her to have any unnecessary shocks," Myers said. "I remember that was terrifying for the family and I was caught off guard because this was not something that I was routinely doing. It was always in the back of my mind as to why isn't this discussed more and what could we be doing better?"
An implantable cardiac defibrillator (ICD) is used to shock the heart back into a normal rhythm and prevent cardiac arrest. It can be a life-saving tool but the shock can be painful and anxiety-inducing – two symptoms that can add additional stress to a patient who may be dying from something other than a cardiac condition.
"People with implantable cardiac defibrillators (ICDs) who are nearing the end of life are at risk for arrhythmias, which activate the ICD and may cause unnecessary shocks and suffering," according to the article. "Because ICDs have enabled more patients to live longer, they often succumb to noncardiac diseases and may be cared for by primary care physicians. Despite published recommendations 10 years ago regarding the management of ICDs during the end of life, over half of patients with ICDs who are dying still have not been offered the choice of deactivation."
Myers, who moved to Tennessee and begins her residency at Vanderbilt University Medical Center in July, said she's hoping this encourages more conversations about ICD options.
Eastwood, who wrote a book about end-of-life decisions, said an important part of the article is that the ICDs have become effective at extending people's lives so the patients are usually being treated by someone other than a cardiologist who may not be as familiar with deactivation options.
"The message of the article is to raise consciousness of physicians who take care of these patients and to begin the conversation ideally when the device is put in, which might be years before they die but also in periodic intervals along the way," Eastwood said. "It's a simple concept but I think it's very meaningful. And now it's in a journal that we hope will get to many general physicians."
The article recommends that physicians have regular discussions about deactivation options with patients as well as ensuring those end-of-life conversations can occur in difficult circumstances like those that occurred during the pandemic.
"The idea of deactivating these devices can be challenging because it's initially counterintuitive but I think once you examine the reasons why you're doing it and how you can prevent the patient from suffering further it becomes easier to make those decisions," Myers said. "Given what we've seen through the coronavirus pandemic it's important for providers to keep these conversations in the forefront of their minds and if they see a patient with a device consider having the patient express his or her wishes to have that deactivated should their clinical course change."