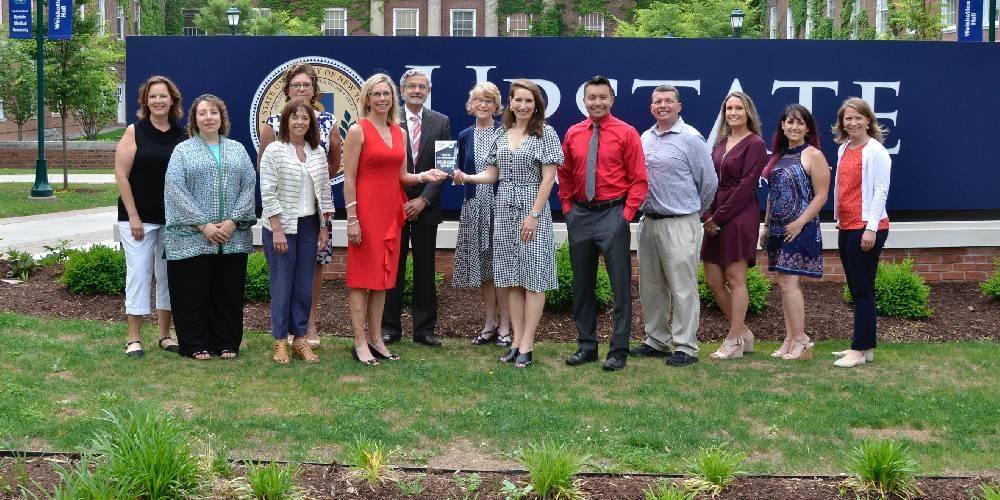 Upstate earns United Way recognition for Women United and Emerging Leaders affinity groups
The Upstate Medical University chapters of Women United and Emerging Leaders have been honored with United Way of CNY's Affinity Partnership award.  This award is presented to a company that supports and encourages employees to invest and engage in our community by joining one or both of United Way of CNY affinity groups, Emerging Leaders (ELU) and Women United (WU). Thank you to all our Upstate family members who are participating in these affinity chapters and thank you to @UWCNY for the recognition.
"Upstate has twenty-five Women United members who are committed to ensuring that women and girls who face challenges can meet their needs," said Zanette Howe, Team Upstate chair. "We partner with the United Way of CNY Women United to make sure everyone has a quality education and training to be successful in life and can rise above difficult circumstances. We are proud to be a part of Women United and accept this award"
Michael Longo and Lauren Winters, who lead the Emerging Leaders chapter at Upstate, echoed the benefits of the organizations. "In a short time, ELU Upstate Chapter has grown and allowed many of us to be a part of something bigger than ourselves and Upstate while doing it alongside colleagues and friends. Being recognized for this is such a nice bonus and honor for our program. Together we can accomplish more," they said.
Women United is a network of women focused on providing opportunities for women to learn, discuss important issues, understand challenges facing women and explore ways to have collective impact.
Emerging Leaders United (formerly Young Leaders United) is made up of Central New York young professionals who demonstrate leadership by helping to make lasting positive changes in our community.
Upstate employees who are members of Women United and Emerging Leaders gather with their recent honor, the United Way of CNY's Affinity Partnership award, outside Weiskotten Hall.