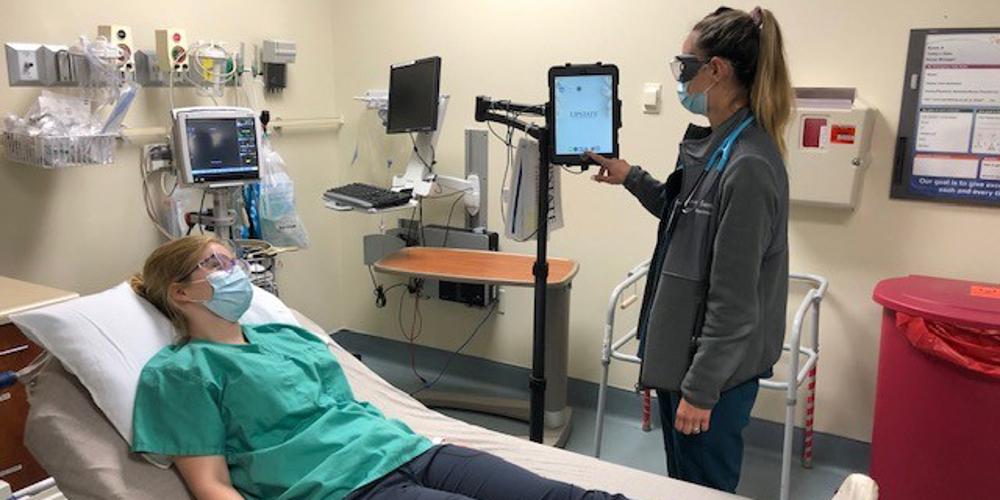 Upstate Telestroke Network adds two more hospitals, strengthening stroke care in New York state
The Upstate University Hospital Comprehensive Stroke Center has once again expanded its Telestroke Network, improving stroke care for hospitals and patients across a large swath of New York state.
Upstate's Telestroke Network connects Upstate stroke specialists with 12 facilities across the state to aid in the assessment and care of patients who may be experiencing a stroke. Upstate's newest partners are St. Joseph's Health and Oswego Hospital. Besides Guthrie Cortland Regional Medical Center, all of the other partners are north of Syracuse.
The Telestroke Network is used when a patient presents with symptoms that could be a stroke. The medical provider at the partner facility assesses the patient's symptoms and orders a CT scan. The partner facility contacts the Upstate Triage and Transfer Center and then the telestroke provider is contacted. An Upstate doctor is on-call for this service 24 hours a day, seven days a week. The Upstate doctor reads the CT scan and the two medical providers conduct the National Institute of Health Stroke Scale assessment on the patient via the teleconference to assess the severity of the stroke. The two then work together on the next best steps for the patient. Those may include: administering medication (thrombolytics) to break up the blood clot and/or transferring the patient to Upstate for additional treatment.
Some patients seen through the Telestroke Network may be experiencing what's called a Stroke Mimic – a condition with symptoms that look like a stroke. Those include a seizure, Bell's palsy or a migraine. Ruling out stroke via the network saves time, money and resources, said Stroke Program Manager Josh Onyan, BSN, RN, SCRN. Onyan explained that the goal of the telestroke consult is to help the medical provider at the partner facility rule out stroke and determine a treatment plan and recommendations for transfer to Syracuse.
In 2019, prior to the COVID-19 pandemic, the Upstate Telestroke Network was used 90 times. About half of those patients were transferred to Upstate, Onyan said. Trips to emergency departments everywhere dipped during the pandemic but Onyan noted that numbers are returning to normal.
"Our network provides access to expert stroke neurologists where they might not otherwise be present," Onyan said. "It gives patients in the north country the care they deserve. Geographical limitations and distance shouldn't factor into your health care and telemedicine provides them with the same resources that you would have if you had a stroke in Syracuse and I think that's really great."
The COVID-19 pandemic has accelerated the use of telemedicine at facilities across the country. Upstate's Telestroke Network has changed as well, with several partner facilities now using HIPAA-compliant software on iPads to connect with doctors at Upstate. The iPads are easy to use and cost about $300 each compared to significantly more expensive telemedicine equipment they previously used, Onyan said.
Upstate's Telestroke Network has many advantages, explained Onyan and Stroke Program Outreach Coordinator Raisa Zhovklaya, BSN, RN, SCRN. In addition to providing immediate access to some of the best stroke doctors in the state, staff who work at the member facilities are regularly collaborating on best practices and quality improvements, Zhovklaya said.
"We're constantly looking for areas to improve," she said. "Throughout the year, our partner hospitals are in contact with us and we're providing feedback reports about all of their transfers, all of their telestrokes, answering their questions and bouncing around ideas about different protocols they can start at their hospitals. We're building relationships throughout New York state. "
Upstate's Comprehensive Stroke Center is the only one in the region with a Telestroke Network. For more information, visit www.upstate.edu/stroke.
Photo caption: Staff at Samaritan Medical Center in Watertown demonstrate how they are using iPads in the emergency department to connect with Upstate's Telestroke Network.