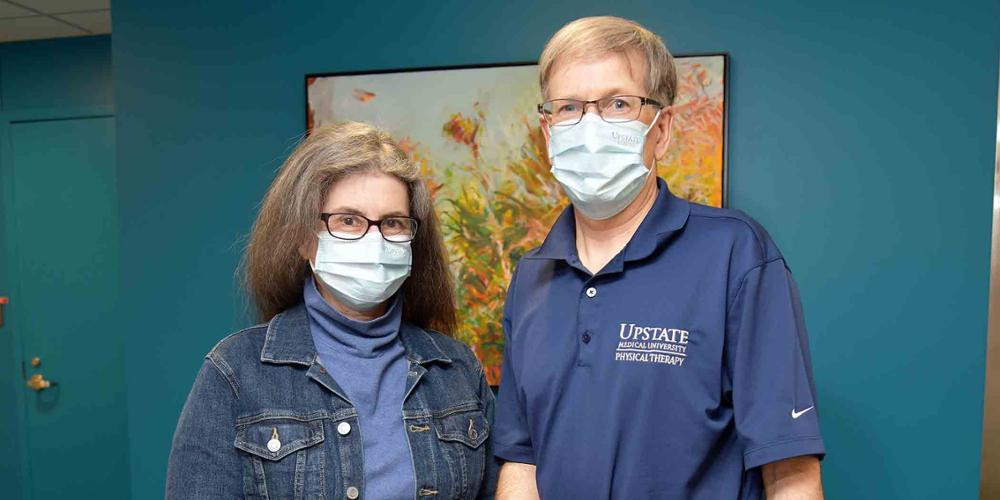 Upstate researchers land $3 million NIH grant to study connection between sleep and stroke
Two Upstate Medical University professors and researchers have received a $3 million grant to study how sleep disorders and stroke affect one another.
College of Nursing Associate Professor Karen Klingman, PhD, RN and Physical Therapy Professor George Fulk, PT, PhD, FAPTA have been studying the links between sleep disorders and stroke for many years. They were awarded a $3 million National Institutes of Health grant in the fall and started enrolling participants in their study this spring. It is the first Research Project (R01) grant – the NIH's original and historically oldest grant – for both The College of Nursing and The College of Health Professions.
The study is in partnership with Good Shepherd Rehabilitation Network in Allentown, Pennsylvania. The two institutions will enroll a total of 200 patients who have suffered a stroke. The study, which will take between four and five years, will examine sleep disorders not including obstructive sleep apnea (OSA).
"Sleep is vital to overall health and quality of life," according to the study. "Abnormal or insufficient sleep is both a risk factor and consequence of stroke. Sleep also plays a critical role in motor learning, which is the foundation of rehabilitation strategies after stroke. Although there is a growing understanding of the interplay between sleep, stroke and recovery in people with OSA, these complex relationships in individuals post stroke with non OSA sleep disorders are not well understood."
Klingman and Fulk collaborated on a two-year pilot study before submitting for the NIH grant. They collected data on how people's sleep may affect how they recover from a stroke. Fulk explained how if a person is not getting enough sleep, it can be very difficult to regain motor skills such as balance and walking.
Klingman and Fulk said there is already some data on the relationship between sleep and obstructive sleep apnea, which is why this work will focus on other sleep disorders.
The study will be conducted as follows: Medical staff at Upstate and Good Shepherd will seek out patients recovering from a stroke in an inpatient rehabilitation setting. Those patients are likely 10 to 15 days out from the event. Participants will be asked to wear two monitoring devices – one around his or her wrist to monitor sleep and another on the thigh, which will keep track of the person's activity level. The patient will wear both monitors for five days while in the hospital.
The study will follow up with patients again 60 and 90 days later. The participant will wear both monitors for five to seven days at each of those points in time for a total of three recording periods. Participants will also carry a small GPS with them for the 60- and 90-day monitoring sessions to see how their location and activity also might factor into someone's recovery from a stroke. The study also includes several questionnaires about the person's sleep habits, symptoms and stroke recovery.
"We hope to better understand some of those relationships," Fulk said, "to then develop some targeted interventions for another study where if we treat someone's stroke with physical therapy and we treat their sleep at the same time can we have a better outcome than if we just treated their mobility issues. But this is an important first step so we can target what needs to be done."
Six patients, five of which are from Upstate, have already enrolled. Klingman and Fulk said enrolling patients at Upstate has been a team effort with several research physical therapists meeting with patients to explain the study and the process. Their support is critical, they said.
"This has been a great interprofessional collaboration with nursing and PT," Fulk said. "I think it's also been great getting the front-line physical therapists who are seeing the patients involved in collaborative research so that they can bring their skills and knowledge to help improve not only the patients they see but the broader population of people with stroke and give back to that as well.
Klingman and Fulk will begin analyzing some of the data as soon as it's available. Proving a stronger correlation between sleep and stroke could help develop therapies for other conditions as well, they said.
"My research focuses on the importance of how untreated, disordered sleep impacts wellness and recovery so this is just the perfect opportunity to look at that," Klingman said. "It really sets the stage for future studies of individuals with other chronic illnesses to look at how sleep can impact their recovery."
Caption: College of Nursing Associate Professor Karen Klingman, PhD, RN  (at left) and Physical Therapy Professor George Fulk, PT, PhD, FAPTA have been studying the links between sleep disorders and stroke for many years.