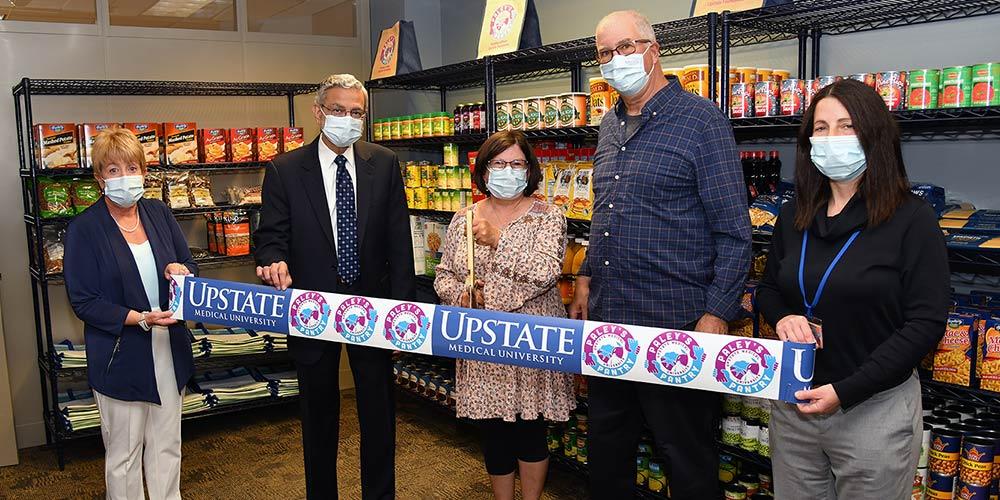 Upstate Medical University opens food pantry for students in Weiskotten Hall
Upstate Medical University has opened Paley's Pantry, a dedicated food pantry for students experiencing food insecurity.
The pantry is located in the Upstate Health Sciences Library in Weiskotten Hall and open Wednesdays and Thursdays from 4 to 7 p.m.
The goal of the pantry is to eliminate the added stressors food insecurity brings to some individuals pursuing higher education. Paley's Pantry is open to all Upstate students in need.
Students will visit the pantry once a month to select from a variety of items, including canned fruits and vegetables, grains, proteins, and juice. The pantry also offers toothpaste, hand soap, dish soap, and sponges. The pantry will eventually include fresh fruits and vegetables through student gardening projects at Upstate, and a variety of sponsors.
Paley's Pantry is named after Upstate College of Medicine graduate Alex Paley, MD, ('19) who died in 2019. Sharon Huard, associate dean of Student Affairs and Campus Life, says naming the pantry for Alex fits perfectly.
"Alex was a kind, caring, compassionate person who raised his hand to help others without being asked. Add to that his love of food and the impact he made on the Upstate community—it makes perfect sense to name the pantry after Alex and it helps solidify Alex's legacy at Upstate," said Huard.
Paley's Pantry is supported through donations to Paley's Pantry: Upstate Fights Student Hunger Fund, initiated in 2018 by Dean of Student Affairs Julie White, PhD, and Associate Dean for Graduate Medical Education Danielle Katz, MD.
The fund is held at the Upstate Foundation and is what launched Upstate's student hunger initiatives back in 2018, following a Student Affairs survey that found nearly 20 percent of students have experienced significant food insecurity. This led to a yearlong pantry pilot program located off campus, with a permanent on-campus pantry as the long-term goal that is now realized.
Paley's Pantry was recently accepted as a partner agency by the Food Bank of Central New York, allowing Upstate to purchase food from the Food Bank at reduced prices, with some items available at no cost.
For more about the Paley's Pantry fund, visit: https://www.upstatefoundation.org/PaleysPantry.