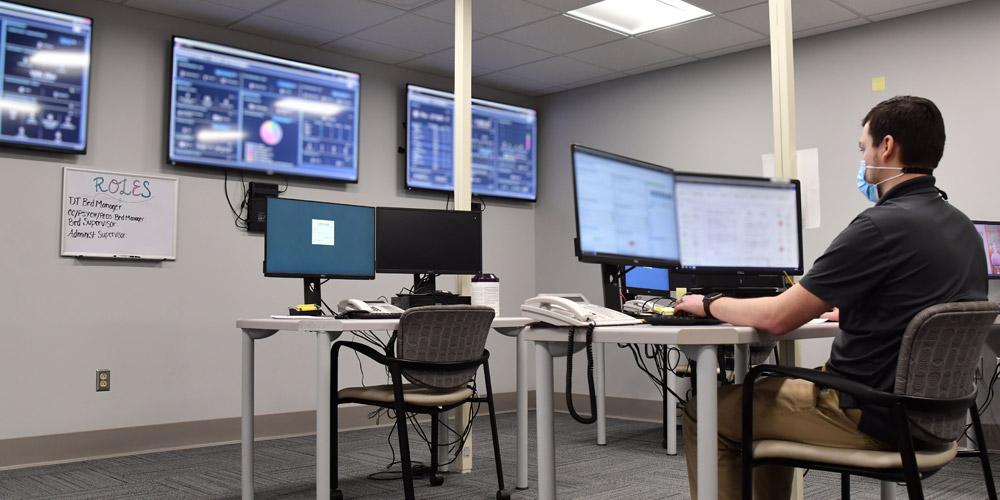 New Centralized Throughput Center Will Better Coordinate Patient Bed Flow Among Upstate Hospitals, Further Optimizing Patient Care
Travel from bed to bed at Upstate's three hospitals – University, Community and Golisano Children's – and you will find a wide variety of patients: new mothers, young children and babies, people recovering from surgery or receiving specialized care, and those fighting COVID-19. Almost always, most beds at Upstate – all 752 – are in high demand.
Coordinating the flow of patients in and out of those beds is a complex, round-the-clock process. And it's one that considers a long list of factors such as the patient's health status, next steps and capacity in other areas of Upstate.
A newly renovated space in the basement of Upstate University Hospital, however, is poised to make that grand orchestra more efficient and more intuitive to the benefit of patients, Upstate caregivers and the entire organization. The new Upstate Throughput Operations Center features four 55-inch monitors providing real-time information on bed availability, patient flow issues and hospital system status across all of Upstate, 24 hours a day.
The centralized bed-tracking operation is a change that began when the COVID-19 pandemic hit Central New York last March. Previously, administrative supervisors tracked bed availability and handled bed management at each individual hospital. The pandemic required more coordinated efforts as sections of the hospitals were cordoned off to treat COVID-19 patients.
"Our ultimate goal is to make sure that every patient within Upstate gets to where they need to go efficiently so that they can receive the care that they need in a timely manner," said Kyle N. Choquette, MSN, RN, NE-BC, CNRN, SCRN, associate director of nursing of the Throughput Operations Center.
The pandemic "definitely changed how we function as an organization," Choquette said. "It really helped us be able to load balance among our hospitals to make sure that we always are available for the next patient."
The Throughput Center coordinates the inflow of new patients, which arrive from Upstate's three emergency departments, operating rooms, procedural areas, doctor's offices, Upstate clinics, as well as elective admissions from home. Each year, Upstate also accepts about 8,000 patient transfers from other hospitals in the region. Upstate has been working to improve managing capacity and patient flow for several years; the pandemic quickened those efforts. Key members of Upstate's operational team traveled to see command centers and their technology solutions throughout the Northeast.
"The pandemic required us to accelerate plans for our first phase of development," said Clinical Operations Officer Jeremy Joslin, MD, MBA, FACEP. "Bed assignment and capacity challenges required this tighter coordination and more efficient communications. The new Throughput Operations Center will enable a central point of contact for patient logistic management. By centralizing representation from various support services, decisions can be made in parallel and more naturally."
Upstate will be working with TeleTracking to build the software to manage patient flow.
"We are very excited to be kicking off the work to build out and stand up our own fully functioning Throughput Center with TeleTracking technology," said Executive Director of Nursing Scott Jessie, MSN, RN, NEA-BC.
TeleTracking has created more than 100 operational centers across the United States and the United Kingdom.
"It's really all about predicting where the beds and bottlenecks are going to be and to solve those problems before they become a problem," Choquette said. "As we grow, we're going to bring different departments into the center to make sure all of the patients get the care they need in a timely manner and that's going to make everyone's job a little bit easier."
Joslin agreed, noting the new center is one more way Upstate is always looking for ways to provide the highest quality patient care. "Patients benefit from the TOC through a more efficient hospital stay," Joslin said. "We are able to improve service by getting patients to the right bed at the right campus more swiftly than before. This translates to optimized care delivery and improved lengths of stay."
The new approach has proven so effective that Upstate has chosen to make it permanent and is investing in a new software system that will be built and deployed during the next eight months.