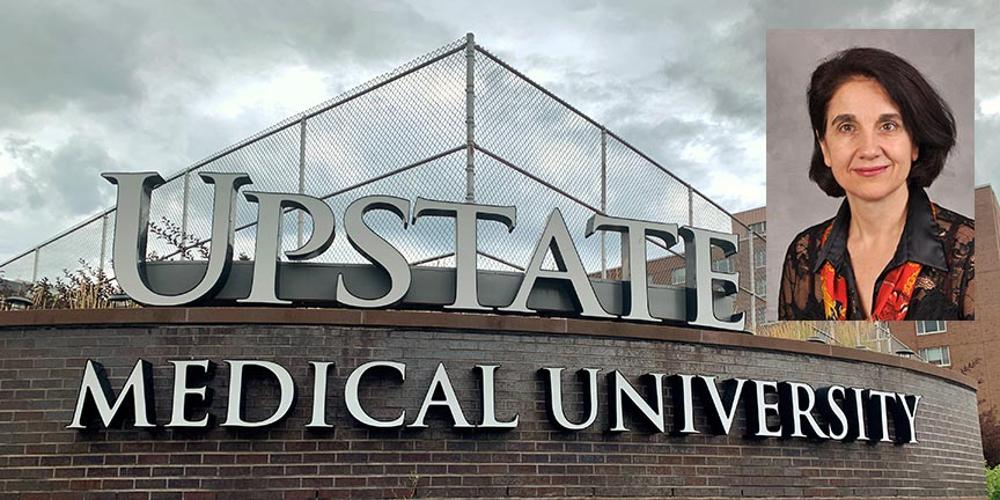 Upstate professor lands $1.1 million NIH grant to study tumor cell growth related to metastatic cancer
An Upstate Medical University assistant professor and researcher has been awarded a $1.1 million, four-year National Institutes of Health grant to study what makes tumor cells grow and spread throughout the body.
Dimitra Bourboulia, PhD, assistant professor of urology and biochemistry and molecular biology, is principal investigator of the awarded project, "Regulation of the Extracellular Hsp90 Chaperone Machinery." Bourboulia has been investigating for more than a decade the regulation and function of secreted proteolytic enzymes (MMPs), predominantly in tumors that invade through the surrounding tissue. Her latest NIH grant will fund how multiple regulators (activators and inhibitors) interact and signal outside the cell to tweak the activity of MMPs.
Normally, cells release proteins that function to build and maintain a healthy surrounding environment called the extracellular matrix (ECM). The ECM is a well-organized supporting 3D structure. In some diseases including neurodegenerative, cardiovascular and cancer, the ECM can be damaged because protein-degrading enzymes (MMPs) fail to perform their function in a normal way.
"This research essentially focuses on key secreted proteins and their binding partners that function as a team not inside, but outside the cell," Bourboulia said. "If we want to therapeutically target invasive tumors and limit their spread, we need to understand what makes this extracellular Hsp90 pro-invasive machinery so powerful. Unfortunately, we know how only very few components of this machinery.
Bourboulia said she hopes the research will help to better understand how key secreted factors such as Hsp90 chaperone and TIMP2 inhibitor coordinate their binding to one another and to MMP2 to regulate the process of invasion.
"Current therapeutics target one single factor," she said, noting that while medications are designed to work effectively against single proteins, their efficiency drops against those proteins that make complexes, such as the Hsp90:MMP2 complex. "We have proposed that unless we determine at the molecular level how these proteins interact, only then will we design an effective strategy to prevent specifically these undesirable complexes from happening."
The study has direct ties to many human cancers such as kidney, prostate, breast and lung with a focus on cases where aggressive tumors have metastasized or are spreading throughout the body.
Bourboulia, who has worked at Upstate since 2013, said she is lucky to work with a talented team at Upstate including graduate students and residents from the Urology Department – as well as external collaborators – on this project, which could lead to better treatments for aggressive cancers.
"Being integrated with clinical experts here at Upstate Urology is an effective way to translate our bench discoveries and observe their clinical impact," she said. In addition, she feels fortunate to receive the NIH grant despite the many challenges associated with the ongoing COVID-19 pandemic. "There are a limited number of scientists working in this particular field, so we are very fortunate that NIH finds it exciting."
Bourboulia is an expert in extracellular protein signaling and homeostasis. She serves as the assistant dean for UME and GME Research, and Director of the Office of Research for Medical students at Upstate. She participates as panel member at the CDMRP Kidney Cancer scientific peer review team, and as ad hoc reviewer for many high impact scientific journals. Because of her contribution in deciphering the function of extracellular Hsp90 in cancer, Bourboulia was presented with the 2020 Ritossa Early Career Award by the Cell Stress Society International.