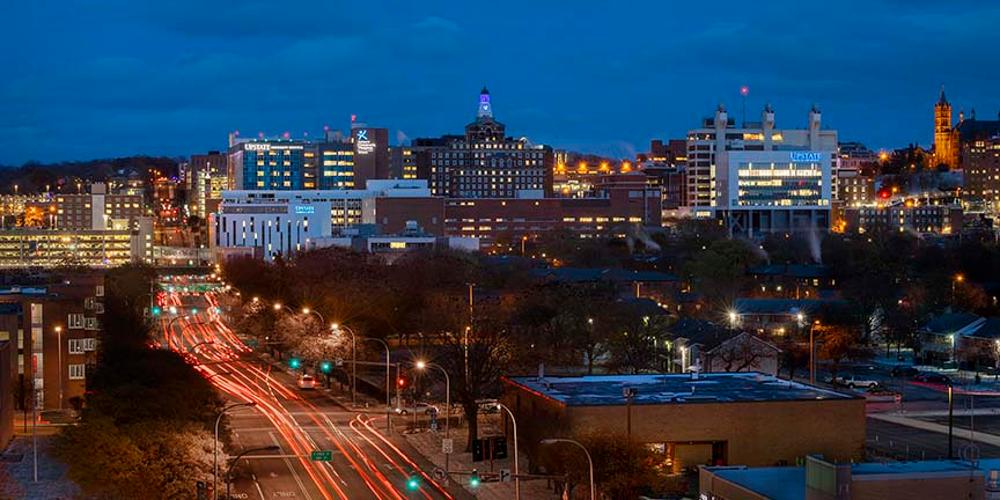 Upstate Medical University named to Forbes Best Large Employers List
Upstate Medical University has been named to Forbes' Best Large Employers 2021 List. Upstate is ranked No. 35 on the list overall, above others in the education industry category including Cornell, Harvard and Johns Hopkins universities.
25 colleges and universities are on this year's list, which includes more than two dozen industry sectors such as construction, engineering, manufacturing and more.
"All of Upstate Medical University should be proud to be included on this list from Forbes," said Upstate President Mantosh Dewan, MD. "If you work here, you know what an incredible place it can be with smart, compassionate colleagues who care deeply about this community and each other. As the largest employer in the region, we take our responsibility very seriously and we are humbled to be listed among such outstanding employers across the country."
Forbes compiles its annual list based on an independent survey from more than 50,000 U.S. employees working for companies employing at least 1,000 people in their U.S. operations, according to Forbes. The evaluation asked employees to rate their willingness to recommend their employers to friends and family as well as evaluate other employers in their respective industries. Employees were also asked to give their opinions on work-related topics such as working conditions, salary, potential for development and company image.
"SUNY's ability to provide a high quality and nationally ranked education for our students is the direct result of our leadership—true experts in their fields—and we are competitive in drawing in the best in the business," SUNY Chancellor Jim Malatras said. "SUNY is an economic juggernaut, contributing nearly $29 billion to the New York State economy annually. Our campuses are amongst the largest employers across New York State, offering professional opportunities to widely diverse talent from around the globe, driving local economies, and giving back to their communities, all while providing the safest working environment possible. My congratulations to University at Buffalo President Satish Tripathi and Upstate Medical President Mantosh Dewan for their respective rankings amongst Forbes' '2021 America's Best Large Employers'—a testament to their investment in their employees and the resources they need to do their jobs well, as well as their overall care of their employees' wellbeing and safety."
SUNY Upstate Medical University is the only academic medical center in Central New York. Upstate is the region's largest employer with 9,460 employees. Affiliated with the State University of New York, Upstate's mission is to improve the health of the community through education, biomedical research and health care.
Upstate Medical University's educational mission is anchored by its four colleges—Medicine, Nursing, Health Professions and Graduate Studies (biomedical sciences). Since 2006, student enrollment has grown by 30% as Upstate responds to the needs of the region.
As a biomedical research enterprise, Upstate focuses on the most prevalent human diseases, including cancer, diabetes, heart disease, nervous system disorders, vision, and infectious diseases. The quest for treatments and cures is built upon expertise in structural, molecular and systems biology. Upstate also offers many clinical trials for patients.
The Upstate University Health System serves 1.8 million people, often the most seriously ill and injured, and includes Upstate University Hospital; Upstate University Hospital at Community Campus; Upstate Golisano Children's Hospital, and numerous satellite sites.